Overview:
Micron (NASDAQ:MU) recently reported quarter 2 results and they were met with an immediate 9% drop in the stock price to under $12/share last week. Micron continues to report lackluster or non-existent revenue growth and seems to be moving at glacial speed in getting new products out the door.
But for long-term investors, there was plenty of good news including $320 million per year in cost savings beginning Fiscal 2017. Also, shipping of new technology namely 20NM DRAM and 3D NAND continues to match or exceed management's previous predictions.
In this article, I will continue to follow my "buy" theme that I outlined in Micron: At Under $10 A Share Even I Would Be A Buyer and 10 Reasons Why Micron Will Be $25 By 2018.
"No one loves the messenger who brings bad news."
― Sophocles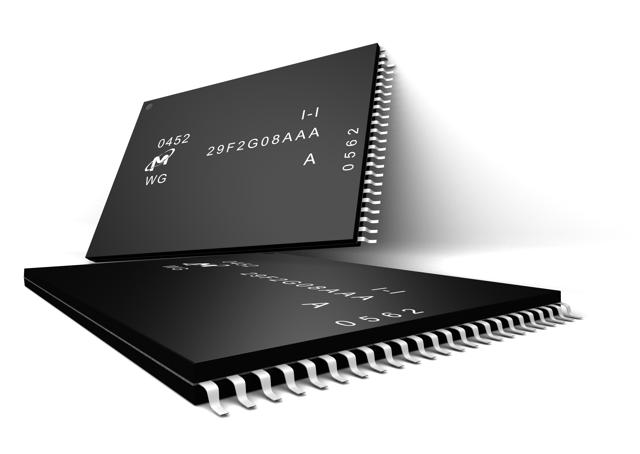 Transitioning always causes problems but eventually does end
Micron is in the midst of its biggest transition in company history. They are going from 25NM and 30NM DRAM to 20NM and from 2D NAND to 3D NAND. On top of that they are attempting to bring to fruition an all new technology 3D XPoint. All of this and a soporific management team that would put a meeting of caffeine lovers to sleep has led to a precipitous fall in their stock price from $36 in late 2014 to under $10 in May of this year.
This is a 3-year chart showing how they were on the mountain top but have now fallen to the depths of the valley. My point is they were worth a lot less than $36 in 2014 and they will be worth a lot more than $12 in 2018 (or maybe 2017) once the transitioning is complete. A double from here ($25) would only take them 2/3 of the way back to the mountain top.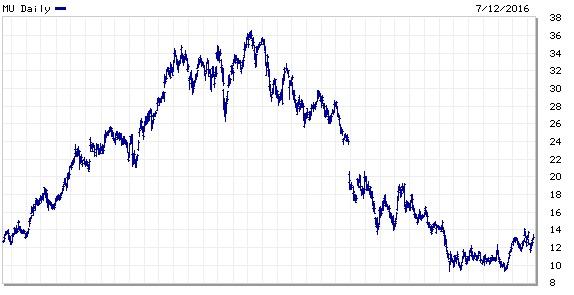 Micron is in markets that are growing very fast.
According to CEO Mark Durcan DRAM and NAND bit growth will be high and continuing.
For DRAM:
"This compares to our long-term bit demand forecast in the low to mid-20% range."
And for NAND even higher:
"Our long-term bit demand forecast is in the low 40% range as lower cost and higher performance 3D NAND solutions enter the market."
Of course, ASP (Average Selling Price) will determine margins and profits, but the fact remains these are two very fast growing markets and Micron has an excellent opportunity to improve both sales and profits in the coming two years.
Management's position is to not discuss ASPs ("And again, we are not going to comment on ASPs"), but of course they have to do it in order to come up with their projected sales and gross margin numbers. Why they avoid the issue is beyond me.
The $80 million a quarter savings is a big plus going forward
The announced cutbacks will result in $80 million per quarter savings in 2017. Considering that their non-GAAP loss this quarter was $79 million, this bodes well for future profit increases. So if revenue ramps up and cost go down as the transition is completed the $320 million in 2017 should fall right to the bottom line.
And this does not include any savings and cash flow improvements (as much as $700 million per year) that will come when/if the Inotera deal closes. According to CFO Ernie Maddock:
There's been some speculation that perhaps there's a pending deal with China. I can tell you that our position relative to China hasn't changed. This really is just work that the two parties need to do to get across the finish line, predominantly on the Inotera side and we want to allow them the time to do that in a complete way that will allow us to move to closing as quickly as can reasonably be achieved.
I discuss the Inotera deal in Micron's Inotera Deal Delay: Even The Worst Case Scenario Is Pretty Good.
Conclusion:
With $16 billion in 2015 annual sales and $5.7 B in the bank Micron is in no danger of going out of business. Since 2014 they have lowered their share count from 1.2 billion to 1.04 billion a decrease of more than 13%. This in spite of increasing their Capital Expenditures by more than 90% from $2.66 billion in 2014 to at least $5 billion in 2016.
Make no mistake Micron is not a company without problems. But as each quarter grinds by, off times making snails look like thoroughbreds, the plan and the resolution of the problems becomes clearer.
My point here is Micron is a big company with substantial assets (including IP) and a plan to utilize them to shareholders benefit over the next two years. With the stock price near book value, the downside is limited but the upside is substantial.
Micron is a strong buy for long-term investors.
To see all 12 of my Micron articles go here.
If you found this article to be of value, please scroll up and click the "Follow" button next to my name.
Disclosure: I am/we are long MU.
I wrote this article myself, and it expresses my own opinions. I am not receiving compensation for it (other than from Seeking Alpha). I have no business relationship with any company whose stock is mentioned in this article.