Even as U.S. stock markets near all-time highs, the potential collapse of Deutsche Bank (NYSE:NYSE:DB) could cause turbulence centered in Europe but with the potential to spread globally. In fact, the International Monetary Fund has gone so far as to label the bank as the greatest threat to the global financial system. Now, Deutsche Bank's chief economist, David Folkerts-Landau, is calling for a 150 billion euro bank bailout, noting that Europe's banks are "extremely sick and must start dealing with its problems extremely quickly."
Interestingly, Folkerts-Landau's comments were not poised as a direct appeal from DB for funds, but instead the entire banking system. Regardless, DB is regarded by many as the most overexposed and vulnerable big bank in the European Union, and indeed the world, surpassing even many of the struggling southern European banks. Folkerts-Landau grounded the banks' problems in the wider economic malaise affecting Europe, namely low growth, high debt and deflation, but ultimately it appears that banks, including DB, simply made a series of risky choices that simply didn't pan out.
Deutsche Bank's stock prices, unsurprisingly, have collapsed over the past several months.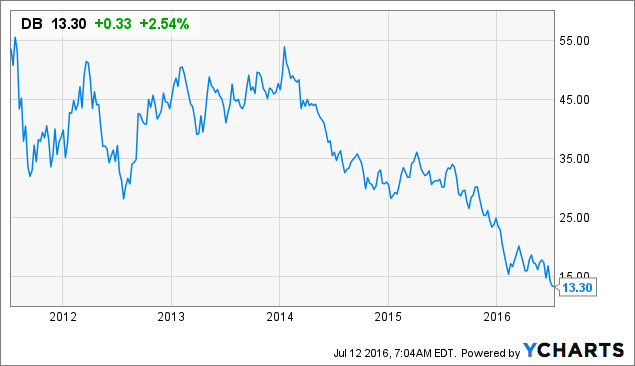 Overexposure a Serious Risk for Deutsche Bank
Costs to insure DB's debt have grown dramatically in recent months, meaning that markets are already highly skeptical of the banking giant. The spreads for DB's credit default swaps have skyrocketed in recent months. While the insurance rates have dropped a bit since February, they still remain abnormally high.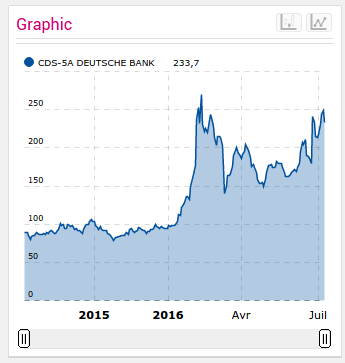 Meanwhile, DB is exposed to huge levels of derivatives. So long as conditions don't force DB to honor large portions of the derivatives, this won't pose a problem. However, when Lehman Brothers collapsed it set off a chain reaction, ultimately with AIG being pushed to the brink of collapse due largely to derivatives. In theory, banks have scaled down risky derivative bets and are more well capitalized, and regulators are paying closer attention. Whether that will turn out to be true, however, remains to be seen and DB, at the least, appears to be overexposed.
Estimates vary, but generally put DB's derivatives exposure at somewhere between $65 trillion and $75 trillion.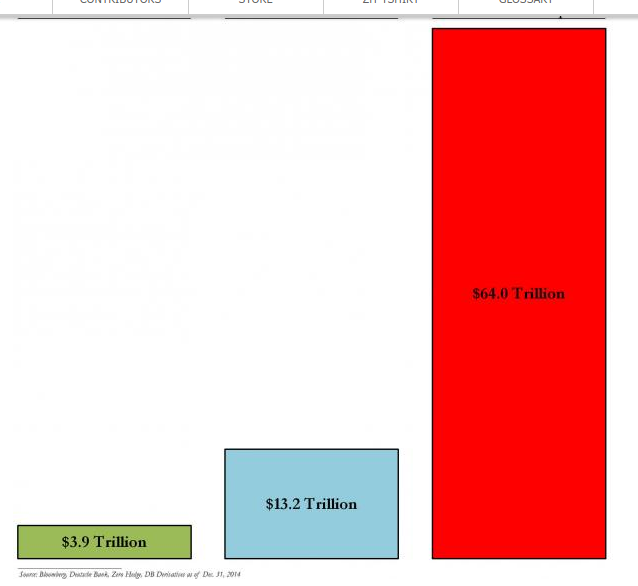 Deutsche Bank Intertwined in Global Financial System, Posing System Threat
The IMF's belief that DB currently poses the greatest systemic threat to the global financial system centers on the fact that the bank is deeply intertwined with numerous other banks and institutions around the world. DB is a major holder of derivatives, as already noted, and many of these derivatives mark agreements with other major financial institutions.
Meanwhile, at the end of February, DB managed $1.972 trillion worth of assets. Lehman Brothers, by comparison, had only $639 billion in assets before it collapsed, and that event dragged down global markets and fueled the 2007-2008 financial crisis and resulting Great Recession. With its sheer size alone, DB poses risks, being a literal elephant in the room.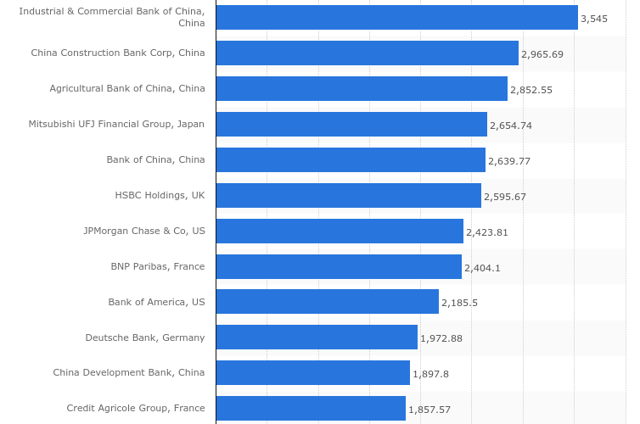 To be clear, the IMF has argued that Germany's financial system, as a whole, is stable. The IMF believes that financial sector reforms and a strengthening regulatory environment have increased the stability of the German financial system. Regardless, even if the IMF was worried about Germany's financial system, they wouldn't write a doom and gloom report or else would risk roiling stock markets.
The U.S. Federal Reserve, however, has already announced that DB has failed its most recent stress test. This stress test is designed to determine whether or not banks would be able to respond to events similar to those that unfolded during the 2007-08 financial crisis. In its quantitative analysis, the Fed found that theoretically, DB has enough capital on hand to survive a major event, but qualitatively, the Fed argues that DB has not done enough to prepare.
Deutsche Bank Will Be a Threat for Investors Everywhere
By itself, the collapse of DB probably wouldn't be enough to drag down the global financial system; however, the bank is deeply interconnected with other banks. The IMF noted this in its report, and it's possible that if DB should fail, other banks would be dragged down with it. Right now, confidence in financial markets appears to be relatively high, however making a system-wide collapse less likely. In fact, a collapse by DB might instead set off a short-term dip, especially in American markets.
If the hypothetical collapse can be properly contained, it may actually represent a buying opportunity, a chance for investors to pick up stocks on the cheap as indices are currently hovering near historical highs. IF, and it's a big if, Deutsche Bank does collapse or the European financial system stumbles, American investors will have to figure out whether it is a short-term downturn or the start of an international financial crisis. Previously, the U.S. has largely managed to shrug off international downturns, but while the American economy is growing this growth is still fragile.
There is a risk, however, that Germany will be hamstrung if Deutsche Bank fails. The bank is massive and propping it up would be a heavy burden, even for a large economy like Germany's. The Germans, meanwhile, have proven to be quite strict when it came to bailouts in Greece and elsewhere in Southern Europe. Will the German government risk accusations of hypocrisy if it moves to bail out DB? Does the German government even have the resources to save DB, should it collapse?
Some also speculate that if DB fails, it will drag the euro down with it. Almost certainly, a collapse of the bank would cause the euro to drop versus the dollar as investors begin to fear a European-wide financial collapse. Most likely, policy makers will be able to contain the damage before anything too dramatic happens, but forex investors would be able to lock up big gains by betting against the euro.
Regardless of what happens, whether Deutsche Bank fails and whether it creates severe systemic challenges or buying opportunities, what U.S. investors can't do is fall asleep at the wheel. It's tempting and easy to focus on strong U.S. jobs reports and the hot American real estate market, and to ignore problems abroad. With the U.S. economy more vulnerable now than usual, however, it's important to keep an eye on global markets.