A Military Retirement Plan: The Beginning - Part I
Brief Background:
I'm a former non-commissioned officer who has completed a 5-year enlistment in the Army. I've been out of the military for a few years and I've been working on completing my degree. Upon graduation, I'll be attending Officer Candidate School to become a commissioned officer. My wife and I actively invest and look to secure a long and healthy retirement.
This is the first of many installments. I hope to cover a number of topics including, but not limited to: military pay and benefits, the military retirement system and how my wife and I plan to retire young. I'll be writing about dividend paying stocks regularly and how they play a significant role in our portfolios. Throughout the next few articles, I'll be filling in some details about my career, my investment beginnings and the future. For now, think of this as a preparatory article.
Please understand that despite focusing on the financial aspects of the military, that is not why I, or most soldiers choose to serve. The reasons may vary, and are often personal, so let's stay focused on the finance. With that, let's get started!
You can't get rich in the Army:
It's a common saying amongst lower enlisted (E1 -E4). Generally speaking, for these soldiers, they're right. I suppose almost anybody can become rich with financial discipline, frugal living, and a liberal definition of the word rich.
Below is the Army Pay Chart that is posted annually. The chart is pretty easy to read, or, Barney Style for any vets out there. Rank on the left, time in service (TIS) along the top. Every two years, a soldier's pay increases regardless of what rank they are. As you can see, there are limitations on this to avoid rewarding soldiers for staying in the same rank for too long. It's an incentive to do your job and get promoted in line with your peers. Clearly, lower enlisted pay is nothing to brag about. The rigors involved and the low pay are enough to make most people leave, which is exactly why most do after 4 years. If you wanted out, the running joke was to just hand your 2 week notice to your 1st Sergeant and call it a day.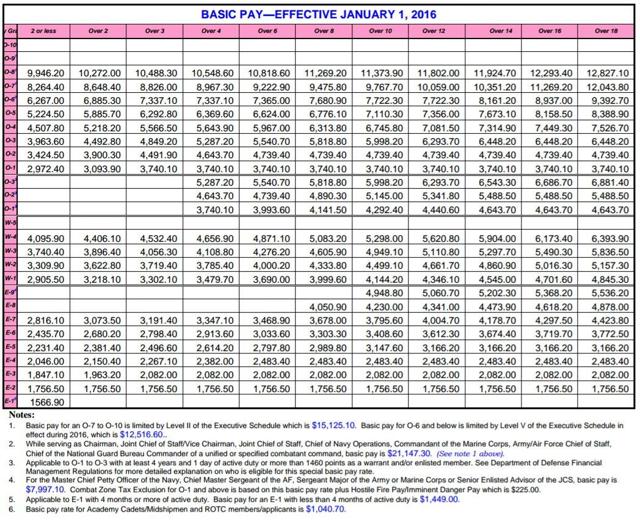 Army (Maslow) benefits:
The Army focuses on hitting the foundation of Maslow's Hierarchy of Needs: physiological, and safety and security. It elects to feed their lower enlisted troops through a meal plan that the soldier must pay for, with no exceptions. It's been about 8 years since I was a private, but this was around $200-$300 a month. As a private, I hated this because I had no choice in the matter. They charged me $X amount every month whether I ate the (usually) terrible chow hall food, or not. To be fair, the Army pays enlisted soldiers $367.92 in Basic Allowance for Subsistence (BAS) to cover this food, but it's essentially money in, money out. I have to admit, if I could eat 3 meals a day at the chow hall right now for $300 a month, it's a done deal, sign me up.
Soldiers and their families can also get a smokin' deal on healthcare from TRICARE "at little or no cost". They also have the ability to sign up for Service members Group Life Insurance (SGLI). Due to the nature of the work, soldiers are automatically enrolled for the full amount ($400,000), but can elect to lower it. I'll touch on these in more detail in future articles. Here is a breakdown of the SGLI: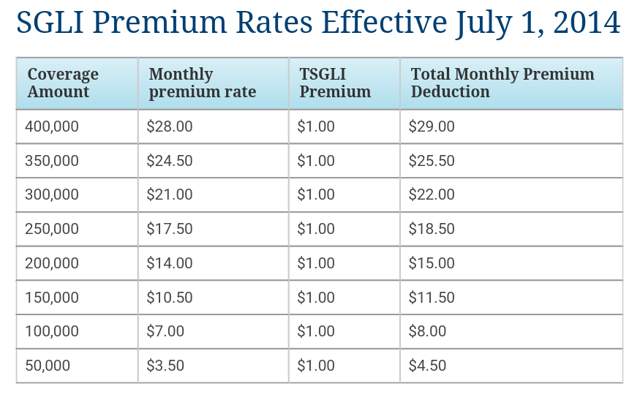 Some soldiers are also given Basic Allowance for Housing (BAH) to live off post; however, this only applies to soldiers that are married and/or have children, or are the rank of E6 and above. Soldiers that are E5 and below are relegated to barracks life for the entirety of their enlistment. Many barracks are still 2+ soldiers per room; however, the newer barracks seem to be shifting to one per room. This helps to realize those higher levels of Maslow's pyramid. BAH is calculated by rank, marital status and the ZIP code in which the soldier is stationed.
In addition to some of those basic-needs-benefits, male soldiers are given $1,643.45, and females are given $1,888.07 (lump sum) to buy new articles of clothing. This can be anything from their daily combat uniform to dress blues, badges or ribbons. This is usually spent on beer or a new TV. If a soldier is separated from his family on a specific assignment, the soldier will be paid $250 in Family Separation Pay every month. The military has a number of "special pay" options available, and it all depends on a soldier's qualifications or assignment. For example: Airborne qualified soldiers in an airborne unit will make $150 a month for being jump ready. Essentially, if the Army identifies a hardship, they tend to throw money at it to take the edge off.
All soldiers will earn 2.5 days of paid leave per month. 30 days of paid leave is pretty generous for any organization, so you won't hear anybody complaining about that! Due to the hazards and hardships involved in military service, I think this is a fantastic incentive. It keeps soldiers emotionally healthy, allows for much needed decompression and quality time with family and friends. The Army allows individuals to save their leave for two years (60 days), but will require them to forfeit any additional days earned, or sell it back.
Let's put it all together:
We've only scratched the surface of military benefits, but it's a lot to process. Let's recap using: an E-1, enlisted soldier (male), less than 2 years of service, unmarried, no special assignments, not deployed.
E-1 Base Pay: $1,567
BAH: None (living in the barracks)
BAS: $367.92 (paid/deducted to pay for meal plan, not added)
Clothing Allowance (divided by 12 months): $136.95
Leave earned: 2.5 days
Total: $1,704 monthly, $20,447 annually and 30 days of paid leave.
Keep in mind, taxes and other deductions (aside from meals) have not been taken out. This Private is living and eating for "free", and his only bills are whatever he can afford. These are typically vehicle payments, insurance for that vehicle, phone and copious amounts of alcohol. It is not unusual for a soldier to live paycheck to paycheck, and you can see why. Pay increases as a soldier gets married, gets promoted, and surpasses the 2-year time-in-service mark, but it's still nothing to brag about.
The Dark Side:
Commissioned officers in the Army (often called the dark side by enlisted) are a different story. Now, before we get started on the pay and benefits that an officer receives, let's keep in mind that a college degree is required to receive a commission. Most officers have attended ROTC, one of the Service Academies, completed Green-to-Gold, or Officer Candidate School. If at any point you're thinking, "Wow, that's a little unfair. These officers get paid so much more than the enlisted guys", realize, every soldier has the opportunity to go to college before, during or after their time in the service.
Instead of using hypothetical situations and made up characters for the following examples, I will use myself. As I stated in the opening paragraph, I'm prior service looking to earn a commission through Officer Candidate School. Let's look at what that means, how it's accomplished, what benefits are involved, and how it will affect my future.
Setting myself up for Success:
To save time (and material for another article), I'll summarize my almost 5 and a half years in the Army from a financial standpoint. I've always been an avid saver and did exactly that while I was in. I deployed twice which comes with its own financial benefits that nearly doubled my income for those two years. I never invested a dollar, which was one of my biggest mistakes. In my contract, I signed for a small cash bonus, and something called the "GI Bill Kicker". This was an additional $650 a month that was applied to the GI Bill BAH that is paid monthly. To clarify, most soldiers that spend ~4 years on active duty will qualify for the GI Bill, or "free" college. The GI Bill pays tuition and a monthly living stipend. I'm currently using the GI Bill and I'm receiving the kicker. How I had the common sense to take a monthly payment after leaving the military, instead of a lump sum up front is beyond me, but I'm glad I did. Through a combination of BAH, kicker, and scholarships, I've been able to invest, and that is how I'm here today.
Always Start with the End in Mind:
I've taken, what amounts to be, the most indirect route ever conceived to becoming an officer, but I'm nearly there. So let's look at what is in store for a new officer aspiring to make the military their career. As this is a financial website, that is what we will focus on. I'm introducing a new perspective that I hope most will find educational or interesting. Before we dive too deep, I just want to remind readers that despite focusing on the financial aspects of the military, that is not why, I, or most soldiers choose to serve. The reasons may vary and are often personal, so let's just stay focused on the finance.
The Basics:
We've seen how the lower enlisted side works, but now let's look at the officer side. Attached below is the same pay chart. Focus your attention on the officer range, which progresses from O1 (2nd Lieutenant) to O10 (General). It also includes 3 "special" ranks: O1E, O2E, and O3E. These ranks consist of enlisted troops that have become officers. The only difference between O1 and O1E is the O1E is paid more. O1E does not outrank an O1; it is simply a "thank you", if you will, for time spent enlisted. Upon commission, I will be an O1E.
Officer (male), over 4 years of service, married, no special assignments, and not deployed
O1E Base Pay: $3,740
BAH: $1,584.00 (using Ft. Campbell, KY - low cost of living, and home to the 101st Airborne Division)
Dependents: Yes, ~$207
BAS: $253
Clothing Allowance: Do not receive
Total: $5,784 Monthly, $69,408 Annually
As I previously stated, this does not include taxes or other deductions, but the differences are clear. If I was looking to compare enlisted to officers directly, I wouldn't use previous time in service or dependents. The pay would be a little closer, but still significantly different. Also, keep in mind that the BAH is actually used to pay for housing off post. If an apartment costs $1,000, I would net $236 a month from the BAH. If an apartment costs $1,500, I would need to contribute $264 of my base pay to afford the apartment. You get the idea.
These differences become exponential as enlisted and officers continue to progress in their careers. To highlight this, let's do some spot checks on enlisted and officers throughout their careers. I will have to make some assumptions about their rank, and for this example, we will assume that they follow a "fast-tracker" to normal promotion rate. I will also be using an officer straight out of ROTC or OCS to keep this as balanced as possible. The pay indicated below will be their base pay only because this is how the Army pays its pensions after 20 years of service.
At 5 years:
Enlisted: E5 (Sergeant), annual salary: $31,370.40
Officer: O3 (Captain), annual salary: $63,446.4
At 10 years:
Enlisted: E7 (Sergeant First Class), annual salary: $45,547.20
Officer: O4 (Major), annual salary: $80,949.60
At 20 years (eligible to retire):
Enlisted: E9 (Sergeant Major or CSM), annual salary: $69,656.40
Officer: O5 (Lieutenant Colonel), annual salary: $103,406.4
The differences are clear. While base pay is taxed, pension included, an officer can still make a decent amount of money during his service. In the next article, I'll discuss the military retirement system, and how I plan to retire young. This is where we'll start to really look into how to become rich in the military.
Summary:
As I've stated earlier, this is sort of preparatory article, giving you pertinent background, and the goal ahead. I wanted to give civilians a glimpse of what soldiers are paid and the benefits that they often receive. I would love to hear your thoughts, so please comment and fire your opinion my way.
In Part II, I'll discuss how I plan to retire by 48 years old and supplement my pension with dividend income from 3 investment accounts. I will touch on some of the big players (DLNG, GMLP, KMI, MMP, MPLX, PAA, RDS.B, SEP, SHLX, JNJ, KYN, MMM, MPC, and SE) that have been, and will continue to supply cash to those portfolios. Let's start a conversation; I'm looking forward to hearing your thoughts and ideas on the subjects at hand. Look out for my perspective on: dividend investing, military benefits, and early retirement in the coming articles.
Please, feel free to hit subscribe!
Disclosure: I am/we are long ALL STOCKS MENTIONED ABOVE.
I wrote this article myself, and it expresses my own opinions. I am not receiving compensation for it (other than from Seeking Alpha). I have no business relationship with any company whose stock is mentioned in this article.