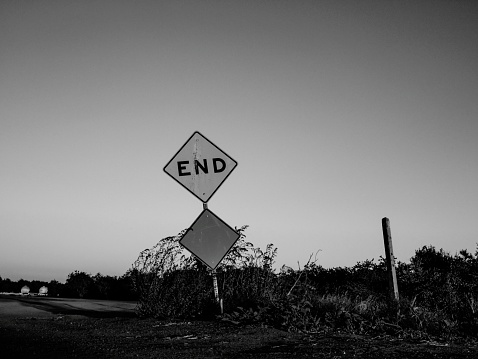 Introduction
Every week, we closely monitor net speculative positions on the COMEX as well as ETF holdings in so far as the historical economic behavior of gold prices suggests that over a short-term horizon (<3 months), gold prices are largely influenced by changes in the forward fundamentals, reflected in changes in net spec length, ETF holdings, and central bank reserves.
Speculative positioning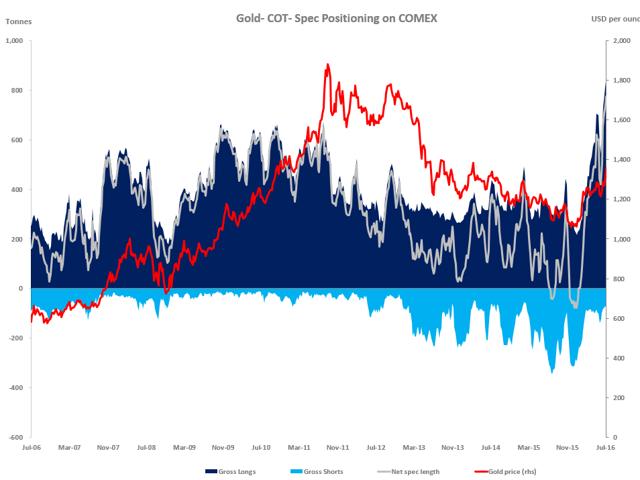 Source: CFTC.
Gold. According to the latest Commitment of Traders (COT) report provided by the CFTC, money managers, viewed as a relevant proxy to gauge speculative activity, raised their net long position for a fifth straight week as of July 5 to a fresh all-time high. Over the period covered by the data (i.e. June 28 - July 5), the gold price strengthened 3.56 percent.
The net long fund position increased 34.09 tonnes or 5.0 percent week-on-week (w/w) to 774.16 tonnes, marking its highest level since the CFTC started to publish its statistics in 2006.
The weekly improvement in the speculative positioning was entirely driven by long accumulation and partly offset by a re-engagement of shorts.
Longs raised their positions by 40.19 tonnes w/w to an all-time high. We continue to see a strong willingness from bulls to expand their already elevated gross long position. As long as the macro backdrop remains supportive, longs may continue to boost their bullish bets. But it is important to note that the higher the gross long position, the higher the room for long liquidation.
Shorts built up 6.09 tonnes of new positions w/w, marking the first weekly increase in six weeks in the gross short position. As we expected last week, short-covering has come to an end. We expect a renewed build-up of shorts in the coming weeks. But considering the resilience of the gross long position, shorts are unlikely to lead prices in the short-term.
As we highlighted in our previous Weekly, gold's speculative positioning is largely influenced by changes in US real interest rates. The year-to-date correlation between gold prices and the 10-year US TIPS yield (a proxy for US real interest rates) is now -0.89, according to our estimates. It is noteworthy that the 10-year US TIPS yield has moved in negative territory since the start of July for the first time since June 2013. The steep fall in US real interest rates is conducive for gold's spec positioning to improve. As a result, we are not surprised by the steady increase in the net speculative length despite its extremely high level when we take into account the magnitude of the fall in US real interest rates.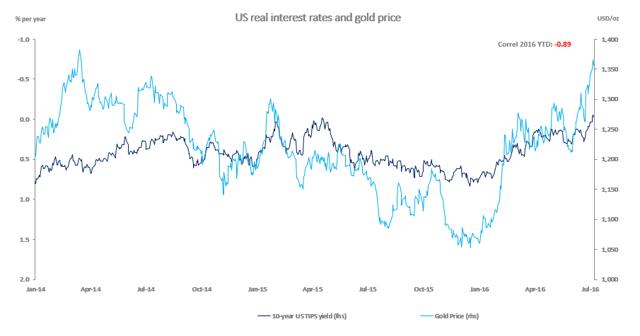 Source: FRED.
In this regard, it is important to closely monitor US real interest rates to detect any signs of bottoming-out in order to predict a fall in the gold's net spec length toward more normal levels.
Our view remains this: the current level of US real interest rates is too low compared to the health of the US economy. Kansas Fed President George agrees with us following the release of the latest unemployment report (July 8), which surprised market expectations to the upside.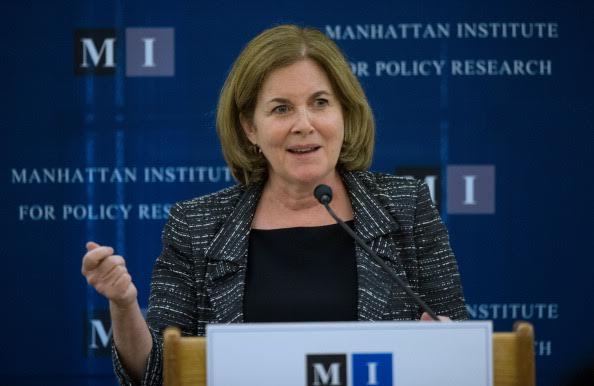 Kansas Fred President Esther George.
The economy is at or near full employment. And yet short-term interest rates remain at historic lows. Keeping rates too low can also create risks (Speech on July 11, 2016 in Lake Ozark, Missouri).
We expect US real interest rates to bottom out in the second half of the year, which should trigger a cascade of speculative selling. This could happen as soon as the July 27-28 FOMC meeting although we recognize that the Fed may think it is too early to recalibrate market expectations given heightened uncertainty, and thus, the risk of a summer sell-off in risky assets may be too elevated.
To sum up, net speculative long positions on Comex are likely to continue to grow in the coming weeks with possible bouts of profit-taking that are likely to be harmless. The cascade of speculative selling will arise once US real rates bottom out, at some point in H2 2016.
Investment positioning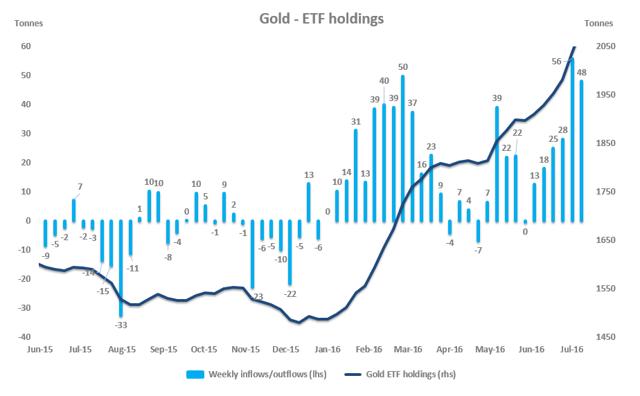 Source: FastMarkets.
Gold. ETF investors boosted their holdings for a sixth consecutive week as of July 8, pushing total ETF holdings up to a fresh 2016 high of 2,085 tonnes, marking their highest level since June 2013.
Gold ETF holdings have already increased by 71 tonnes or 3.5 percent since the start of July after rising by 118 tonnes or 6.0 percent in June and 82 tonnes or 4.5 percent in May.
Similarly to speculative positioning, ETF positioning in gold has been highly influenced by the vagaries of US real interest rates and therefore, the expected path of Fed funds rates.
Following the Brexit shock (June 24), the expected path of Fed funds rate has become much shallower, fueled by expectations that the Fed will have to stay on hold for longer due to growing risks from weaker economic growth abroad. The futures market is currently pricing in a probability of 25 percent for a Fed rate increase by the end of the year.
While lower Fed tightening expectations have, in our view, been partly justified, we think that the current probability of one rate increase by year-end is too low and therefore, vulnerable to increase sooner rather than later for at least two reasons.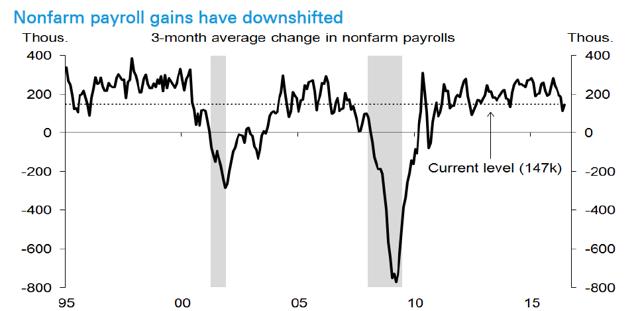 Source: Deutsche Bank.
First reason: The US economy is close to full employment.
According to the latest US employment report, the US economy added 287k jobs in June, the largest monthly increase since October 2015 (295k), compared with a gain of 11k in May and 144k in April. To be sure, the three-month average of non-farm payroll gains has slowed from last year, as can be seen above in the chart, but this is consistent with a labor market close to full employment. Should the labor market conditions continue to improve, the Fed could be forced to send hawkish signals to the market to recalibrate market expectations toward a steeper path of Fed funds rates.
Second reason: Feedback loops between the Fed and US equities continue to play a key role in 2016.
Against a backdrop of elevated macro uncertainty, the Fed has become more blind and as such, more sensitive to financial conditions, most notably the level of equities. A more dovish Fed tone tends to produce an easing in financial conditions, pushing US equities higher, which in turn, prompts the Fed to reverse its dovish posture or even send "hawkish vibes" to the market. Hence, this is not surprising to see that the dominant driver of changes in the Fed's dots from one meeting to the next is changes in equity prices.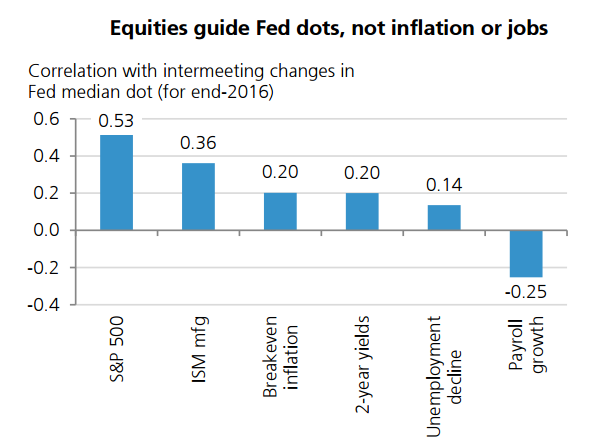 Source: UBS.
As can be seen above, over the past three years, the correlation between changes in equity prices and that in the Fed's dots from meeting-to-meeting has been higher than the correlation between changes in the Fed's dots and that in major US economic variables.
Remarkably, because the SPDR S&P 500 Trust ETF (NYSEARCA:SPY) reached a record high this week, a more hawkish posture from the Fed may emerge in the coming weeks, which could in turn tighten financial conditions, move equities lower and US rates higher.
Bottom line: at 25 percent, we deem the current estimated probability of one Fed rate increase as too low considering 1-the health of the US economy and 2-the elevated level of US equities. We therefore expect a realignment of market expectations, which should in turn result in a steeper path of Fed funds rates and resulting higher US real interest rates. Under this scenario, we would expect the resurgence of outflows from gold ETFs.
Spec positioning vs. investment positioning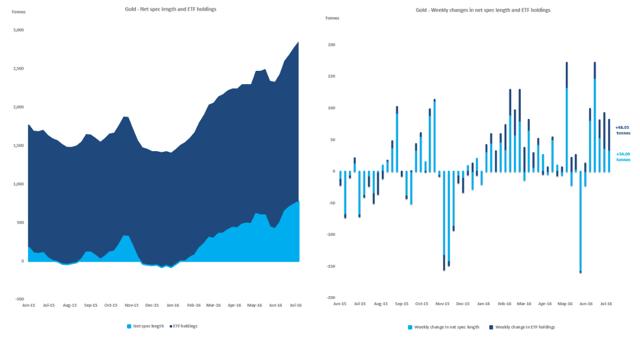 Source: MikzEconomics.
SPDR Gold Trust ETF (NYSEARCA:GLD) positioning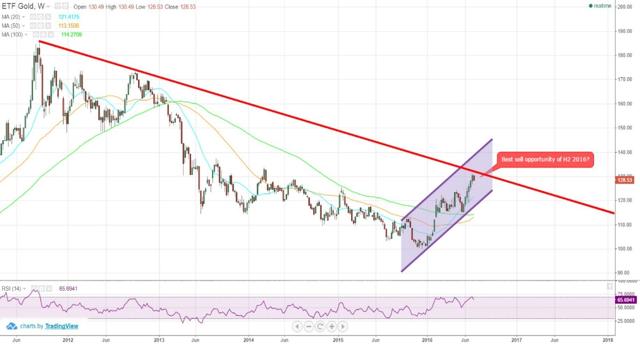 Source: TradingView.
SPDR Gold Trust ETF GLD edged up for a sixth straight time to a fresh 2016 high of $131.25 (intraday basis) last week, posting a weekly gain of 1.69 percent.
As we explained in our previous reports, we RESPECT the technical picture and as such, we are UNWILLING to fight the current uptrend. To put it another way, we do not recommend to implement a short GLD position at the current juncture as the technical picture remains positive in the near-term.
Still, we prefer to remain cautious because we do not see a lot of upward pressure in the coming weeks and months and feel that the skew to GLD is skewed to the downside rather than the upside.
Our speculative positioning analysis suggests that money managers are too complacent so current extreme bullishness is likely to reverse once US real interest rates enter a bottoming-out process. While it is too complicated to predict accurately when the bottoming-out process will arise, it is fair to argue that the current level of US rates is too low and risks are therefore skewed to the upside.
Our ETF positioning analysis suggests that investors are likely to continue to add gold in their portfolios as a hedge against tail risk, especially considering that the risk-free asset has been removed from the financial markets in this negative interest rate environment caused by major DM central banks (BoJ, ECB, SNB, etc.) Still, we argue that the rally in GLD YTD has attracted an increasing number of momentum-based buyers, which is likely to exit once gold prices show signs of exhaustion. Under this scenario, a cascade of profit-taking could push GLD much lower.
To sum up, we see a double selling pressure in gold coming at some point in the second half of 2016, which could undermine meaningfully prices.
Trading perspective
We are not currently positioned in GLD but we are looking to implement a short GLD position.
Our three trading criteria (fundamentals, technicals, tone) need to be met before jumping on the short side.
At present, it is important to recognize that those criteria are in favor of a further uptrend so we prefer to adopt a cautious stance.
For longer-term investors, we remain of the view that accumulating gold on a regular basis in a well-diversified risky portfolio with a horizon of 5+ years will be a rewarding strategy, especially for non-US investors (the dollar will remain king in the coming years). But shorting gold later this year could provide a decent hedge against a sudden sell-off in gold.
Final important note for our regular SA readers: we try to provide regular updates about the gold market - namely, what are the current drivers of the market and how market participants are positioned. While we express our bias toward gold (bullish, neutral, or bearish) on a weekly basis, we do not actually implement positions on a regular basis. In fact, given our conservative approach, we need to see our three trading criteria being met before initiating trade ideas. Equally important, when we implement trade ideas, we make sure that the reward-to-risk ratio of the hypothetical position is skewed in our favor (generally 3 or 4). This has allowed our GLD portfolio to perform well since the start of the year without taking a significant amount of risk in our individual trades.
For the sake of clarity, please find below the historical of our trade ideas since the start of the year. We currently do not have active trade ideas.

Source: MikzEconomics
About: SPDR Gold Trust ETF, Includes: PowerShares DB Gold ETF (NYSEARCA:DGL),VelocityShares 3x Inverse Gold ETN (NASDAQ: DGLD), DB Gold Double Long ETN (NYSEARCA: DGP), DB Gold Short ETN (NYSEARCA: DGZ) SPDR S&P 500 Trust ETF (SPY)
Disclosure: I/we have no positions in any stocks mentioned, and no plans to initiate any positions within the next 72 hours.
I wrote this article myself, and it expresses my own opinions. I am not receiving compensation for it (other than from Seeking Alpha). I have no business relationship with any company whose stock is mentioned in this article.