In October 2011, I started writing a series called "Stock Management the Sun Tzu Way," which would seek to apply the principles of military strategy from a 2,400-year-old text and apply them to a modern-day investment portfolio. You can read about the original article's investment thesis, published in Part I of a series I wrote in the two years I was based in the Keystone State.
One of my favorite lessons from Sun Tzu which provided the inspiration for writing the strategy is, in layman's terms: "Know yourself and know your enemy, and in a hundred battles you will never be defeated." The modern take on this was quoted in the Oliver Stone movie Wall Street: "I don't throw darts at a board. I bet on sure things. Read Sun-Tzu, The Art of War. Every battle is won before it is ever fought."
My strategy was based on the premise of "What would I do now if the financial markets were my battle space, and the advantage appeared to be resting (at the time) with the markets over the investor?" The resulting theory would be that it would be time to take the following steps: Review, Pause, Reflect, Think, Plan, then Act.
In doing so I proposed that I would go back and review doctrinal principles - in this case Sun Tzu as an appropriate reference point and foundation to build upon, in order to draw on lessons that can be translated across to markets for use as reference points within their own financial battle space.
Portfolio Initial Position
To apply the theory of Sun Tzu's writings on strategy to a portfolio, I needed a portfolio based on American stocks (in order to have the articles published on Seeking Alpha). I therefore established the Sun Tzu Portfolio with the aim being to "find undervalued blue chips stocks with good fundamentals and a historical record of paying dividend income streams, with a view to holding for long term positions." The portfolio I constructed therefore looked as follows on October 13, 2011: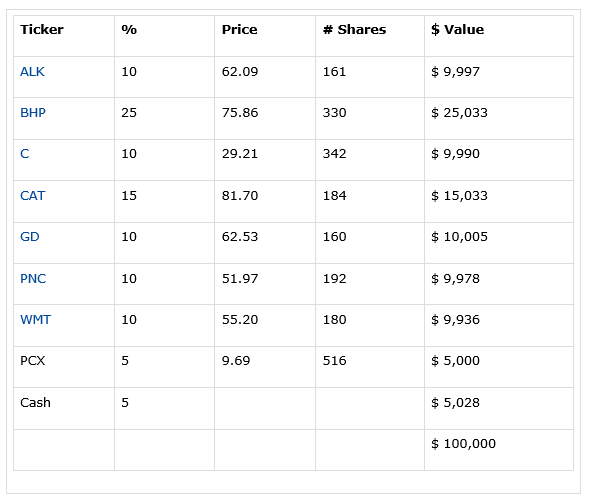 Portfolio Position - October 2012
After 12 months I wrote the article "Trying to Beat Wall Street" following up on the progress of the portfolio, outlining its current position, minor portfolio adjustments made along the way, and summarised that:
...over the last 12 months I have learned a considerable amount about stock selection, crystallized my own thoughts with respect to my investing strategy, and learned from the experience and at times 'mentoring' from other contributors and readers on Seeking Alpha. Documenting these decisions in a public way through writing eliminates the tendency to be dismissive of what is actually occurring in the markets (i.e. it's on the record), and the engaging interaction with readers and contributors places a real time emphasis on decisions made, and in supporting one's investment thesis.
As an investment snapshot, the portfolio position in October 2012 was as follows:

In reflection I noted that the overall return for this portfolio was less than the S&P 500 over the same period, but it was still a significant improvement on what one could hope to recoup were they just to have the money sitting within a U.S. bank account or term deposit.
Set and Forget - What Comes Next?
Warren Buffett said you should "Only buy something that you'd be perfectly happy to hold if the market shut down for 10 years." In the whole, this is a principle that rings true, and is relevant in that as the end of 2012 approached it was time to pack our bags and move back down under (to Australia). With new challenges competing for my time (a career change to the financial services sector, renovating our house and post graduate study), completing the series fell by the wayside (as did writing for Seeking Alpha), though I did find myself coming back once or twice a year to see how the portfolio has progressed.
And so it is that almost 5 years on I thought it would be a good idea to publish what the portfolio's current position is, in part testing a set and forget outcome (assuming Buffett's proposition half eventuated and the market had shut down for five years), and so outlined below is the portfolio's holdings, change since purchase and performance figures: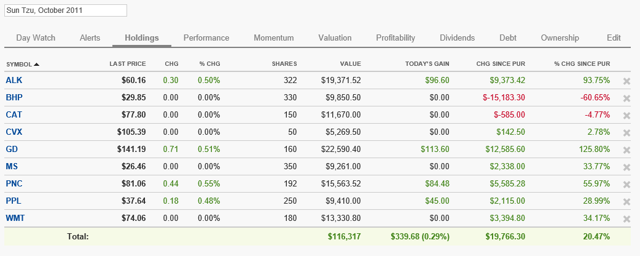 Detractors to overall performance came from cyclical commodities sector exposure: BHP Billiton (NYSE:BHP), Caterpillar (NYSE:CAT), and Chevron (NYSE:CVX). While these companies have disappointed so to speak, they remain quality run companies that will benefit from commodities market cycle (i.e., normal commodity cycles not super cycles such as experienced with China's thirst for resources from 2003 to 2011), and capital expenditure into production infrastructure that has reduced ongoing extraction and production costs.
Contributors to longer performance were Alaska Air Group (NYSE:ALK), General Dynamics (NYSE:GD), PNC Financial (NYSE:PNC), Morgan Stanley (NYSE:MS), PPL Corp. (NYSE:PPL), and Wal-Mart Stores (NYSE:WMT) — all companies selling something everyone needs (Transport, Security, Financial Services, Business Software, Electricity and Staples) regardless of market peaks and troughs.
Summary
In summary I think this illustrates the benefit of having a sound strategy, reasoned stock selection based on undervalued blue chips, and maintaining a long term view for investing (albeit in this case seeing what has come from a set and forget approach). All of the companies remain quality companies in my eyes, and are ones that I was happy to hold at inception, and would continue to do so going forward.
I think that Sun Tzu's principles and reasoning behind the importance of 'Laying Plans' and Buffett's view on what to hold if markets shut down for the long term, resonate with my original strategy concept and I offer the time proven parting thought:
The General who wins a battle makes many calculations in his temple, before the battle is fought.
Disclosure: I am/we are long BHP, PNC.
I wrote this article myself, and it expresses my own opinions. I am not receiving compensation for it (other than from Seeking Alpha). I have no business relationship with any company whose stock is mentioned in this article.
Additional disclosure: The author has exposure to the companies mentioned, through direct shares and managed investment funds, domiciled in Australia. This information is of a general nature only and has been provided without taking account of your objectives, financial situation or needs. Because of this, you should consider whether the information is appropriate in light of your particular objectives, financial situation and needs. You should seek independent financial advice prior to making any investment decisions of your own.