Everyone knows that Apple (NASDAQ: AAPL) has a tremendous amount of cash and continues to generate tens of billions of it every year. Multiple articles get written that the company should increase its dividend by a substantial amount since it earns so much and has a lot in the bank. However, what almost all the writers don't mention or realize is that the company can only use US cash or raise debt to pay dividends or buy back stock. I believe that it makes sense to use debt to buy back shares but not increase the dividend by a large amount. This article will take you through the numbers.
Lots of cash but not enough
Apple had $233 billion in cash and investments at the end of the March quarter, along with $80 billion in debt for a net cash position of $153 billion. However, $209 billion was overseas so it only had $24 billion in the US and actually had a negative US cash position of $56 billion since it has used most, if not all, of the debt it has taken on to pay dividends or buy back stock.
In fiscal 2012 and 2013, Apple generated about $13.5 billion of US cash each year, which jumped to $20.5 billion in fiscal 2014 but fell to $18.1 billion in fiscal 2015. For the first two quarters of fiscal 2016, it has fallen 25% to $9.6 billion vs. $12.8 billion in fiscal 2015. If the next two quarters exhibit the same decline, fiscal 2016's US generated cash will be about $13.6 billion.
Fortunately, the amount of US cash the company generates covers its dividend payments. These were $10.6 billion, $11.1 billion and $11.6 billion in fiscal 2013, 2014 and 2015, respectively, and are projected to be approximately $12.1 billion in fiscal 2016.
Even with Apple buying back 4% to 5% of its shares each year, the cash needed to cover a 10% increase in its dividend will ratchet up the cash needed to pay dividends by 5% to 6% a year. When you run the numbers for fiscal 2018, unless the company can increase its US cash generation, all of it will go to paying dividends with nothing left over for stock buybacks. Therefore, to keep decreasing the share count, and lessen the need for US cash to pay dividends, it will have to issue more debt starting in fiscal 2019.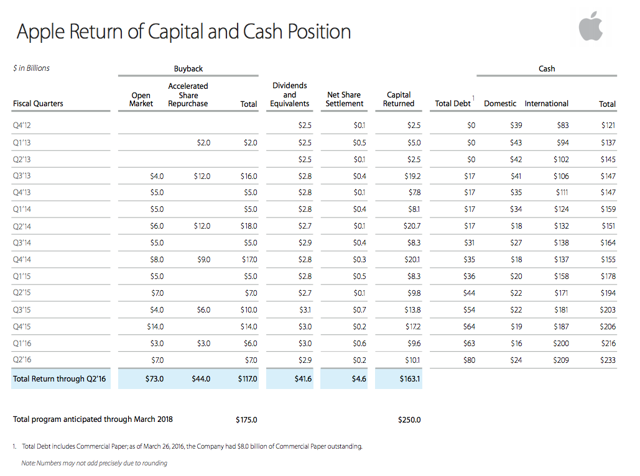 Source: Apple
The current dividend isn't too hot or too cold, it's just about right
At its current share price of $97.40, the dividend yield is 2.4% which is not as high as Cisco's (NASDAQ: CSCO) 3.6%, IBM's (NYSE: IBM) 3.6%, Intel's (NASDAQ: INTC) 3.1% or Microsoft's (NASDAQ: MSFT) 2.8%, but it is higher than Oracle's (NASDAQ: ORCL) 1.5%.
If Apple were to increase its payout by 50% to match Cisco's and IBM's, it would spend over $18 billion in cash every year and have to issue $6 billion in debt every year to cover it. A doubling of the dividend payment would make the situation that much harder to manage since it would also have to issue even more debt to continue to buy back shares and lower the amount needed for dividend payments.
It would put the company on the dividend treadmill to issue debt every year to cover its dividend, and since I believe management and the Board are taking a multi-year if not multi-decade outlook, this is not the path they want to go down unless it can be avoided. That is why I believe Apple will increase its dividend by about 10% a year so as to be on a measured approach and garner investors that value a rising dividend over multiple years if not decades.
The one thing that could change this would be a tax law revision that lowers the percentage tax on foreign generated income. A permanent change could let Apple increase the dividend by a larger amount while a one-time tax holiday would lean management and the Board to do share buybacks.
Disclosure: I am/we are long AAPL.
I wrote this article myself, and it expresses my own opinions. I am not receiving compensation for it (other than from Seeking Alpha). I have no business relationship with any company whose stock is mentioned in this article.
Additional disclosure: Sand Hill Insights and Chuck Jones is not a registered investment advisor or broker/dealer. Readers are advised that the material contained herein should be used solely for informational purposes. Sand Hill Insights/Chuck Jones does not purport to tell or suggest which investment securities readers should buy or sell. Readers should conduct their own research and due diligence and obtain professional advice before making investment decision. Sand Hill Insights/Chuck Jones will not be liable for any loss or damage caused by information obtained in our materials. Readers are solely responsible for their own investment decisions.