Shares of Cliffs Natural Resources (NYSE: CLF) continue to rally, and this development has some serious implications, both for the business and for investors. Let's discuss them one by one.
First of all, I'd like to remind you that the company filed an S-1 form back in June where it announced its plans to raise up to $300 million in share offering. In an article dedicated to this development, I analyzed potential dilution using the $4.50-$5.50 price range.
This range is history now as Cliffs' shares easily went past $6 and are rallying in a classical fashion - a short squeeze helped by momentum buying after the stock was able to get past previous highs.
There are two possible outcomes of this story. Let's start with a negative scenario - potential buyers of stock postpone their decision to buy as prices increase too far too fast. I believe that this is possible.
Imagine that you planned to buy Cliffs' stock for $4.50 per share and now have to pay $7.50. This is a 67% increase in share price in a matter of few weeks and surely not everybody is willing to change their plans. The worst outcome for the stock will be if the sale is arranged with a significant discount to the market price.
However, there is a positive scenario as well. The market just went through resistance that seemed eternal, and investors will be searching for trades in fear of missing out the rally. A lot of stocks are already overvalued.
The situation is especially dangerous with dividend names - the hunt for yield pushed some stocks to the stratosphere. Exxon Mobil (NYSE: XOM) is trading as if nothing happened with oil in the last two years. AT&T (NYSE: T) chart is almost unbelievable for the company of its size and industry. REITs are flying. In this light, the ability to participate in a turnaround story at a still decent price may attract new money to Cliffs' stock.
Interestingly, analysts still don't believe in Cliffs' turnaround story. Here's a snapshot from Yahoo Finance:

Look at the average estimate for 2016 and 2017. In 2016, analysts expect that Cliffs will earn $0.64 per share. This is a very dubious estimate given the fact that Cliffs posted earnings of $0.62 per share in the first quarter, but I wanted to highlight another thing.
According to the average analyst estimate, earnings will drop to just $0.05 per share in 2017. This leads to a forward P/E of almost 150, which seems to become a cornerstone of the bearish thesis.
However, how do earnings drop to $0.05 per share? The only viable answer is a major drop in iron ore prices and/or fall in domestic steel prices. The upcoming softness of iron ore prices has been predicted by multiple analysts.
In this case, Cliffs' Australian segment will be seriously hit, while the damage to the U.S. segment is small. The typical view was expressed by Axiom in May: iron ore prices drop to $35 per ton in the first quarter as new production floods the market and Cliffs' stock drops to $2.
As I frequently do in my Cliffs' articles, let's look at what the futures market is telling us: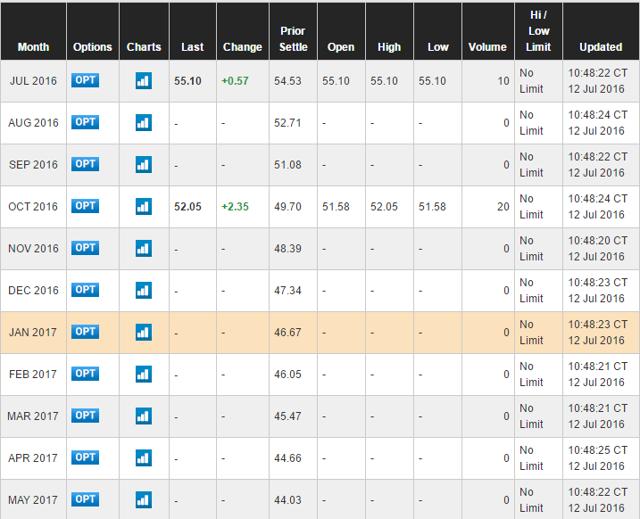 Source: cmegroup.com
It has already become a tradition for the futures market to price in the upcoming increase in iron ore production. As a result, the spread between the front-month contract and fourth-quarter contracts is significant.
However, it is not significant enough to even dream about getting to $35 per ton in the fourth quarter of this year. It looks like almost everyone is calling for low iron ore now, but the price has found significant support around $50 per ton.
I have my own concerns tied to the start of Vale's (NYSE:VALE) S11D project, but I see no signs that the iron ore price is ready to fall through the floor in upcoming months.
All in all, I believe that analyst estimates a way off and that Cliffs will easily beat them unless a real catastrophe in both steel and iron ore markets happens.
Last but not least, Essar Steel Minnesota is bankrupt now, which is hardly a surprise to those who followed the story. I will not be speculating on the potential for Cliffs here, and I expect that Lourenco Goncalves will shed more light on this topic during the second-quarter earnings call.
All in all, Cliffs' rally continues and there are good reasons for this. In my view, a significant number of traders got caught at the wrong side of the trade and upside movement may continue due to short covering.
At the same time, Cliffs' shares become increasingly overbought in the short term, so those investors who are willing to take some money off the table should be watching the stock closely, as it will be very volatile in the coming trading sessions.
Disclosure: I am/we are long CLF.
I wrote this article myself, and it expresses my own opinions. I am not receiving compensation for it (other than from Seeking Alpha). I have no business relationship with any company whose stock is mentioned in this article.