For all of the talk about the rise of the anti-establishment far left and far right in many parts of the world, the global establishment scored another important victory on Sunday following the parliamentary elections in Japan. For not only did the Liberal Democratic party under Prime Minister Shinzo Abe maintain control of the upper house of the National Diet of Japan, they increased their hold on power. The global establishment is alive and well, and investors should anticipate another round of stimulus from the world's third-largest economy.
Impressive Victory, Unsurprising Outcome
The win on Sunday was important for the Liberal Democratic party (LDP) for the following reason. By adding another 10 seats to their ruling coalition, they not only strengthen their mandate in carrying out future policy, but they also now have a critical two-thirds majority both in the upper and lower house of the Diet, which opens up the possibility for constitutional reform to carry out more sweeping changes including a revision that could bring to an end Japan's era of military pacifism. While any such change has the potential to bring a degree of geopolitical uncertainty to the region given the history as well as some of the current territorial disputes, the more important factor from an global economy and markets standpoint is how the election was won. For it was not necessarily the prospects of constitutional reform that propelled the LDP to victory. Instead, it was won with campaigning focused on the economy and continuing Abenomics.
It should be noted that the election was less about LDP winning as it was the lack of any sufficiently organized opposition to defeat the LDP. Young voters including those aged 18 and 19 years old that were able to vote in an election for the first time strongly supported the LDP thanks to the fact that job placement for this cohort has been particularly strong in Japan in recent years. But for older people in Japan, support was far less enthusiastic. Moreover, voter turnout for this election ranked among the lowest on record, signaling a degree of apathy among the population, and while opposition was evident in many parts of the country, it was too fragmented across different candidates to result in any meaningful offset to LDP.
Regardless, the result of the election is a more powerful LDP. And included in that result is a renewed mandate for the LDP to continue pursuing the same ultra aggressive fiscal and monetary policies it first initiated back in early 2013 upon first coming into power.
Since the dawn of Abenomics, the Bank of Japan has more than doubled the yen money supply. Yet despite all of this monetary stimulus to accompany the other two Abenomics arrows of fiscal stimulus and structural reform, the economy has had its stints either officially in recession or precariously close to it with output growth that has been stubbornly sluggish all along the way.
But as has become customary with post crisis fiscal and monetary policy, if the stimulus that has been provided has not worked, it must be because not enough stimulus has been applied. Thus, to resolve this problem, we must need even more stimulus, right?
Riding In Cars With Abe
Now that the LDP has not only prevailed but increased their hold on power in Japan, it is likely only a matter of time before we see yet another major monetary stimulus program from the Bank of Japan that will likely include even more negative interest rates. Will it work in the long run? Almost certainly not. For if the policies implemented to this point have not gained traction, it is unlikely that doing more of the same is going to lead to any different outcome. And it's not as though such policies implemented anywhere else in the world have been a rousing success. Not now and not ever for that matter. Yet this is what we are likely to see.
A hint that more BOJ stimulus would soon be on its way came courtesy of the news that Fed Chair Ben Bernanke would be in Japan to meet with both BOJ Governor Haruhiko Kuroda and Prime Minister Abe this week. Perhaps Mr. Bernanke is traveling all the way to Japan to talk about golf and his grandkids (or since I'm an equal opportunity potshotter, perhaps himself, himself again and the virtues of Saddam Hussein), but it is more likely that he is there with a bigger reason in mind. After all, the last time a notable American economist traveled to Japan with such fanfare, it was Paul Krugman sharing a limo ride around Tokyo back in late 2014. Not long after their get together and due in large part to Krugman's counsel, Abe changed course on a planned tax increase set to go into effect in 2015. And given that Bernanke was the prime architect of some the most aggressive monetary stimulus programs the world has ever known, we should not be surprised if the BOJ comes rolling along with another epic new monetary stimulus program in the near-term future.
Investment Implications
Suppose the Bank of Japan rolls out a new stimulus program. What are the likely implications from an investment standpoint?
First, it is likely to result in a boost to Japanese stock prices (NYSEARCA:EWJ). Recent history has shown that the last few times Japanese policy makers have blown the doors off with a major stimulus program, it has resulted in a strong rally in Japanese stocks lasting anywhere between three to six months, with a fair portion of the gains taking place in advance of the official announcement and subsequent launch of the stimulus program. And given that Japanese stocks are currently in an official bear market more than -25% below their highs from a year ago, it is not as though they are currently dealing with the same degree of froth currently overhanging the U.S. stock market (NYSEARCA:SPY).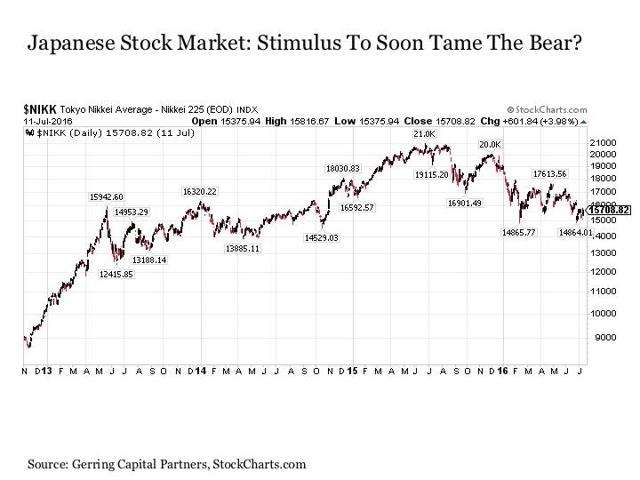 Second, it is also likely to help weaken the Japanese yen (NYSEARCA:FXY), which would almost certainly be a welcome development for Japanese policy makers after its relentlessly strong strengthening since last summer since an export driven economy like Japan's suffers mightily when their currency is strengthening. Of course, a weakening currency erodes the returns generated from Japanese stocks for U.S. investors. Thus, for those considering an allocation to Japanese equities, a currency hedged offering (NYSEARCA:DXJ) may be of interest for those seeking to neutralize currency risk.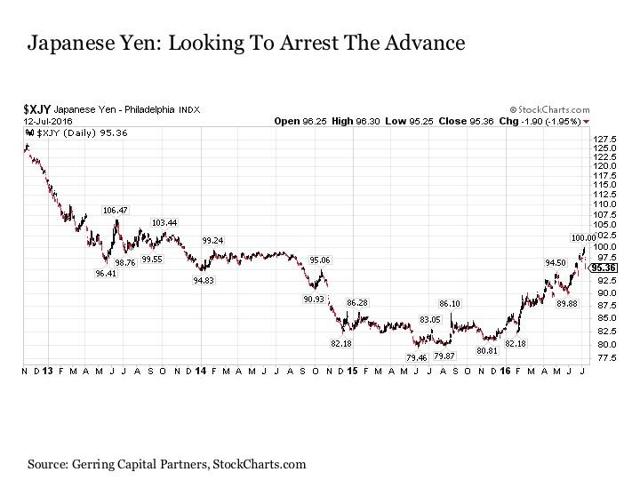 Bottom Line
The global political establishment scored another victory in Japan on Sunday. And it is likely to result in more stimulus for an already liquidity-drunk investment world. While it may result in little long-term sustainable benefit for the Japanese economy at the end of the day, it has the potential to set up for another round of yen weakening and artificial asset price inflation within the third-largest economy in the short to intermediate term.
Disclosure: This article is for information purposes only. There are risks involved with investing including loss of principal. Gerring Capital Partners makes no explicit or implicit guarantee with respect to performance or the outcome of any investment or projections made. There is no guarantee that the goals of the strategies discussed by Gerring Capital Partners will be met.
Disclosure: I am/we are long DXJ.
I wrote this article myself, and it expresses my own opinions. I am not receiving compensation for it (other than from Seeking Alpha). I have no business relationship with any company whose stock is mentioned in this article.