By Taras Berezowsky
Every single price point across the precious metals tracked by the MetalMiner IndX - gold, silver, platinum and palladium - increased over the month of June, helped mainly along by the boon that Brexit has been (for precious producers, anyway… more on that below).
As a result, our monthly Global Precious MMI for July shot up 8% to 83, the index's highest value since June 2015.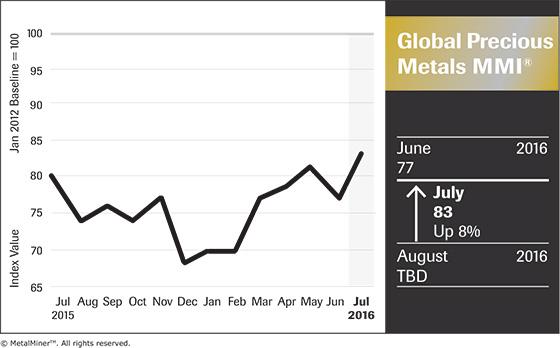 Exit Britain, Enter Gold Price Increases
Britain's vote to exit the E.U. left the pound Sterling in turmoil, with the British currency recently troughing at a new 30-year low, with no end to the bleeding in sight, while the Euro has also suffered. We all know what that means: investors flocking to safe haven assets, such as gold. Which, in turn, means producers will be able to justify keeping near- to medium-term mine production levels and exploration status quo (at least).
The U.S. bullion price of the yellow metal jumped 8.7% month over month, a significant increase. (Correspondingly, U.S. silver bars shot up 17.2%.) Just after the Brexit vote results came in, HSBC analysts predicted that gold will breach $1,400 per ounce. It has already been flirting with the high $1,300s the past couple weeks and, according to HSBC Chief Precious Metals Analyst James Steel, "the drive higher may be more than 10% in the longer term if there were to be broader concerns about the future direction of the E.U. after the vote," as originally reported by Kitco News.
Investors Go Long
Adding more fuel to that fire, hedge funders increased their net long positions in COMEX gold and silver contracts to record highs by the end of last week, further showing their bullishness in the safe haven asset, according to Reuters.
Another major driver of the gold price has been the U.S. bond market. As my colleague Raul de Frutos has written, treasury prices soared and yields plunged to four-year lows as investors continued to seek haven assets. The benchmark 10-year Treasury yield fell as low as 1.45% two weeks ago, the lowest level in four years. Bond yields not only fell in the U.S.; British 10-year government bond yields sank below 1% on Monday for the first time ever. Similarly, Japanese bond yields fell below 0.1% for the first time, reflecting unprecedented long-term pessimism.
The lower the yield, the lower the returns investors get from their bonds. That's important because in periods where yields are near zero, many investors prefer to buy gold rather than bonds. In this manner, in the current stock market turmoil, part of the money that would normally go to assets paying a yield is going to gold instead.
Negative interest rates worldwide also help gold's case.
Big M&A News: Centerra Gold + Thompson Creek Metals
All this Brexiting has prepped large Canadian miner Centerra Gold (OTCPK:CAGDF) to pull the trigger on acquiring Thompson Creek Metals (OTCQX:TCPTF) last Tuesday, based in Denver, as reported by Reuters.
The price tag: $1.1 billion, including debt.
The main reason: Centerra owns and operates its main asset, the Kumtor gold mine, in Kyrgyzstan, and seeing as how the Asian nation wants a bigger cut of Centerra's pie lately, the Canadian miner wants to reduce its exposure in Asia while boosting its footprint in North America.
With the recent upsurge in gold prices, times for miners such as Centerra are looking quite rosy.