I am expanding my coverage of business development companies ("BDCs") to include Baby Bonds (also known as exchange-traded debt) for investors who would like to limit the amount of pricing volatility and overall risk in exchange for lower yields. This will likely be a long series of articles that will cover general BDC topics as well as introducing investors to individual bonds offered by BDCs. This article discusses the effective borrowing rates for BDCs and the potential redemption of Baby Bonds, which could be a good or bad thing depending on the price you pay.
Previous articles in this series:
Links to additional information on Baby Bonds/ETD:
Effective Borrowing Rates for BDCs:
The following table shows the "effective borrowing rates" for each BDC that includes interest expense, amortization of debt issuance costs and facility fees.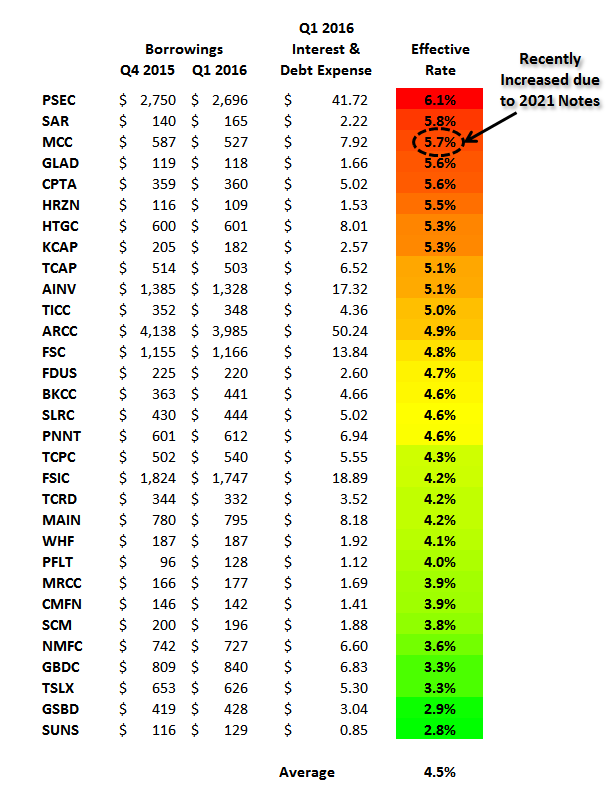 Many of the BDCs with higher effective rates have longer-term maturities or higher amounts of fixed-rate borrowings including Prospect Capital (NASDAQ:PSEC), Saratoga Investment (NYSE:SAR), Medley Capital (NYSE:MCC), Capitala Finance (NASDAQ:CPTA), Gladstone Capital (NASDAQ:GLAD), Hercules Technology Growth Capital (NYSE:HTGC), Triangle Capital (NYSE:TCAP), Apollo Investment (NASDAQ:AINV), Ares Capital (NASDAQ:ARCC) and Fifth Street Finance (NASDAQ:FSC). However, many BDCs such as ARCC have been focused on reducing borrowing expenses through refinancing higher rate debt, including the June 2016 repayment of $230 million in 5.125% convertible notes and the February 2016, repayment of $575 million in 5.75% convertible notes using its credit facility at LIBOR + 1.75%.
Some of the BDCs with lower borrowing rates have been using Small Business Investment Company ("SBIC") licenses to borrow at much lower fixed-rates that are currently around 3.3% for 10-year interest only loans including Golub Capital BDC (NASDAQ:GBDC), New Mountain Finance (NYSE:NMFC), Stellus Capital Investment (NYSE:SCM), Monroe Capital (NASDAQ:MRCC), Main Street Capital (NYSE:MAIN) and to a lesser extent TCP Capital (NASDAQ:TCPC) that is still utilizing its program.
Many of the BDCs with lower borrowing rates are using higher amounts of variable-rate borrowings including Solar Senior Capital (NASDAQ:SUNS), Goldman Sachs BDC (NYSE:GSBD), TPG Specialty Lending (NYSE:TSLX), PennantPark Floating Rate Capital (NASDAQ:PFLT) and WhiteHorse Finance (NASDAQ:WHF).
The following table shows the various borrowings for PSEC, but please keep in mind that the coupon rates exclude amortization, accretion and facility fees.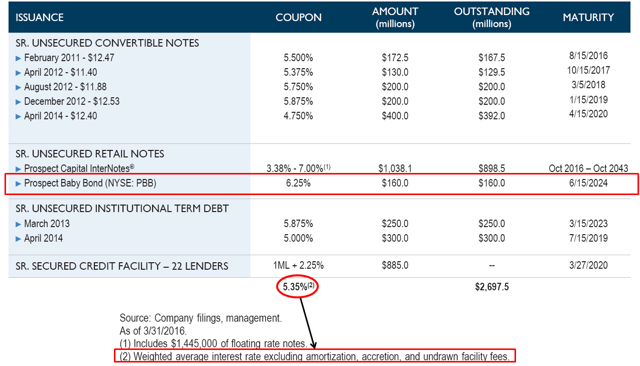 Potential Baby Bond Redemptions:
I continually watch the "net interest margins" for each BDC because it is critical when determining upcoming dividend coverage. Net interest margin is the difference between the effective portfolio yield (income) and effective borrowing rates. Many BDCs have been working to reduce their borrowing costs through refinancing higher rate notes. I am currently going through the capital structure and earnings calls for each BDC looking for signs of early baby bond redemptions. This is important for determining expected yields when investing in baby bonds, especially when they are already past the "call date". The following language is provided by MCC for its "7.125% Senior Notes due 2019" traded under the ticker "MCQ".
"The Notes may be redeemed in whole or in part at any time or from time to time at our option on or after March 30, 2015 upon not less than 30 days nor more than 60 days written notice by mail prior to the date fixed for redemption thereof, at a redemption price of $25 per Note plus accrued and unpaid interest payments otherwise payable for the then-current quarterly interest period accrued to the date fixed for redemption."
I believe that the company will be redeeming this note as it is the most expensive borrowing as well as hinted by management on the recent earnings call:
"We intend to complete our share buyback so that's yes, we intend to reduce leverage. So those are both going to have an effect on the portfolio. I think another step we intend to do is pay down the notes that we referred to 19s, so that's likely to happen before revolver but we will -- that's based upon liquidity and overall leverage at the company."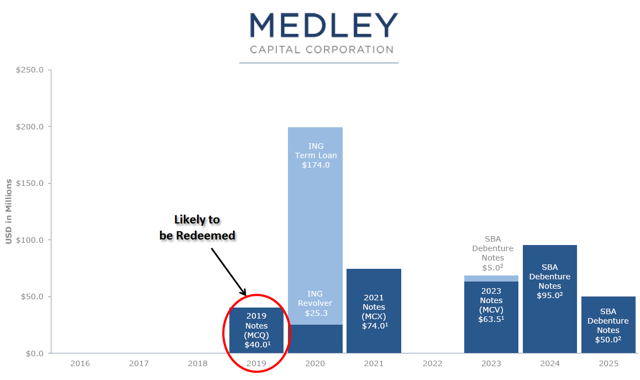 The following table shows the publicly traded BDC baby bonds and current pricing that includes accrued interest. The current yield column takes this into account as discussed in Part 6 linked above. I have also included the "earliest call date". This is important if investors believe there is a likelihood of an early redemption including MCQ that is trading above par but includes accrued interest that would be redeemed as well.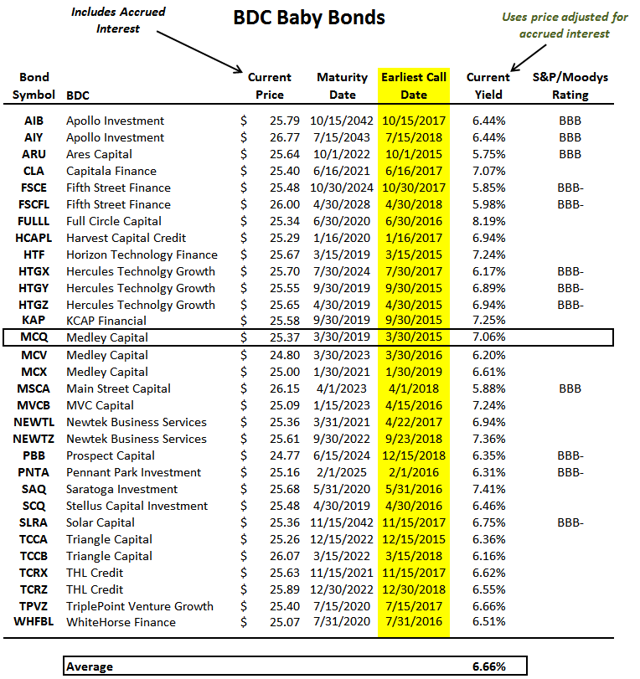 Yield-to-Call:
Currently, 14 of the bonds in the previous table are callable including bonds for ARCC, HTGC, MCC, SAR, SCM, TCAP, WHF, Full Circle Capital (NASDAQ:FULL), Horizon Technology Finance (NASDAQ:HRZN), KCAP Financial (NASDAQ:KCAP), MVC Capital (NYSE:MVC) and PennantPark Investment (NASDAQ:PNNT). Investors need to consider the potential for these bonds to be called which could be a good or bad thing depending on the price you pay.
The current price for MCQ is $25.37 and the "redemption price" of $25.00 plus the next coupon of $0.45 would leave the investor with $0.075 if the bond were to be called.
It should be noted that MCC also has a bond "MCX" that is not redeemable until 2019 and PSEC, FSC, AINV, MAIN, TCAP, THL Credit (NASDAQ:TCRD) and Newtek Business Services (NASDAQ:NEWT), have bonds that are not redeemable until 2018.
Baby Bond Rankings & Analysis:
I will be including the likelihood of potential bond redemptions as a key part of my overall rankings and analysis as well as other indicators related to portfolio/asset credit quality (as displayed/discussed in Part 3), leverage and asset coverage ratios, interest expense coverage (as displayed/discussed in Part 1), etc. I will also be taking into account qualitative measures of management especially related to managing the capital structure, and historical/potential net asset value declines (as displayed/discussed in Part 4 and Part 5). For a list of all my articles including interest rate discussion, BDC rankings (risk, return, pricing, dividend potential), target pricing charts and valuations, individual dividend coverage potential, my historical purchases and current positions, and suggested BDC portfolios, please see my "BDC Research Page" and for my free monthly newsletter, please visit "BDC Buzz.com".
Why do I like BDCs and their baby bonds?
Required to maintain 2-to-1 asset coverage ratios (determines a company's ability to cover debt obligations with its assets after all liabilities have been satisfied)
Portfolio diversification requirements
Permanent equity capital (no runs on the bank to force the liquidation of assets)
No BDC has previously defaulted on a bond obligation
"Conduit theory" of avoiding double taxation
Supporting smaller to mid-size companies that would likely not be able to get the diversified capital they need from typical banks.
I have an intimate understanding of the sector and closely watch the actions of management
Personal note: I have updated my positions to reflect changes in my holdings, but please keep in mind that some of the positions are very small and mostly for research purposes.
Disclosure: I am/we are long ABDC, AINV, ARCC, BKCC, FDUS, FSC, FSFR, FSIC, GAIN, GARS, GBDC, GLAD, GSBD, HTGC, MAIN, MCC, MRCC, NMFC, PFLT, PNNT, PSEC, TCAP, TCPC, TICC, TPVG, TSLX.
I wrote this article myself, and it expresses my own opinions. I am not receiving compensation for it (other than from Seeking Alpha). I have no business relationship with any company whose stock is mentioned in this article.