Large banks face a myriad of challenges - greater regulatory capital requirements, increased cost of regulatory compliance, and rising cost of funds. Therefore, it's not surprising that the KBW National Bank Index (BKX) is down 10% so far this year compared with a 5% gain for the S&P 500. However, now may be the right time to buy a regional bank. The burden of regulatory capital requirements and compliance should fall disproportionately on the shoulders of the money center banks, like Citigroup (NYSE:C).
Within the regional bank space, First Republic Bank (NYSE:FRC) represents an attractive investment opportunity. Despite falling 2% after reaching a 52-week high in May, FRC is still trading at more than 19 times analysts' estimates for 2016 earnings. This ratio may scare most staunch value investors. The key is understanding FRC's business model and certain macroeconomic and industry trends. Below are the key tenets of the investment thesis for FRC:
Well-defined business model
Strong track record of execution
Growth of main target market
Upward pressure on net interest margin (NIM)
Well-Defined Business Model
Few companies have a business model and strategy that is as well defined and successful as FRC. Since its founding in 1985, FRC has steadfastly focused on offering private banking products and services to affluent individuals that help it build a relationship with its customers. It has consistently broadened its scale and scope without compromising its brand or quality of customer service. As it expands beyond its San Francisco roots, FRC targets geographic markets that feature opportunities for greater growth and profitability. Conservative risk management is also a cornerstone of FRC's business model.
Strong Track Record of Execution
Any regional bank could adopt a business plan similar to FRC's strategy. The hard part is successfully executing it for a long period of time. FRC has established a broad product line that serves high net worth individuals' needs. Although deposits and residential mortgages are FRC's core products, it also offers business loans, personal loans, investment management, trust services, and other ancillary products and services. According to its latest investor presentation, the average customer has over eight products from FRC.
Long-Term Growth in Loans and Deposits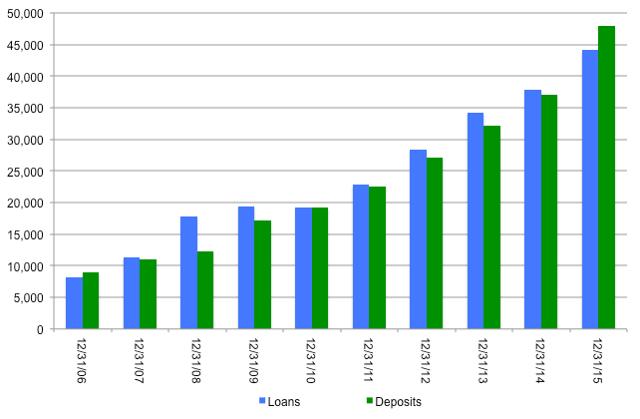 Source: SEC.gov
FRC's growth metrics illustrate the success of its relationship-based approach to serving customers and efforts to target geographic areas with high growth potential. Loans and deposits have each grown at an annual rate of more than 20% since 2006. This growth reflects expanding into new geographic markets, cross selling to existing customers and attracting new customers. Almost all of FRC's clients probably resided in San Francisco when it opened in 1985. FRC's June 7, 2016, investor presentation shows only 56% of real estate loans were near San Francisco at the end of 2000 because the company had established a meaningful presence in New York and Los Angeles. Despite the tremendous growth in the technology sector since 2000, the portion of loans near San Francisco declined further to 44% at Dec. 31, 2015. Palm Beach, Boston, Los Angeles, New York, San Diego, and Portland all contributed at least 1% of real estate loans.
Not all of FRC's growth has been from geographic expansion. The chart below shows the majority of FRC's growth stems from expanding its relationship with existing customers. However, getting referrals and attracting new customers are also important. Maintaining the level growth that FRC has achieved in a competitive industry requires a multifaceted approach.
Sources of New Loans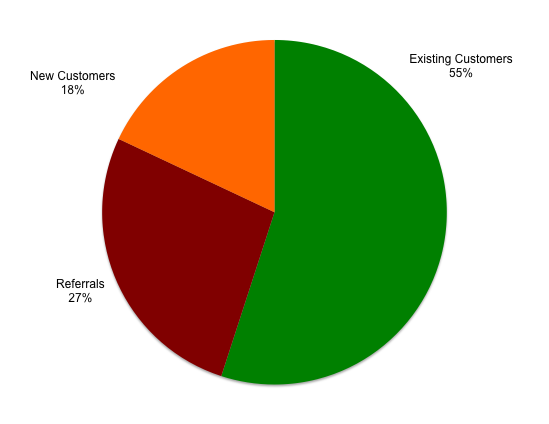 Source: FRC (June 7, 2016, Investor Presentation)
Despite its tremendous growth, FRC has steadfastly maintained a commitment to conservative risk management. Its credit clawback provision is a poignant example of how managing credit risk appropriately is an integral part of the firm's culture. CEO Jim Herbert highlighted this provision in a Dec. 21, 2014, American Banker article. "If you made X on a loan, we will claw back between four and six times that amount," said Herbert who was American Banker's 2014 Banker of the Year.
FRC's overall compensation structure must be competitive because it has a very senior crew of loan officers. Lenders with at least 10 years of employment at FRC originated 65% of loans. Having experienced loan officers with an incentive to manage credit risk explains why FRC's loss experience has been superior. The bank holds a weekly all-employee meeting on loan quality. This meeting reinforces the importance of credit quality to senior loan officers and imbues recent hires with the firm's values.
The Great Recession illustrated FRC's success in managing credit risk. FRC's net charge-offs, as percentage of its loan portfolio, were a fraction of the ratios for the largest banks. Net charge-offs reflect the unpaid principal and interest on a loan when a bank writes it off less any recoveries.
Net-Charge Offs as a Percentage of Average Loans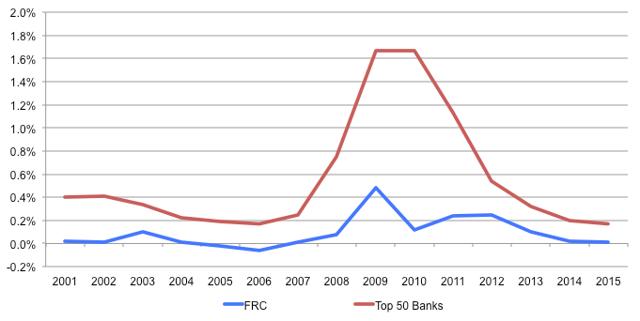 Sources: SEC.gov and FDIC.gov
Growth of Main Target Market
FRC's main target market could grow significantly in the medium term if home price appreciation continues to outpace changes in the conforming loan limit. The conforming loan limit is the maximum loan amount that Fannie Mae (OTCQB:FNMA) or Freddie Mac (OTCQB:FMCC) (collectively the GSEs) will purchase or guarantee. Loans that exceed the conforming loan limit are called jumbos. This segment is FRC's main target market. According to Fannie Mae, the conforming loan limit was $417,000 in most states and counties and $625,500 in Alaska, Hawaii and 39 counties in the contiguous U.S.
Conforming Loan Limits and Median Home Prices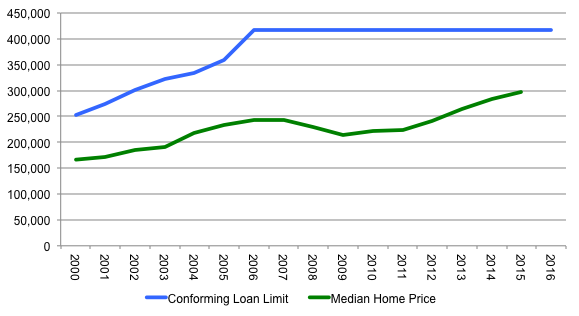 Sources: Fannie Mae and Federal Reserve Bank of St. Louis
A combination of political and macroeconomic forces should shrink the gap between the conforming loan limit and create a profitable opportunity for FRC to serve the growing number of borrowers seeking jumbo mortgages. The GSEs have not raised their standard conforming loan limit since 2006. Initially, an increase was not necessary because home prices were falling. Now, raising the conforming loan limit would conflict with the government's goal of attracting private capital to fund mortgages and assume mortgage credit risk. Home prices should continue to rise as the economy improves, which gives people the confidence to buy their first home or upgrade from their existing dwelling.
Upward Pressure on Net Interest Margin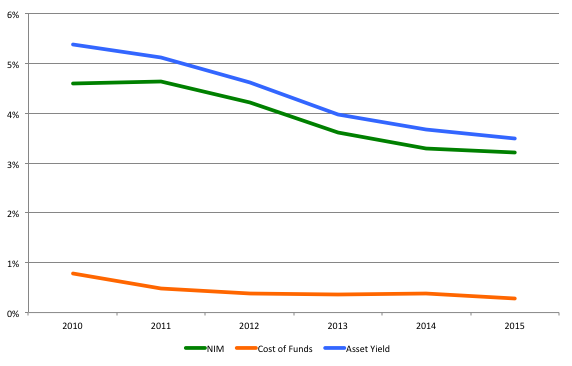 Source: SEC.gov
Rising interest rates should lift the earnings of FRC and many other banks. As the chart above shows, FRC's net interest margin has declined for five consecutive years. Like many banks, FRC squeezed almost all the benefit out of low rates on its cost of funds several years ago. FRC's cost of funds has been below 50 basis points (bps) for five years. Now, most banks, including FRC, are feeling the effect of downward pressure on asset yields as loans and bonds have been repricing in a lower interest rate environment.
Fed Funds Rate and Composite Net Interest Margin for U.S. Banks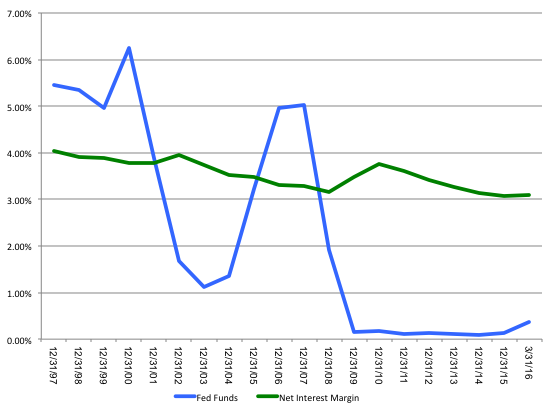 Sources: FDIC.gov and Federal Reserve Bank of St. Louis
The chart above demonstrates two important points:
In the absence of a recession, net interest margin tends to be higher when banks' cost of funds is higher.
NIM declined between over the past few years.
Given those two points above and the corresponding graph, FRC's NIM should eventually improve by 75 bps if the Fed raises its benchmark rate by at least 100 bps as long as management decelerates the bank's asset growth. FRC's assets have grown at an annual rate of 21% since 2010. When a bank increases its assets by making more loans or purchasing securities, it must fund those assets with equity, debt or deposits. None of these options are attractive unless the yield on the incremental assets is really high, which seems unlikely in a stagnant economy.
Issuing or retaining more equity would dilute current shareholders.
Taking on more debt raises FRC's leverage, which would make the cost of the incremental debt expensive.
Attracting more deposits will be expensive because FRC will likely have to compete with banks that raise rates on CDs by more than 50 bps following the Fed's 100 bp increase.
Antithesis
FRC would be an incredible investment opportunity if it were trading at 13 times its forward earnings and less 105% of its book value. Unfortunately, FRC's price is almost 20 times greater than analysts' estimate of its earnings per share for 2016 and 216% of its book value at March 31, 2016. These metrics make it very difficult for value-based investors to include FRC in their portfolios despite the bank's strong track record of executing a sound business model.
In addition to FRC's valuation, investors may also be concerned about how higher interest rates will affect its loan growth. First-lien residential mortgages represent 63% of FRC's loan portfolio. Mortgage transactions have two purposes; either to refinance an existing mortgage or to fund the purchase of another home. Modestly higher interest rates will likely choke off demand for refinancing.
Demand for purchase mortgage transactions should still rise albeit at a slower pace. Accelerating wage growth should at least partially offset the dampening effect on home buying activity of higher interest rates. Furthermore, the homeownership rate is only 64% compared with a recent peak of more than 69% in 2004.
Change in Average Hourly Wage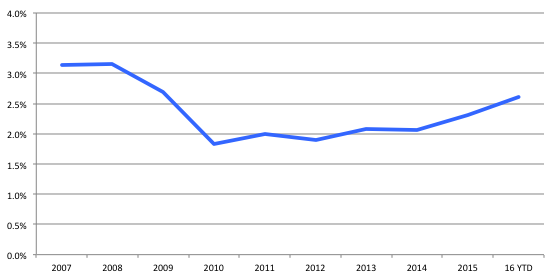 The Mortgage Bankers Association's (MBA) forecast supports the prediction that refinancing activity will decline sharply in 2017, but purchase transactions will continue to climb higher. This distinction is critical because FRC's interest income is based on mortgages outstanding, not originations. Refinancing volume is not as important to FRC because refinancing does not usually change the amount of mortgage debt outstanding. Purchase transactions usually increase the amount of mortgage debt outstanding.
| | | | | |
| --- | --- | --- | --- | --- |
| MBA Forecast ($ billions) | 2015 | 2016 | 2017 | 2018 |
| Refinancing | 749 | 690 | 372 | 301 |
| Purchase | 881 | 973 | 1,011 | 1,046 |
| Total | 1,630 | 1,663 | 1,383 | 1,347 |
Conclusion
Investors focused on traditional valuation metrics have likely been avoiding FRC because its ratios are outside of their target range for consideration. However, FRC has a well-defined business model and a strong track record of execution. The firm is also poised to benefit from macroeconomic and industry trends. The government's efforts to attract private capital to support mortgages should lead to greater production of jumbos, which are FRC's core product. Rising interest rates should apply upward pressure on FRC's NIM or profit margin.
Disclosure: I/we have no positions in any stocks mentioned, and no plans to initiate any positions within the next 72 hours.
I wrote this article myself, and it expresses my own opinions. I am not receiving compensation for it (other than from Seeking Alpha). I have no business relationship with any company whose stock is mentioned in this article.