There has not been much to excite shareholders of DeVry Education Group Inc. (DV) over the past few years. Shareholder return is way down, and there is a lawsuit from the Federal Trade Commission alleging deceptive advertising practices. This month, investors in for-profit colleges wait for a ruling on the future of an accreditor of many for-profit schools. An advisory panel in June recommended severing ties with the accreditor, potentially stopping the flow of federal aid to students. Adding fuel to the fire of opposition, a May study by the National Bureau of Economic Research found that students, both those who graduated and those who did not, in general earned less after for-profit education than before. In contrast, demographically similar students earned more after comparable programs at community colleges. The markets are moving in all of this, as there is at least one (controversial) effort underway to purchase the largest fish in the for-profit sea, Apollo Education Group, operator of University of Phoenix.
In the face of only part of this turmoil, in May, the CEO of DeVry stepped down and was replaced by a long-time board member, Lisa Wardell. As ostensibly someone overseeing the actions of management before the firing, we are not confident it represents a major change for the company. Despite our reservations and the increased challenges since her taking the position, we used our free real-time monitoring platform to take a look at the extent of the DeVry's standing alone and in the industry.
For comparison we used the "Industry Group" from DeVry's 2015 Annual Report, a group of companies that "represent the majority of the market value of publicly traded companies whose primary business is education." This peer group includes Apollo Education Group, Inc. (NASDAQ:APOL); Bridgepoint Education, Inc. (NYSE:BPI); Capella Education Co. (NASDAQ:CPLA); Career Education Corp.(NASDAQ:CECO); Grand Canyon Education, Inc. (NASDAQ:LOPE); ITT Educational Services, Inc. (NYSE:ESI); Lincoln Educational Services (NASDAQ:LINC); Strayer Education, Inc. (NASDAQ:STRA); and Universal Technical Institute.
Total Shareholder Return
Since the beginning of 2013 DeVry has consistently outperformed the median peer set in total shareholder return but that lead has diminished in the past year. It is a bitter lead, as both are well into the negatives since the beginning of 2012. DeVry at market close on July 11th was at negative 44% shareholder return while the peer set median was at negative 65%. Apollo Education Group sat ever lower at negative 83%. The period from the beginning of 2013 to the end of 2015 was a bright spot in the gloom as DeVry returned over 60% for the two-year period. Only CPLA (61%) and LOPE (153%) are positive since the beginning of 2012. The rest are all lower than negative 17% down to negative 96% .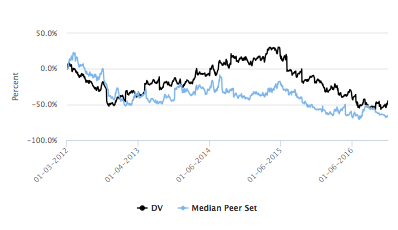 Exhibit 1: Total Shareholder Return
Source: Enlight Research, LLC
Note: Total shareholder return assumes dividend reinvestment.
EBITDA Margin
DeVry has kept a steady EBITDA margin around 15% even while the median peer set has seen its EBITDA margin erode over the past few quarters. Both are down significantly from the beginning of 2012, but DeVry seems to be weathering the difficulties better.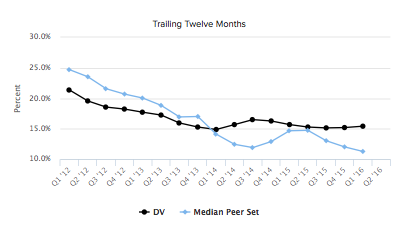 Exhibit 2: EBITDA Margin
Source: Enlight Research, LLC
Return on Invested Capital
DeVry has recently outperformed in return on invested capital though it will be worth keeping an eye on this volatile measure in the next quarter report. Between Q4 2015 and Q1 2016 DeVry was nearly an inverse of its peer set, rising from a substantially lower position while the peer set fell from a substantially higher position.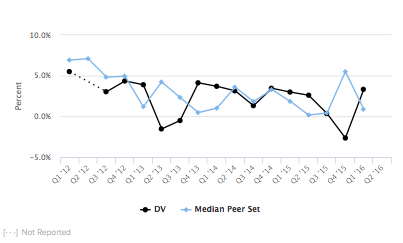 Exhibit 3: Return on Invested Capital
Source: Enlight Research, LLC
SG&A Expenses
DeVry has focused on cutting costs, rebranding, expanding internationally, diversifying offerings and other initiatives to compete in this troubled market, per its Annual Report. In costs, there is at least one solid indicator of success - the sales, general, & administrative expenses trend. For DeVry this has dropped fairly consistently while the peer set has worked its way up. This is helped by moves like closing physical campuses, such as 14 sites last year, but has tradeoffs to consider.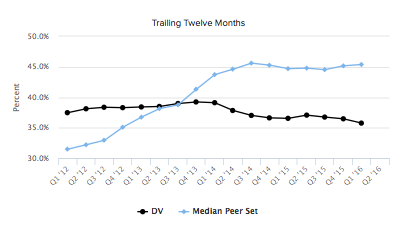 Exhibit 4: SG&A as a Percentage of Revenue
Source: Enlight Research, LLC
CEO Compensation and Performance
DeVry compensates its CEO with a larger proportion of long-term incentives than most of the peer group, with the notable exception of Apollo Education Group.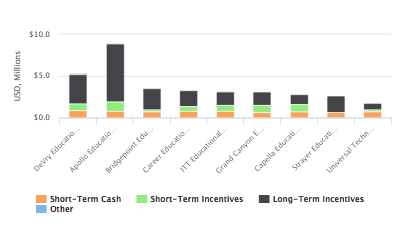 Exhibit 5: CEO Compensation
Source: Enlight Research, LLC
Despite focusing a large portion of the compensation package on long-term incentives, performance has not followed compensation particularly well. A huge drop in shareholder return between 2014 and 2015 initiated a mild drop in compensation. This mismatch could explain why between 2014 and 2015 shareholder approval of Say-on-Pay dropped from 93% to 85.9%.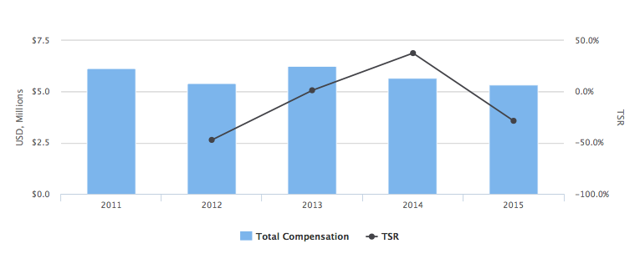 Exhibit 6: CEO Compensation and Performance
Source: Enlight Research, LLC
Director Compensation
The board compensation is, again, more focused on long-term incentives than most of the peer group with the exception of Apollo Education Group. If the incentives are structured similarly to the CEO compensation package, this seems to be an empty victory, as it does not correlate with performance. Investors should keep in mind that long-term incentives are based on board developed benchmark and while they can be great incentive tools, they can also be set with limited downside or easy targets.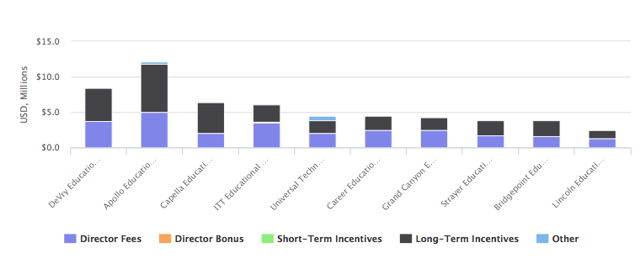 Exhibit 7: Director Compensation
Source: Enlight Research, LLC
Recent Developments
DeVry this month announced it appointed Michael Malafronte to its Board of Directors. Malafronte is the managing partner of International Value Advisors, a hedge fund that owns nearly a fifth of the company. Malafronte and IVA focus on, no surprise, finding value in inefficiently discounted companies (here's an interview with him). Reportedly the fund closed to new shareholders at $15 billion AUM, including $100 million of the founder's own investments. It focuses on "winning by not losing," by reducing drawdowns in bear markets with a "cautious" approach to finding "non-capital-intensive businesses that have more pricing power than competitors."
IVA's stake is not new, here is a report on its smaller (but still large) position in 2013, but this recent board appointment is a more active development.
What Does This Mean?
DeVry and the entire for-profit industry are in a time of reckoning. The challenges are piling up in the industry and DeVry itself shows a mixed picture. If the industry becomes more desirable, metrics like the steady outperformance in EBITDA margin and recent outperformance in return on invested capital bode well for DeVry. Success in aligning executive compensation with performance is not so rosy. With shareholders like IVA taking larger stakes getting directly involved, will the hedge fund expertise help turn things around? Will declining support on Say-on-Pay force the company to rethink executive compensation to align more with shareholder return? With some of the outperformance examined, is DeVry situated better than the peer group to outperform if the industry as a whole can recover? Let us know what you think in the comments.
Interested in seeing similar metrics done with another company and peer set? Drop us a comment, send us a private message, or check out our profile.
Disclosure: I/we have no positions in any stocks mentioned, and no plans to initiate any positions within the next 72 hours.
I wrote this article myself, and it expresses my own opinions. I am not receiving compensation for it (other than from Seeking Alpha). I have no business relationship with any company whose stock is mentioned in this article.
Editor's Note: This article covers one or more stocks trading at less than $1 per share and/or with less than a $100 million market cap. Please be aware of the risks associated with these stocks.