Oil prices faced a lot of heat last week as they reached two-month lows last Thursday, mostly because of negative sentiments associated with weak Asian demand, a consistent increase in the number of U.S. oil rigs, and the continuing U.S. gasoline glut. However, oil rose again during the early trading hours of Tuesday, with WTI and Brent trading at $46.85 and $48.46, respectively, at the time of writing this article. Let us now look at the current market factors that may increase oil prices in short term.
Beijing's Claim to South China Sea Rejected
In a major setback for China, an international tribunal has ruled that the country cannot legally claim its economic and historical rights over the South China Sea. This case, which was brought forward by the Philippines, can have major geopolitical ramifications. Through its "nine- dash line" principle, China has claimed its rights on maritime territories that are actually lying within the economic zones of neighboring countries, like Vietnam. Although China has outright rejected the tribunal's decision, this development is significant, because it has the potential to further increase regional tensions. One of the biggest reasons the country wants to control the South China Sea: its vast natural gas deposits. This development is indeed bullish for oil prices.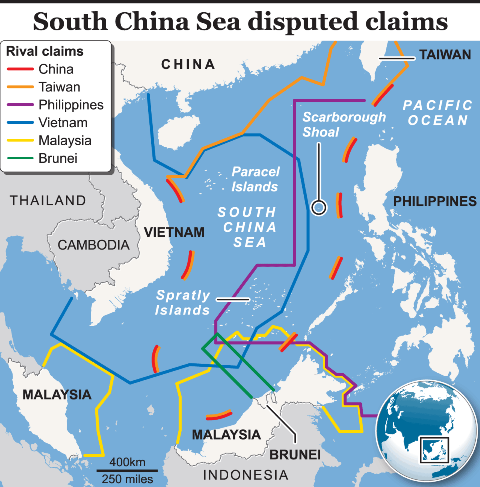 Image Source: Graphic News
Nigeria's oil production
In my previous article, I had explained how markets remain uncertain over Nigeria's future oil production levels. In spite of a ceasefire with the Nigerian government, militant group Niger Delta Avengers attacked Chevron's (NYSE:CVX) pipeline system on July 06. Then, Niger Delta Avengers claimed on July 11 they had blown up the Qua Iboe oil export pipeline belonging to Exxon Mobil Corp. (NYSE:XOM). It must be noted that Qua Iboe is Nigeria's biggest crude oil stream, with crude oil export capacity standing at around 300,000 barrels per day. Although Exxon Mobil has denied any such attack took place, the negative speculations resulting from such developments (and any attacks by Nigeria's militants in the future) will help push the prices up.
Bullish Crude Oil Inventory Data
We have seen how markets have started reacting to the crude oil inventory data released by the API and EIA. Although it is true that these data may be somewhat unreliable, their reports are eagerly awaited by the markets. Last week, we saw oil prices increase when API reported a 6.7 million barrel decrease in U.S. crude oil inventory, and oil prices slid again when EIA reported a decrease of only 2.2 million barrels in U.S. crude oil inventory. As API is about to release its crude oil inventory data, I will not be surprised if it reports another "significant" decline in U.S. crude oil inventories, and if the prices again move up on this news.
Takeaway
Looking at all the current factors, I can say that oil (USO) has a good chance at some short-term gains ahead. Even any weakness in the U.S. dollar will support oil prices. However, the biggest factor that can support oil prices in the long term is strong demand from India and China. With all the hype and speculation focused around China's Strategic Petroleum Reserves (SPR), I am sure India's oil demand growth will increase further once its monsoon season is over - there is always a decline in vehicle sales growth during this period in India.
Disclosure: I/we have no positions in any stocks mentioned, and no plans to initiate any positions within the next 72 hours.
I wrote this article myself, and it expresses my own opinions. I am not receiving compensation for it (other than from Seeking Alpha). I have no business relationship with any company whose stock is mentioned in this article.
Editor's Note: This article covers one or more stocks trading at less than $1 per share and/or with less than a $100 million market cap. Please be aware of the risks associated with these stocks.