After last week's EIA Petroleum Inventory data, crude oil prices (USO, OIL) suffered one of their worst weekly declines this year (though Tuesday's rally made up for some of this decline). The commodity has come under pressure, from the rising US dollar to growth concerns overseas due to Brexit. Nevertheless, the data continues to show that the fundamentals for the commodity are improving.
Source: Finviz.com
A look inside the numbers
US crude oil inventories posted a 2.2 million barrel decline last week. Though, if it were not for rising imports, the decline would have been much greater. As has been the case for most of 2016, the headline inventory number is tied to the changes in imports data. Imports rose sharply to 7.8 million bpd for the week, up 808,000 bpd from last week. Average daily imports for 2016 have increased 9.7% versus 2015.
If imports had stayed flat week over week, the crude oil inventories would have fallen closer to 7.8 million barrels rather than the 2.2 million barrels drawdown.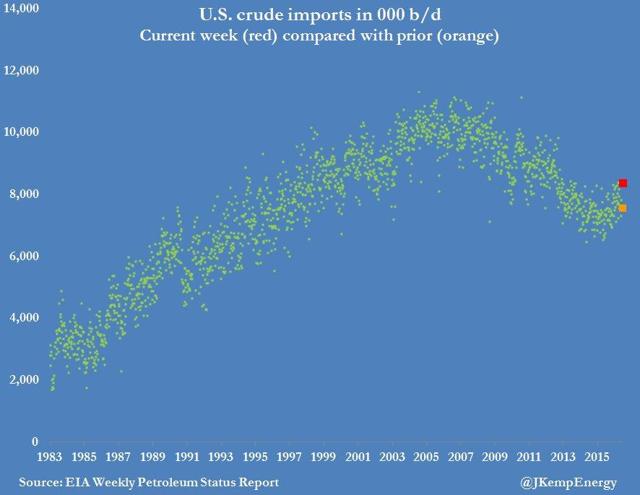 Source: Reuters
Imports from Canada finally fell 14% to 2.6 million barrels. The Alberta wildfires took off-line ~1 million bpd of production, and their impact had yet to be reflected in the numbers until now.
Though, more than offsetting the fall in imports from Canada were increases from pretty much all of the OPEC nations and Colombia/Mexico. The global glut is finding its way into the US.
US oil production is falling at a rapid pace.
As for the real gem from the report, US oil production fell by a massive 194,000 bpd to 8.43 million bpd. Over the past 4 weeks, production has averaged 8.61 million bpd, down 10.3% from the 2015 average of 9.60 million bpd and down 11.3% from the 2015 weekly production high of over 9.7 million bpd set in April 2015. This number deserves a breakdown:
Lower 48 production, the number you want to watch, fell by 38,000 bpd, well above the 2016 run rate decline.
Production from Alaska fell 156,000 bpd, though this is largely due to seasonal summer pipeline maintenance.
Backing out the Alaska numbers, US production is slated to fall another 800-900K bpd if the trend continues, or an annual run rate of 1.6-1.8M bpd. Estimates at the start of the year had US production falling by just ~1.0M bpd. In other words, the production decline is clearly accelerating.
On the demand front, refiners processed 16.7 million bpd of crude oil, in line with last week's figure. Stockpiles of gasoline fell by 0.1 million barrels, while implied consumption hit a new record. Distillates, stockpiles fell by 1.6 million barrels last week. Though this is largely due to decreased supply from refiners as they shift towards gasoline for the summer.
Conclusion
Overall, this was one of the best EIA reports for crude oil. Yes, the market reacted negatively. But this sell-off was more related to sentiment than the fundamentals.
US production is down big, and only elevated imports are keeping inventories from falling significantly. The rate of decline is also accelerating. With rig counts still near their lows, US production is set to decline throughout the year. Eventually, oil prices will need to rise to spur more production as the global glut has eased.
As for how to play an oil price recovery, take your pick from the majors that offer solid dividends: Exxon Mobil (NYSE:XOM), Chevron (NYSE:CVX), BP Plc (NYSE:BP), Royal Dutch Shell (RDS.A, RDS.B), ConocoPhillips (NYSE:COP). Shale players such as Apache (NYSE:APA), Anadarko (NYSE:APC) and EOG Resources (NYSE:EOG) are also interesting, though are much more oil pure-plays.
Disclaimer: The opinions in this article are for informational purposes only and should not be construed as a recommendation to buy or sell the stocks mentioned. Please do your own due diligence before making any investment decision.
Disclosure: I am/we are long COP.
I wrote this article myself, and it expresses my own opinions. I am not receiving compensation for it (other than from Seeking Alpha). I have no business relationship with any company whose stock is mentioned in this article.