Gold
In a previous article, I mentioned that gold (GLD, IAU, PHYS, SGOL, UGL, DGP, GTU) started a new bull market in the first quarter of 2016. In fact, Central Banks' policy of negative real (and in some places, even negative nominal) interest rates will continue in the years to come despite the Fed's tough talk.
As today's economic landscape is ideal for gold, I don't recommend trading it on overbought RSI readings or on downward-oriented or negative MACD curves. Instead, you should stick to the long-term trend and enjoy the ride. Here's the big picture since 1990: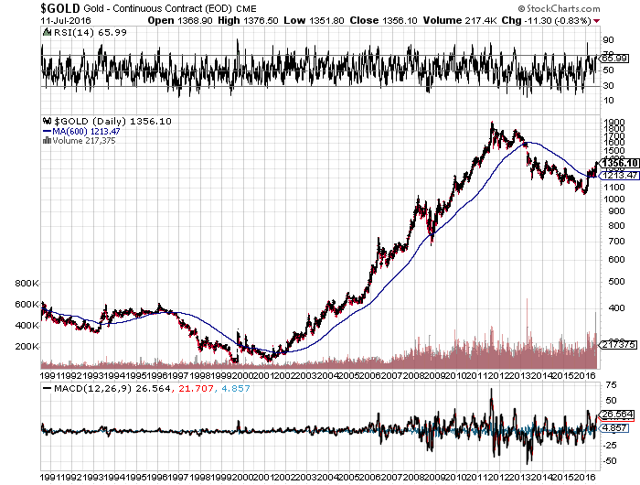 (Source: StockCharts)
Gold vs. Gold Miners
It is natural that gold miners (GDX, GDXJ, SGDM) follow the movements in gold prices. As you can see from the graph below, the Gold Miners ETF crossed the 50-day and the 200-day moving averages and made a golden cross during the first quarter of 2016 (just like gold).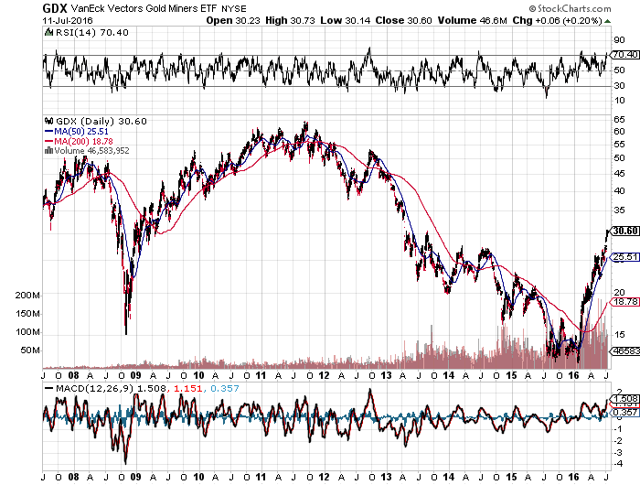 (Source: StockCharts)
The clear positive relation between gold and gold miners is undeniable, but there is an important difference: leverage. In fact, when gold gained 30% from its recent low, gold miners more than double in price. But before you jump into these stocks thinking that in the long term they will return more than gold, please note that over the last 10 years, gold returned more than 100%, while gold miners lost 25% of their value: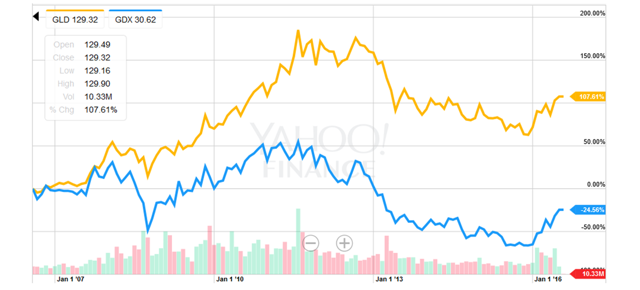 (Source: Yahoo Finance)
Gold miners look expensive
As long as gold keeps rising, gold miners will do the same. So yes, I'm also bullish on gold miners as well. Still, most stocks look expensive after the last 6 months' rally.

(Source: Bloomberg)
If there's a sector that is likely to beat analyst expectations during the second-quarter earnings season, it is gold miners (also, it will certainly be one of the sectors that will provide a positive outlook for the second half of the year).
Still, some of the biggest and most well-known names by investors look expensive with an average Estimated Price-to-Earnings of 45 and an average Price-to-Sales of 4. In fact, many investors rushed into the companies they knew better regardless of their stock price, and as a consequence, generally speaking, the gold miners trade seems crowded at the moment.
However, if you look closer, you can find some relatively good value in some less-followed companies like AngloGold Ashanti (AU, OTCPK:AULGF, AULDF). As you can see in the table above, even though the company is one of the biggest gold miners, it trades at an attractive estimated P/E of 16 and a Price-to-Sales ratio of 2, despite being the most leveraged with a 38% Debt-to-Assets ratio. So let's dig deeper into the name and see if it's worth your money.
AngloGold Ashanti
AngloGold Ashanti is a global mining company headquartered in Johannesburg, South Africa, with 17 operations and exploration projects in 3 continents. South America contributed to 23% of the first quarter production, Continental Africa to 35%, South Africa to 27% and Australia to 15%.
The company produced 3.95Moz of gold in 2015. It has attributable ore reserve of 51.7Moz of gold and attributable mineral resource of 207.80Moz.
AISC is improving
AISC (all-in sustaining costs) is an important metric that shows how competitive a miner is. In this regard, AngloGold Ashanti has improved more than the gold mining industry over the last 3 years, namely in its Continental Africa, South America and Australia operations.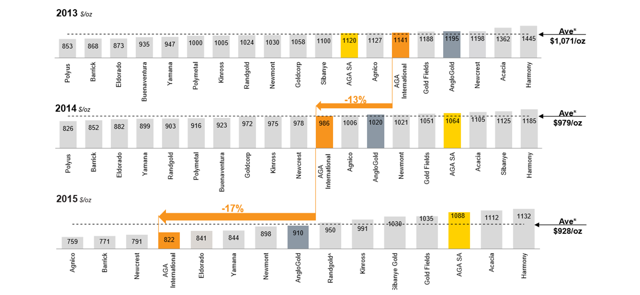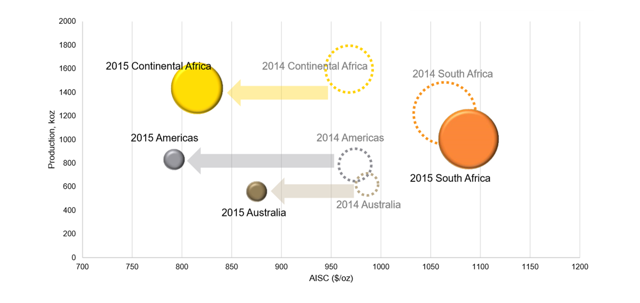 (Source: AngloGold Ashanti)
AngloGold Ashanti's efforts towards efficiency and cost cutting have made the business sustainable since the end of 2013, even though this was a tough period for gold miners: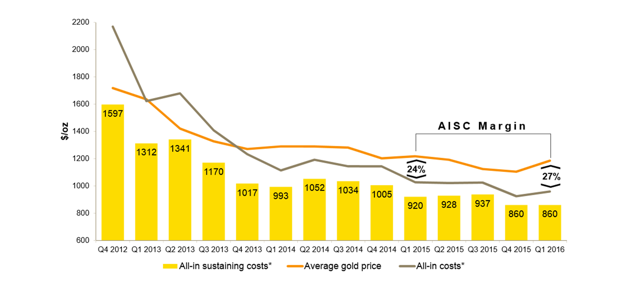 (Source: AngloGold Ashanti)
Leverage is declining
In terms of leverage, as we saw previously, AngloGold Ashanti doesn't look good when compared to its peers. However, debt reduction, alongside margin improvement, is one of the management team's top priorities for 2016.
In fact, the company showed a reduction of net debt to $2.127 billion in the first quarter 2016 from $3.150 billion in the second quarter of 2015 (and even delivered a free cash flow of $70 million in the first quarter despite that massive reduction in debt).
More recently, on June 28th, it announced the conditional redemption of all its outstanding 8.5% notes due 2020 at a price of 106.375% plus accrued interest. That's a $475 million buyback which will reduce debt even further.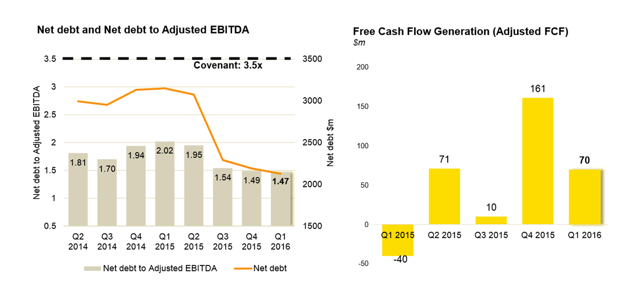 (Source: AngloGold Ashanti)
As you can see from the table above, despite the decline in gold prices since 2013, AngloGold Ashanti has managed to cut net debt-to-EBITDA over the last 2 years. As the company continues reducing its net debt and as EBITDA improves due to higher gold prices, this metric will continue to head lower.
AngloGold Ashanti will beat expectations in second quarter earnings
AngloGold Ashanti will present its second-quarter earnings on August 15th. Given its track record of beating guidance on production and AISC, the recent news on further debt reduction and, of course, the higher gold prices, I expect the company will beat expectations and provide a positive outlook for the second half of 2016. So, if you find this stock attractive, don't wait until then to make your purchase.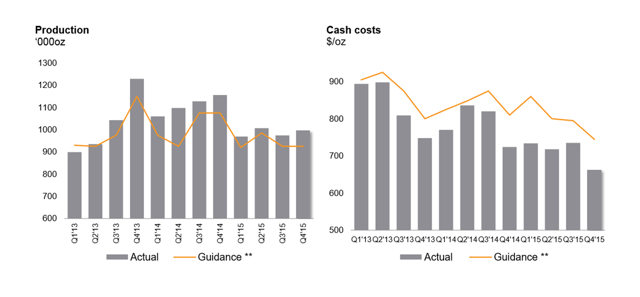 (Source: AngloGold Ashanti)
Disclosure: I am/we are long AU.
I wrote this article myself, and it expresses my own opinions. I am not receiving compensation for it (other than from Seeking Alpha). I have no business relationship with any company whose stock is mentioned in this article.
Editor's Note: This article discusses one or more securities that do not trade on a major U.S. exchange. Please be aware of the risks associated with these stocks.