There's a fine line between patient and stubborn, and I fear I'm inching near the wrong side when it comes to Tower Group (NASDAQ:TWGP). Although this small and under-followed insurance company has a great deal of potential value lurking within, management seems hard-pressed to unearth it and financial performance has been shaky.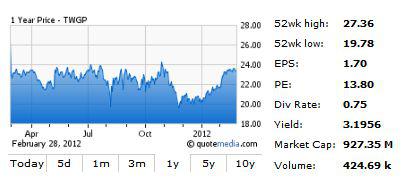 A Mixed Bag In Q4
Given the recent disappointments, there's some relief in Tower Group's fourth quarter earnings. Although gross written premiums were flat and below most expectations, organic growth was 6% on a better than 2% increase in premiums and an 88% retention rate. Likewise, net premiums written were down 1% from last year.
All in all, these are not terribly surprising results, as major insurers have reported broadly similar results. Allstate (NYSE:ALL) and Travelers (NYSE:TRV), for instance, have both shown pretty flat net premium growth and lower retention rates with higher premiums. On a more negative comp, WR Berkley (NYSE:WRB), which like Tower Group also has a strong focus on commercial lines, saw stronger premium growth without sacrificing much retention.
Tower Group did show some progress on the expense side. Although the loss ratio was higher this quarter (up five points to 64.9%), the expense ratio declined to 33.3 from 35.2 (or 32.3 on an adjusted basis). Decent premium writing activity is helping, but so too is better integrating the personal lines business, as that still has a substantially higher (ten percentage points) expense ratio.
That said, Tower Group still compares reasonably well to its larger brethren in this regard as well. Allstate and Travelers were both a little high on loss ratios (though a little better than Tower) and expense ratios are not coming down as quickly as the sell-side hoped. This is also similar to the situation at Berkley - underwriting margins are relatively thin (outside of reserve releases), but are getting better ahead of that higher pricing working itself out, while ROE is still below the long-term trend.
Lower Guidance A Reason For Concern
Tower Group management isn't doing itself any favors credibility-wise with another downward revision in guidance. The difference relative to prior expectations for full-year 2012 numbers is modest ($2.65 at the midpoint versus an average estimate of $2.70), but still going in the wrong direction. Once again, expenses seem to be the issue - OneBeacon has proven to be a pain in the keister and it's taking considerably longer for the company to integrate the business and drive out the excess costs.
Management Moves Up The Risk/Reward Tradeoff
Whether an investor looks at Tower Group, Chubb (NYSE:CB), or a Bermuda insurance company like Arch Capital (NASDAQ:ACGL), a few themes seem to be emerging across the insurance spectrum. Personal P&C and commercial rates are firming and customers are finding fewer and fewer insurers willing to underprice risk. Second, the low interest environment is forcing companies to get creative with their portfolios.
In the case of Tower, it sounds as though the insurer is increasingly willing to underwrite business in worker's comp and coastal P&C. This is business that carries above-average risk, but both Chubb and Arch Capital have shown that when written properly, it's also potentially quite lucrative. Actually, Chubb is a pretty good proxy for Tower Group in many ways, with its above-average focus on commercial lines and its concentration in the northeast of the U.S. Like Chubb and Berkley, Tower Group is looking for higher pricing in commercial to eventually drive better profits over the cycle, but near-term results are still under some pressure.
The alternative investments at Tower worry me a bit more. While I don't quibble with management's realization that investing in Treasurys is not going to get it done, investing in small-scale real estate and ownership stakes in distribution partners is definitely a case of taking on more risk in the pursuit of higher gains. By the same token, if it works out, the company will see the benefits in its book value and ROE down the road.
Patience Versus Potential
It's easy to look at Chubb, Berkley, and Tower Group and feel some frustration in the numbers, although the stocks have done reasonably well over the short term. Couple that with negative revisions and difficulties getting the projected synergies out of the personal insurance lines and it's tempting to move on to greener pastures.
In all cases, I think that would be a mistake. Sure, Tower's premium growth and expense leverage aren't great, Berkley's ROE looks low, and Chubb disappointed with its underwriting margin. In all cases, though, this looks like the beginning of a stronger cycle in commercial underwriting (and personal P&C as well), and leaving now may be selling the darkness before the dawn.
Though my patience is fraying a bit, I still believe that the Tower Group business can deliver 12-13% return on equity over the next few years. If the company can do this, the stock's fair value lies in the high $20's, even while offering a solid 3%-plus dividend today. So long as the company can show ongoing progress in its underwriting margin, I'm willing to remain invested in the shares.
Disclosure: I am long TWGP.