I grew up as a mall rat. I loved the mall. In my younger days, it was sort of a family tradition that my grandparents, my brother and I would go to the local mall every Sunday. In this day and age my grandparents are long gone, and I try to stay away from malls to save money and garner a little capital for investing.
On the occasion when I do go to a mall, the setting looks tired, old and lacking in traffic. Space for lease signs are increasingly the norm. I surmise that malls are in a state of stagnation and decline. As an investor, I ask the question, "Should people even invest in brick and mortar retailers at all?" I believe the answer is yes, but they should be selective.
What's going on?
To my surprise, there are data that back up my observation and hunches. Websites devoted entirely to the decline of the mall exist. High end malls remain stable while middle of the road malls struggle and fail. This hints at the truthfulness behind the income disparity discourse throughout the country and the world at large.
The vacancy rate of middle of the road malls increased in the most recent quarter while high end malls remained stable, according to Reuters. Seeking Alpha writer Chilton REIT Team, in an interesting analysis of the state of malls, also echoed this fact. The great recession left consumers a little less loyal to brands in recent years. Moreover, the decline of malls serves as another example of the negative impact of e-commerce on the state of brick and mortar retailing.
Strategies?
It may pay investors to look into brick and mortar retailers with a highly specialized niche that sell items better evaluated in person. In other words, stay away from investing in mall centric companies. Home improvement retailers, such as Home Depot (NYSE: HD), come to mind as viable investment options. From personal experience, I can tell you that it pays to look at a piece of furniture or appliance in person before making a purchase.
Tangible qualities such as durability, smell, material quality and appearance are better ascertained in person. Moreover, Home Depot combines effective e-commerce strategies such as order and pickup in addition to brick and mortar merchandising strategies.
Another niche retailer, Tractor Supply (NASDAQ: TSCO) caters to the "recreational farmer". It sells farming equipment, supplies and even live animals such as baby chicks, which are definitely better evaluated on location. Moreover, the logistics of transporting live animals make for a difficult online transaction.
Home Depot and Tractor Supply show consistently positive same store sales (see table below). On the downside, Home Depot and Tractor Supply aren't immune to economic cycles as investors tend to stay away from heavy expenditures during difficult times. With Tractor Supply another downside stems from the trendy nature of any hobby, which could turn sour. Mall stores such as American Eagle Outfitters (NYSE: AEO) and The Buckle (NYSE: BKE) have comp histories that are more hit and miss.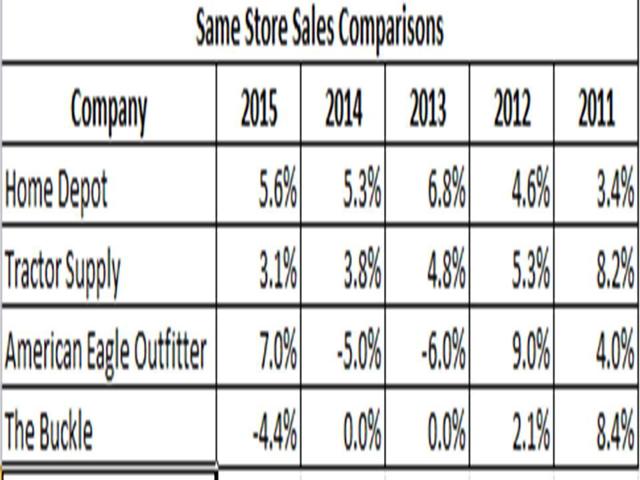 Source: SEC Filings
Home Depot and Tractor Supply outperformed the S&P 500 over the past five years and made their shareholders richer than the owners of these mall retailers (see chart below). American Eagle Outfitters underperformed the S&P 500, while Buckle shareholders actually lost money over the past five years.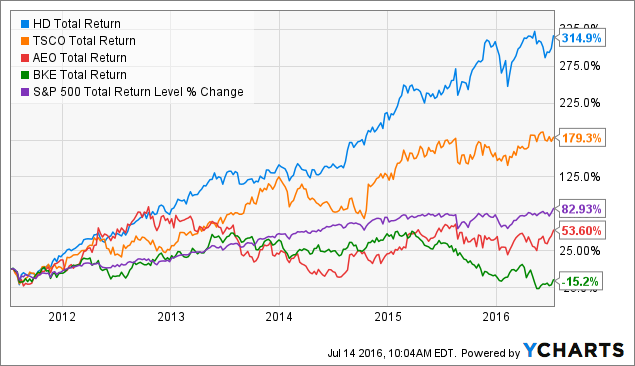 HD Total Return Price data by YCharts
While hard times lessened brand loyalty for apparel retailers, it helped Wal-Mart (NYSE: WMT). Wal-Mart's economies of scale can help it profitably sell clothes at a much cheaper price. Moreover, Wal-Mart's standing infrastructure, which is already in place, potentially enables effective competition against the likes of Amazon (NASDAQ: AMZN). I remain wary of Amazon's logistical challenge in effectively serving the rural consumer, especially on perishable merchandise such as groceries.
Conclusion
Home Depot and Tractor Supply represent excellent examples of companies effectively adapting and thriving in this new age of retailing. However, Home Depot and Tractor Supply trade at fairly high P/E ratios of 24 and 30, respectively, vs. 25 for the S&P 500. The better bet is Home Depot with its market leadership in the home improvement sector and its valuation.
Wal-Mart's P/E resides at 16. However, it continually suffers from bad publicity and worries about rival Amazon. Its potential on the capital gains front may indeed be limited due to its size. However, its 2.7% dividend yield may make the company appealing to income investors while waiting for any potential capital gains.
Disclosure: I am/we are long HD, WMT.
I wrote this article myself, and it expresses my own opinions. I am not receiving compensation for it (other than from Seeking Alpha). I have no business relationship with any company whose stock is mentioned in this article.