Blink-182 has received Billboard's Top Album honor and Pokemon is the most popular game on the iTunes store. If you think you are back in the 1990s, you are not alone. Actually, Nintendo (OTCPK:NTDOY) may be the first of many producers to monetize nostalgia. As producers begin to make money off of memory lane, make sure you are a little more financially savvy than you have been in the past.
NTDOY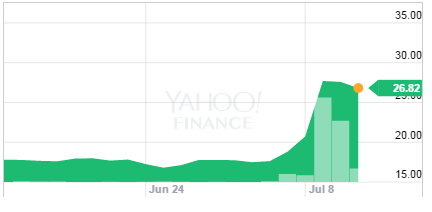 Source: Yahoo Finance
NTDOF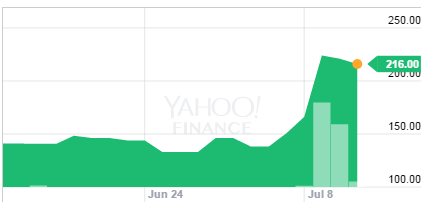 Source: Yahoo Finance
It is no secret that Nintendo has had a monster week. As you can see from the graph above (via Yahoo Finance), shares of Nintendo ADR are surging upwards as of late while the Tokyo Stock Exchange's equivalent (OTCPK:NTDOF) is doing just as well. It appears every financial website can only write about Nintendo's growth. Many investors are skeptical that this growth will endure despite society's infatuation with Pokemon Go in the past week. Historically, cellular game developers have had a tough time staying profitable. You may ask yourself, how do developers such as Nintendo make money off of a free game? The answer is found through in-app purchases.
In-app purchases actually account for a lot of game developers' profits. You need money within the game in order to buy Pokeballs and attain certain levels of success. This will lead many consumers to impulsively make in-app purchases in order to reach their short-term goals. High in-app purchases is a trend common to worldwide markets. According to Trey Williams of Market Watch, "worldwide revenue for in-app purchases is expected to hit $58.2 billion this year and rocket to $76.5 billion in 2017, according to data gathered by Statista." If Nintendo can manage to keep its Pokemon Go sales up and maybe even reproduce games with beloved heroes like Zelda and Mario, it will consume a large portion of that expected figure.
Pokemon Go boosted the market value of Nintendo by over $9 billion in just a few days. Nintendo's recent success has proven that augmented reality will be a path that video game developers take in this new media age. Augmented reality is a combination of real world settings with computer-generated images. In essence, augmented reality is a way individuals can simultaneously balance the real world with means of pleasure. Although users are still logging many hours on their cellular devices, at least now they are doing so while appreciating the outdoors. This is evident simply from analyzing the amount of time individuals manage to spend on the application throughout their daily lives.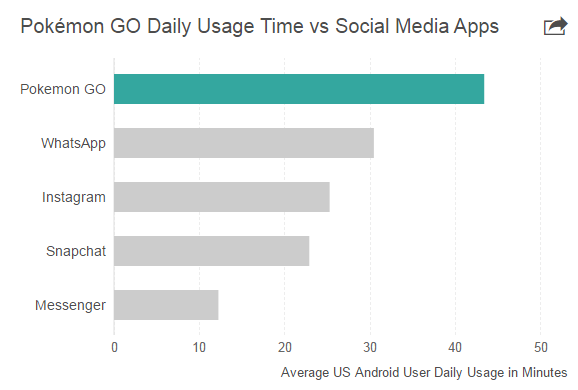 Source: SimilarWeb
Pokemon Go has surpassed Android's top five "highest daily usage time" apps by a substantial margin in only its first week of existence. The stock realized a 20% increase, which is its best one-day move since 1983. Pokemon Go is the top grossing app in New Zealand, Australia, and the United States according to MarketWatch. Unfortunately, growth is limited because the game is not available in all countries. With online marketplaces such as iTunes not accessible in many countries, foreign consumers have instead been attempting to download Pokemon Go through other means.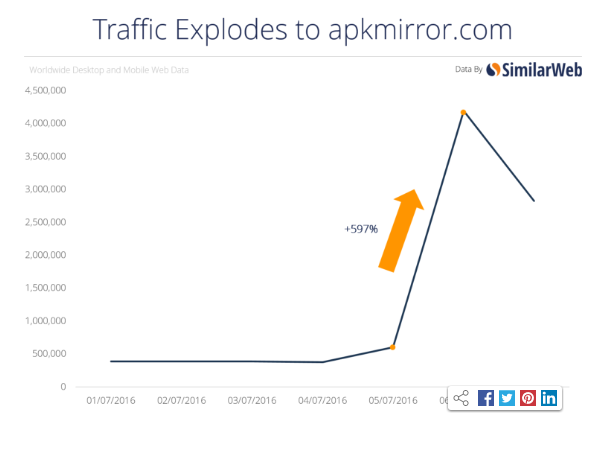 Source: SimilarWeb
For example, the mirror platform apkmirror has realized a spike in its internet traffic in the past month. Clicks went from just over 500,000 to 4,000,000 during the end of June to July when the game was officially released.
Despite its popularity both domestic and abroad, Nintendo is down -2.60% as of 2 PM Wednesday. Investors have been worried that they could be experiencing another market dilemma similar to the "Candy Crush Saga" losses a few years back. Those who noticed the omnipresence of Candy Crush and invested in its parent maker King Digital (later sold to Activision Blizzard (NASDAQ:ATVI)) were thanked with 50% losses throughout the next quarter. If you are an investor looking to not make the same mistakes again, take a step further into Pokemon Go.
While Nintendo has certainly seen great financial numbers this past week, its stock is suffering from its inability to cater to all overseas markets and the unfortunate reality that its sales are numbered as not everyone can afford in-app purchases. If Nintendo's game developers can continue to be innovative and stimulate demand, then Pokemon Go can avoid the same misfortunes experienced by Candy Crush and King Digital.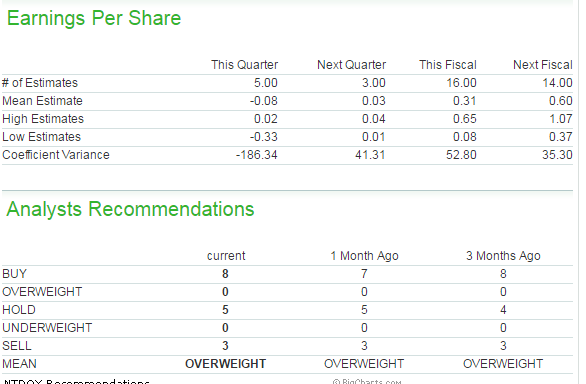 Source: Market Watch
Analysts are high on Nintendo right now, with many labeling the stock as overweight. Meaning, the stock is a better value than its competitors. NTDOY's current EPS is .17 but looking to improve greatly over the next fiscal year.
For now, demand for the game is pervasive and talked about. As previously stated, many are searching for ways to access the game outside of downloading from its official suppliers like the Android and iTunes markets. As you can see free marketplaces like apkmirror.com do not operate on any market exchange, so they might be profiting, but we cannot invest in them. While this type of Pokemon black market will hurt the sales of Nintendo, it really does not have any effect on the industry that manages the devices used to play Pokemon Go: Telecommunications. In fact, the telecommunications industry has seen some great gains this past week.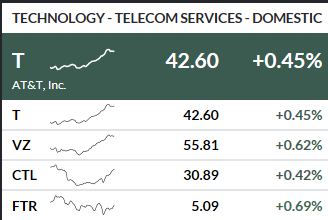 Source: Financial Visualizations
Investing in the company that produces the game itself (Nintendo) has historically proven to be a risky idea, so many advise to invest in the telecommunication services that produce the data such as T-Mobile (NASDAQ:TMUS), Verizon (NYSE:VZ), or AT&T (NYSE:T). Even investing in a business that profits off of outdoor activity (i.e.: Footlocker) might be a good idea.
Martin Tillier of NASDAQ shared his own opinion on the new game when writing, "A clue as to what that characteristic is came yesterday from T-Mobile CEO John Legere revealed that Pokemon Go had caused downloads to double over the weekend, and data usage to increase fourfold." Other firms in the sector have seen profits as both Verizon and AT&T gained a point over the last five days.
Furthermore, one way in which we can be sure that society has not re-entered the 1990s is acknowledging the existence of augmented reality gaming. Consumers have gotten a taste of this newfound technology in the social media platform Snapchat with various interactive filters. Nintendo, as well as Niantic, harnessed this technology for Pokemon Go.
The Wall Street Journal's Jack Nicas and Cat Zakrzewski write:
Other companies are testing the technology. Microsoft Corp. (NASDAQ:MSFT) is building an augmented-reality headset called HoloLens. Google parent Alphabet Inc.'s (NASDAQ:GOOG) (NASDAQ:GOOGL) Project Tango adds sensors and software to smartphones to improve them as augmented-reality devices. Facebook Inc. (NASDAQ:FB) Chief Executive Mark Zuckerberg has said "immersive augmented reality will become a part of daily life for billions of people."
Magic Leap, an augmented reality startup, is among the companies testing this new technology. An IPO would be possible for the company unless a large corporation buys first. Magic Leap has yet to release an official product but corporations are pouring money into the startup which has now received approximately $1.4 billion in funding.
Nintendo could have possibly struck a gold mine by appealing to both old and new generations with this nostalgic application, but augmented reality and even the telecommunication industry finish the week with high prospective growth. Look for startups like Magic Leap and Meta Co to land on the tech scene in the near future. Until then, stick with telecommunication companies that realize profits from demand for all new augmented reality products.
Analysts are currently very high on the idea that Nintendo has the innovative capacity to not make the same mistakes as King did with Candy Crush. Augmented reality has stimulated an entirely new market and is an extremely exciting prospect for investors and producers alike. Look to see great numbers next quarter for both Nintendo and the telecommunications companies that will piggyback on their successes.
It's funny to see how these newfound advances in technology have us all remembering the past. Yet investors, aside from developers, must now prepare for the future. Pokemon Go may very well be the first step in a long road of augmented reality that expands much further than the gaming industry and we all have a chance to profit. As Pokemon Go revives your past, be sure you are also investing for the future.
Disclosure: I/we have no positions in any stocks mentioned, but may initiate a long position in NTDOY, T over the next 72 hours.
I wrote this article myself, and it expresses my own opinions. I am not receiving compensation for it (other than from Seeking Alpha). I have no business relationship with any company whose stock is mentioned in this article.
Editor's Note: This article discusses one or more securities that do not trade on a major U.S. exchange. Please be aware of the risks associated with these stocks.