One of the most eye-catching equity market trends since the beginning of this bull market in 2009 has been the dominance of growth over value. However, there's a big divergence taking place between value stocks and growth stocks this year. Value is significantly outperforming - by several hundred basis points. If market leadership is turning from growth to value, it marks an important change and, if history is any guide, the trend might continue for the next several years.
Mean reversion - the fact that investments can trade far above or far below their historic average returns for periods of time, but in the end they eventually tend to move back towards their average - bodes well for value stocks going forward. The gap between value and growth represents an exciting opportunity in the years ahead.
Growth Vs. Value Investing
Most investors are familiar with the difference between growth vs. value investing. Briefly, growth investors focus on companies that they believe will experience faster than average growth as measured primarily by profit growth. Nearly all of their investment returns come from capital appreciation. Growth stocks are characterized by high price-to-earnings, price-to-book, and price-to-sales ratios, and low dividend yields. Value investors, on the other hand, look to uncover companies that have fallen out of favor and whose stock prices don't necessarily reflect their fundamental worth. Value stocks are typically lower-priced, have low price-to-earnings, price-to-book, and price-to-sales ratios, and higher dividend yields than their growth counterparts.
Has The Pendulum Swung To Value?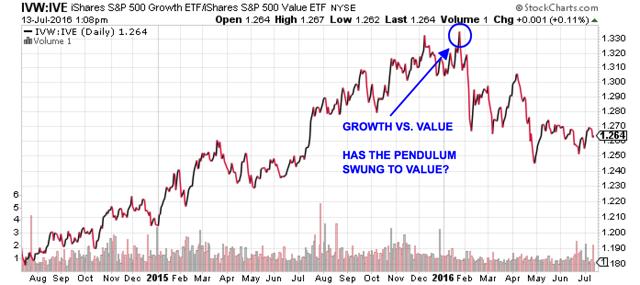 The last seven years have been predominantly a growth-style market, but there have been some hiccups along the way, where value has outperformed over short periods. In each of those instances, many pundits on Wall Street thought a cycle rotation into value was occurring. They were wrong each time. Is growth's leadership ending now? Nobody knows, but as measured by the iShares S&P 500 Value ETF (NYSEARCA:IVE) and the iShares S&P 500 Growth ETF (NYSEARCA:IVW), value has trumped growth by 375 basis points this year. IVE has gained +7.35%, while IVW is up +3.63%, year-to-date.
In fact, so far in 2016, we've seen a pretty dramatic change in market leadership. It has persisted across styles, regions and sectors. Value stocks are leading the market higher - by a wide margin. Emerging market equities, which have lagged badly for the last three years, are outperforming developed markets. The iShares MSCI Emerging Markets ETF (NYSEARCA:EEM) is up +9.72% vs. -1.80% for the Vanguard FTSE Developed Markets ETF (NYSEARCA:VEA). Last year's top-performing sector, healthcare, is this year's worst, down for the year. Utilities, including the iShares U.S. Utilities ETF (NYSEARCA:IDU), have produced phenomenal returns of +20% this year. Energy, a classic value play, bottomed in early January and has turned around. The Energy Select Sector SPDR ETF (NYSEARCA:XLE) is up +15% year-to-date.
So, if we're in the early stages of a rotation from growth to value, how do investors avoid getting tripped up by this style transition? You may be tempted to try and time when an investment style is going out or coming into favor - good luck with that! Market timing often leads to market pain. Our preferred way for you to play this is to periodically rebalance your portfolio. You want to take profits from growth investments and other "crowded" sectors of the market that have done really well and had a style tailwind, and then use that money to initiate or increase positions in value funds that have underperformed.
We recently began trimming several positions in pure growth ETFs and some very "crowded" low-volatility ETFs, such as USMV, SPLV and ACWV, which have recently hit all-time highs. We haven't totally abandoned these areas of the market. They've worked really well over the last several years; however, they have been bid up and valuations look frothy.
We've also significantly reduced several positions in Utility ETFs, such as VPU and XLU, which have performed remarkably well this year. Although these are traditionally considered value funds, they have had a great run, producing in excess of +20% returns so far this year, as interest rates have fallen to all-time lows.
Funds For The Next Value Cycle
iShares Core U.S. Value ETF (NYSEARCA:IUSV)
Investors in this ETF gain very low cost exposure to a broad range of U.S. value stocks, which are thought to be undervalued by the market relative to comparable companies. The portfolio is weighted as follows: 40% giant-cap companies, 30% large-cap companies, 20% mid-cap companies and 10% small-cap companies. Its Price/Earnings ratio (P/E ratio) is 16.56, which is significantly lower than the 23.97 P/E ratio of its growth counterpart, the iShares Core U.S. Growth ETF (NASDAQ:IUSG). IUSV is up +7.63 YTD and carries an annual expense ratio of just 0.07%.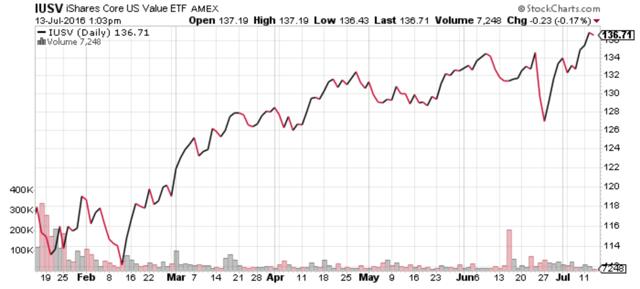 The fund's top five holdings include Exxon Mobil (NYSE:XOM), Johnson & Johnson (NYSE:JNJ), Berkshire Hathaway B (NYSE:BRK.B), AT&T (NYSE:T) and General Electric (NYSE:GE).
PowerShares Dynamic Large Cap Value Portfolio ETF (NYSEARCA:PWV)
This ETF is unique in the methodology utilized to determine its underlying holdings. Instead of including all value stocks and weighting them by size, PWV is linked to an "intelligent" index that uses quant-based screens to identify undervalued stocks considered to have the most promising outlook. The highest-scoring stocks get the most weight. The fund yields 2.50% and has an annual expense ratio of 0.57%. PWV is up +8.39% year-to-date.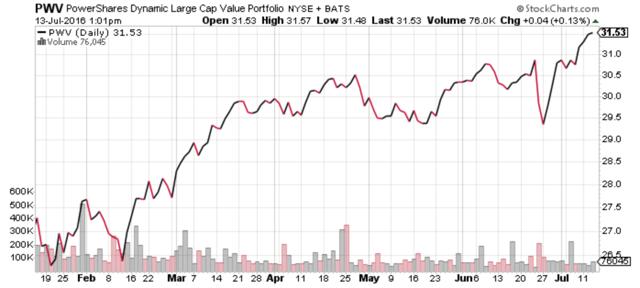 Verizon Communications (NYSE:VZ), AT&T, Intel (NASDAQ:INTC), Johnson & Johnson and PepsiCo (NASDAQ:PEP) make up the fund's top five holdings.
WisdomTree MidCap Dividend ETF (NYSEARCA:DON)
For exposure to the mid-cap sector, you may wish to consider WisdomTree's dividend-weighting approach. By weighting stocks by the dollar amount of dividends paid, this ETF provides a less aggressive approach to dividend investing compared with funds that shoot for high yield. DON is up +13.91% this year and its annual expense ratio is a moderate 0.38%.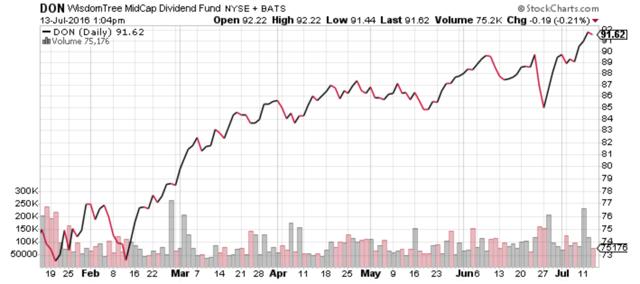 Top holdings include ONEOK (NYSE:OKE), Mattel (NASDAQ:MAT), CenterPoint Energy (NYSE:CNP), Frontier Communications (NASDAQ:FTR) and Coach (COH).
Look For Dividend Growers, Not Just Dividend Payers
Consistent dividend growth tends to be correlated to companies that are high quality, with strong fundamentals, stable earnings and ample free cash flow. These are attractive qualities that make dividend growers more resilient than even dividend payers. Growers have been able to withstand repeated market turmoil, while still delivering solid returns with lower volatility.
ProShares Russell 2000 Dividend Growers ETF (NYSEARCA:SMDV)
For small-cap exposure, you may have in the past looked to a broad index like the Russell 2000. We're not big fans of plain vanilla indexing as we tend to be more tactical in our approach. Why invest in the whole index if you can zero in on the companies with the longest history of dividend growth? There is evidence to suggest that targeting companies that have consistently grown dividends over time may be an effective way to outperform the market. SMDV is the only fund that focuses exclusively on companies in the Russell 2000 Index that have grown dividends for at least 10 consecutive years.
The ProShares S&P 500 Dividend Aristocrats ETF (NYSE:NOBL) is a good example of an ETF that holds consistent dividend growers, albeit in the large-cap space. We have owned it for the last several years. It is trouncing the S&P 500, up +13.08% year-to-date.
SMDV is relatively new and has only $120M in assets. It is up a whopping +18.95% this year and it comes with a 0.40% annual expense ratio.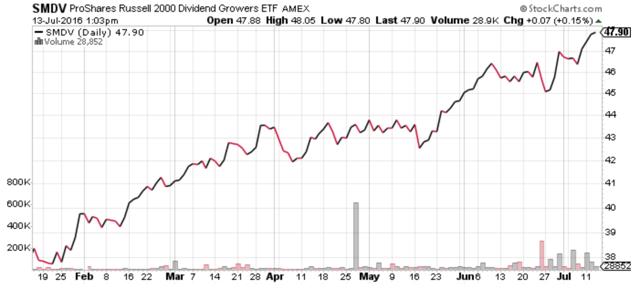 Its top five holdings include Middlesex Water (NASDAQ:MSEX), Chesapeake Utilities (NYSE:CPK), J&J Snack Foods (NASDAQ:JJSF), Northwest Natural Gas (NYSE:NWN) and California Water Service Group (NYSE:CWT).
DoubleLine Shiller Enhanced CAPE® Inst (MUTF:DSEEX)
This mutual fund is an interesting choice and one we find appealing on many levels. Fixed-income guru and DoubleLine CEO Jeffrey Gundlach has teamed with Nobel Prize winner and Yale economist Robert Shiller to launch this value fund in late 2013.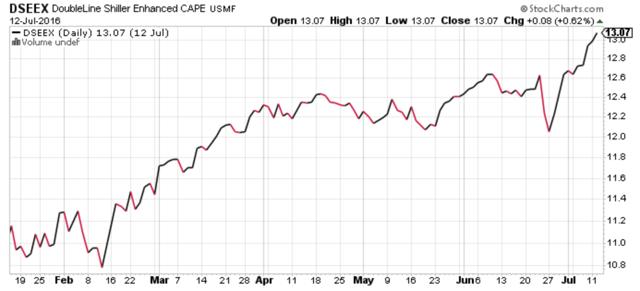 The fund buys equity index futures of the four most undervalued market sectors and also uses a percentage of assets to build a fixed-income collateral portfolio. It's yielding 2.57% and has an annual expense ratio of 0.63%, which is higher than many value ETFs; however, its performance this year has been stellar, up +10.37%.
Conclusion
Periods of growth outperformance are eventually followed by periods of value outperformance and vice versa. The growth-value pendulum looks as though it is swinging back in the value direction.
Scaling into value funds over time should help ensure that your portfolio is not unbalanced when a value style rotation does occur.
Once the turn takes place, you should expect a significant reversion to the mean in which value stocks outperform growth stocks for a prolonged period of time. Reversion to the mean usually doesn't stop at its long-term historical average. Often, the pendulum swings too far in the opposite direction. For these reasons, value style funds offer intriguing long-term potential.
Disclosure: I am/we are long ACWV, DSEEX, DON, NOBL, PWV, SPLV, USMV, VPU. I wrote this article myself, and it expresses my own opinions. I am not receiving compensation for it. I have no business relationship with any company whose stock is mentioned in this article.
Additional disclosure: George Kiraly Jr., CFP®, MBA is the Founder & Chief Investment Officer of LodeStar Advisory Group, LLC, an independent Registered Investment Adviser located in Short Hills, New Jersey. George Kiraly, LodeStar Advisory Group, and/or its clients may hold positions in the ETFs, mutual funds and/or any investment asset mentioned above. The opinions offered herein are not personalized recommendations to buy, sell or hold securities.