AML (Acute Myeloid Leukemia) is a deadly disease of the blood system. In the main, it is still treated with decades-old chemotherapies. Several promising therapies have failed during clinical trials in the last decade. Any therapy that does succeed in getting an FDA approval for use will likely generate hundreds of millions in annual revenue.
Seattle Genetics (NASDAQ:SGEN) is a commercial stage biotechnology pharmaceutical company with an extensive pipeline of clinical stage drugs targeting a variety of diseases. It had revenue of $111 million in Q1 and a GAAP net loss of $20.5 million. Its sole commercial product so far is Adcetris for CD30-positive Hodgkin's Lymphoma and ALCL. Its potential AML therapy is SGN-CD33A. For its broader pipeline see Seattle Genetics: The Long View. Seattle Genetics is a mid-cap company with a current market capitalization of about $6 billion.
GlycoMimetics (NASDAQ:GLYC) is a developmental stage company with two therapies in the clinic. The more advanced therapy is Rivipansel for Vaso-occlusive crisis, which is partnered with Pfizer (PFE) and started a Phase 3 trial in June 2015. For more background, see GlycoMimetics: Undercovered with Catalysts Coming. Its AML therapy is GMI-1271, which reported positive results from a Phase 1 trial in May, and started its Phase 2 trial in late June. GlycoMimetics is a micro cap with a market capitalization of $138 million.
Juno Therapeutics (JUNO) also has a proposed AML therapy, JTCR016, which is in a Phase 1 trial. Given the recent problems with Juno's JCAR015 trial for ALL (acute lymphoblastic leukemia), and that only preliminary data is available for JTCR016, I will not treat it in depth in this article. I am mentioning it simply as one example of other approaches to treating AML that are in development or contemplated. Juno is a mid-cap company with a market cap of $3 billion, but that has been very volatile the last few days.
I mention the market caps because, if the markets were rational, it would indicate that GlycoMimetics has little or no chance of success with its AML therapy. If it does have possibilities similar to JUNO, SGEN, and other competitors, then it is severely undervalued.
Acute Myeloid Leukemia: a deadly, hard to treat cancer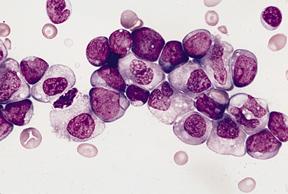 Source: commons.wikimedia.org
AML is a deadly leukemia, with poor prognosis from current therapies. Most of us call myeloid cells bone marrow cells, which generate both white blood cells and red blood cells. In AML, these cells become cancerous, rapidly creating abnormal white blood cells, and at the same time interfering with the production of other cell types.
Untreated patients usually die in a few months to about a year. Initial, "inductive," treatment currently consists of intensive chemotherapy. Cure rates are low in young, otherwise healthy patients. After the age of 60, cures are rare; the therapy only slows the pace of the disease. Stem cell transplants can help, but since most AML victims are over 60, and many are frail, being killed by chemo is about as common as being cured by it. For that reason, many older patients refuse inductive chemotherapy. A milder alternative, HMAs, will be discussed below.
Finally, remission, for the vast majority of patients who are lucky enough to achieve it, is a prelude to relapse, because a few leukemic cells always seem to remain hidden in the marrow. Those that proliferate are even harder to kill than those in the initial round.
There are over 19,000 new cases of AML each year in the U.S. Interestingly, chemotherapy for other cancers can itself cause AML. At the now typical new cancer cure rate of about $100,000 per patient, that represents a market opportunity of about $1.9 billion per year in the U.S. alone.
A large number of therapies for AML have gone into clinical trials over the years. There has been no major approval of a new therapy by the FDA. The standard therapy remains cytarabine with daunorubicin (both approved in the late 1960s), or similar agents. Pfizer's Mylotarg was approved for relapsed AML in 2000, but was withdrawn from the market in 2010 as both ineffective and causing increased death rates. Mylotarg is an ADC targeting CD33, which has brought into question the Seattle Genetics' approach to the problem.
Seattle Genetics SGN-CD33A
SGN-CD33A is an ADC (antibody drug conjugate) that binds to the CD33 protein that is expressed in leukemia cells.
On May 25, 2016, Seattle Genetics announced it had initiated a Phase 3 trial of SGN-CD33A for patients with newly diagnosed AML. This was followed on June 11 by the presentation of data in the Phase 1 trial at the Congress of European Hematology Association.
In both trials, the treatment included either azacitidine or decitabine, which are hypomethylating agents, HMAs.
CD33A is also known as vadastuximab talirine. It consists of an antibody, vadastuximab, that pairs with CD33; a linker; and payload that binds to DNA in the target cell, causing the cell to die. "CD33 is expressed on leukemic blasts in nearly all AML patients with expression generally consistent regardless of age, cytogenetic abnormalities or underlying mutations."
The Phase 1 study patients had declined intensive standard chemotherapy. That likely means that on the whole, they were older and frailer than patients who try chemotherapy. SGEN notes "Hypomethylating agents, or HMAs, are the current standard of care for AML patients who are not able to tolerate intensive therapy. HMAs have limited benefit, with low response rates and median overall survival of 10 months or less."
The key takeaway is that the Phase 1 trial showed a "high response rate, manageable tolerability profile and low early mortality."
The data covered 53 newly diagnosed AML patients with an average age of 75 years, of whom 49 could be evaluated for efficacy. The overall response rate was 76%, with most of those showing either complete remission or remission with incomplete blood cell recovery. Achievement of minimal residual disease rate was 49%.
Overall survival time was also positive, and should continue to improve as living patients continue to be followed. Estimated median overall survival for the first 25 patients was 12.75 months. Median relapse free survival was 7.7 months.
While these are good data compared to the alternatives for the patients, they are a long way from a cure. The average patient relapsed after 7.7 months. While improving the quality of life over intense chemo, and prolonging life, the outlook for these patients on this therapy are still grim. And the therapy is not without its adverse events, ranging from fatigue in 57% of patients to more serious (grade 3 or 4) types of adverse events occurring in over 20% of patients.
Normally, a therapy requires at least one Phase 2 trial before a company undertakes a Phase 3 trial. But the FDA approved CD33A going straight to a Phase 3 trial, which would indicate they think the Phase 1 data is fairly compelling. The trial is named CASCADE and is randomized, double blind, and placebo controlled. It is designed to test for overall survival times of the combination against treatment with the hypomethylating agents alone. "Secondary endpoints include the comparison of composite complete remission rate (complete remission and complete remission with incomplete hematologic recovery; CR/CRi), event-free and leukemia-free survival, duration of response, safety, and 30- and 60-day mortality rates." The phase 3 trial will enroll approximately 500 patients globally.
There are also Phase 1 trials already underway that would extend the CD33A label, if they lead to success. These include trials for patients with relapsed AML; in combination with standard chemotherapy instead of an HMA, in younger patients; and as a monotherapy prior to stem cell transplants.
While the data looks good so far, and this therapy could turn into a big money maker for Seattle Genetics, keep in mind that it is harder to predict the statistical outcome of a Phase 3 trial when you only have a Phase 1 database, than if you also had the more substantial data that would come from a Phase 2 trial.
GlycoMimetics
GlycoMimetics uses a totally different approach to AML. Its GMI-1271 therapy is a glycoprotein (a combination of carbohydrates and proteins, etymology: glykeros, Classical Greek for sweet) that is involved in cell adhesion. It is an E-selectin antagonist.
One reason AML is both hard to battle to remission, and that patients almost always relapse, is that some of the cancer cells are sequestered in the marrow. They survive in the bone marrow where therapies cannot reach them. GMI-1271 encourages cancer cells to disadhere from their matrix. Then they can be killed by other therapies. In the normal course of development, blood cells begin adhered, but must disadhere to enter the blood stream.
In the Phase 1 trial of GMI-1271 was added to standard inductive chemotherapy. The patients had relapsed or refractory AML. Note that this differed from the SGN-CD33A trial methodology in that the patients were not newly diagnosed and were not given the less toxic HMA therapy.
There were 19 patients "including those who were older than 60 years of age." 42% of patients achieved a complete response and an additional 5% achieved remission with incomplete recovery. No patient died during the 44-day treatment phase and there were no dose-limiting toxic reactions observed.
GlycoMimetics stated that remission rates for chemotherapy alone are "typically between 25 and 30 percent."
The overall response rate for GMI-1271 was 47% compared to 76% for SGN-CD33A, but the two drugs were tested on very different sets of patients. GMI-1271 trial patients were younger than SGN-CD33A patients, and presumably less frail. But they had already tried chemotherapy and either failed to achieve remission, or had a relapse after achieving remission.
When there is a permanent remission, it is reasonable to assume that all the cancer cells were killed. GMI-1271 is specifically designed to target any cancer cells that survive and cause relapses. Testing it against relapsed patients makes sense. That is a hard group, and it did well against the hard group.
It might be a surprise, then, that the Phase 2 trial is adding newly diagnosed AML as a separate arm. But it makes sense: if it works on relapsed AML, if should work on new AML.
GlycoMimetics announced it dosed its first GMI-1271 patients in the Phase 2 trial on June 28. All patients will receive the standard intensive chemotherapy of cytarabine plus idarubicin (a slight variant on daunorubicin). One arm will consist of newly diagnosed patients over 60 years old, and one of relapsed/refractory patients. There will be about 25 patients in the newly diagnosed arm.
If either or both arms of the Phase 2 trial are successful, they will doubtless be followed up with a Phase 3 trial. However, the FDA granted Fast Track designation to both arms. That means with sufficiently good data the FDA might approve the therapy based on Phase 2 results, as long as there is a larger follow-up of patients.
On the other hand, given the long train of new AML therapies that have died in Phase 3, and the Mylotarg precedent where even results passed by the FDA later proved to be misleading, investors should be aware that there is considerable, if difficult to quantify, risk involved in both the Seattle Genetics and the GlycoMimetics projects.
Cash
Seattle Genetics ended Q1 2016 with $692 million in cash, so there are no concerns there about the ability to continue to operate until the pipeline develops further and profitability is reached.
GlycoMimetics has been on a skimpier cash diet for some time now. It was down to $38.8 million at the end of Q1. In June, it raised about $18.6 million more through a stock offering. That is still pretty slim, but should provide a runway to get results from the Phase 3 Rivipansel trial. If successful, that would generate a milestone payment and eventually royalties. Cash burn has been about $7 million per quarter, but will likely increase due to the initiation of the Phase 2 AML trials. Cash could last long enough to get Phase 2 AML results, which would then allow GLYC to raise cash to go it alone, or to partner for a Phase 3 trial.
Investor Takeaway
I would say both therapies look promising. The success of either or both would greatly enhance the value of the respective companies. Since they have differing mechanisms of action, both could be tried on patients, or they might work synergistically. Neither looks like a 100% cure for AML.
Since Seattle Genetics already has one product on the market, and a much broader pipeline with more partners, if its therapy were to fail in Phase 3, it would not likely lead to the failure of the entire company. On the other hand, with a market cap already at $6 billion, there is room to fall, and some likelihood of success is already partly figured into that market cap.
GlycoMimetics has more hanging on the outcome of its AML therapy, but it has an interesting and novel platform that could continue to generate new potential therapies. With a market cap of just $138 million, it has considerably more upside potential, if the FDA approves GMI-1271, then Seattle Genetics would get out of a parallel approval.
Because other parts of my portfolio consist of considerably less risky large cap biotechs, I feel I can take a fair amount of risk in my smaller positions. Currently Seattle Genetics represents 2.0% of my portfolio, while GlycoMimetics represents 4.6%. The later company has been far more volatile as it is not as well known to investors. Of course, my allocations do not represent advice, they just indicate how I am thinking about the situation. For many investors, both companies are probably too risky at this stage. Waiting for cancer trial results requires quite a bit of patience. You can always buy the companies if the results turn out to be positive, a couple of years from now. But not at today's prices.