The livestreaming space is rapidly changing as no company has been able to dominate it yet as it is in its nascent stage. It's difficult to determine how it will play out. Will one company dominate the space or will there be a few popular ones? With linear TV various cable and satellite providers all carry networks? If a company has a popular livestream and it is easy to put it on a few platforms, then why not? Another scenario would be it being like internet video which is dominated by YouTube (GOOG) (GOOGL). There has been recent growth on Facebook (FB), but that's still from an established large player opposed to a new startup that would have no shot at competing with YouTube.
With livestreaming there is an opening, so there is the possibility of YouTube or Facebook dominating new space or a new player coming into the fold. New firms have a greater incentive to innovate. They have to have a better product then what established players have or they will go bust.
The biggest players in the space are probably Periscope (TWTR) and Facebook live, but they don't own the industry by any means. The whale that is YouTube hasn't released its new version called YouTube Connect, which takes aim at livestreaming. I will have an article on it when it is released, but until then we just have to assume it will probably make a splash. Snapchat (CHAT) is another app that should release a product into this space since it already has video calling and is a social video app.
The newest entrant into this space is an app called Live.ly, which is made by the same people who made the Musical.ly. It's amazing how quickly the social space changes. The companies who combine a viral appeal with a plan to transform their business model do the best. Snapchat had a viral appeal from disappearing messages, which it used to leverage its transformation into a social network. Musical.ly started out as a lip synching app, which went viral on ease of use and uniqueness as it excited teenagers and popular musicians. It would have been reasonable to assume this app would flame out after a few months of popularity as it was a cool feature more than something with staying power. It has 100 million users now, but would they stay around?
This changed with the release of Live.ly, which was promoted on Musical.ly and got 2 million downloads in the first two weeks beating out Periscope, which received 1 million downloads in the first 10 days. This shows the benefit of teenage usage. Twitter users are older than Musical.ly users, so they are less likely to try out a new platform.
Live.ly was able to be ranked the number one app in the App Store for a few days. Jason Derulo, the famous singer was able to get an average of 1 million viewers watching him per stream. I haven't seen any Periscopes with that amount of viewers. On an absolute basis 1 million people watching is a high number.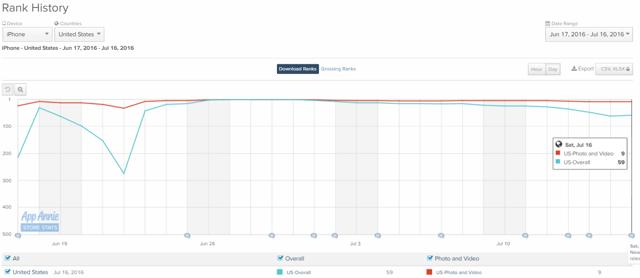 I think Periscope was marketed wrongly by Twitter. It wasn't immediately integrated with Twitter like Live.ly was with Muscial.ly. Secondly, Musical.ly and Live.ly are targeted at the perfect demographic for this category: young people and musicians. From viewing Periscope, I'd say the best live content to watch is musicians as it's like a private concert. By having a specific niche of users to start out, it gives Live.ly a cohesiveness that Periscope lacks. Periscope is so wide that users don't know what to do on the app. In the long term there will be a large variety of content livestreamed, but because it is such a new form of media it's best to narrow the focus of content so viewers know what they're getting.
Muscical.ly has stars like Jacob Sartorious who were able to move onto Live.ly and bring a large audience to the new platform. It's quite confusing why Twitter didn't think to get its Vine stars onto Periscope. It's slap in the face to see the Vine star Cameron Dallas become popular on Live.ly. Twitter is a huge company, but it needed to get in the trenches and ask popular Vine stars to use Periscope. Even paying them could have been a good idea to get it off the ground. Twitter certainly had more cash at the launch of Periscope than Musical.ly had when Live.ly launched. It should have used the advantages it had at its disposal. The only focus Periscope seems to have is on the country of Turkey. It's not a bad thing but it's doesn't exactly have the viral appeal internet celebrities have.
Another point to mention is Live.ly already has plans to mimic YouNow with its stickers which is a way for creators to make money and the company to get a cut. Periscope should be doing this by now since it has been out for over a year longer than Live.ly. Periscope wants to focus on geopolitical events like the recent coup in Turkey. This certainly is a noble goal, but if the way to make money on the app is through donations to streamers as seems to be the case with livestreams, then news isn't going to generate any revenue. Donations come in because the streamer has formed a relationship with the audience and won't be given to a person they don't know showing the geopolitical events of the day unfold. I could be wrong about this, but we won't find out until Periscope develops a way to monetize broadcasts.
Conclusion
It was a mistake to categorize Musical.ly as a fad because it has been able to take a step towards creating an app with mass appeal opposed to an app with a single focus. Musical.ly was initially like a Vine or a Flipagram. It was a cool feature that could have died down overtime without innovation. By moving to livestreaming, it provides the firm with more runway to grow and make money.
Live.ly is a bigger threat to Periscope than YouNow was because YouNow brings its creators from YouTube and only sometimes grows them organically. The organically grown stars on Musical.ly such as Jacob Sartorious are more popular than the organically grown stars on YouNow. Maybe Vine had died down so much by 2015 that Twitter couldn't use its leverage to bring its stars to Periscope. Either way, Live.ly has had better launch than Periscope and it didn't even need the amount of support from App Store that Periscope received. Live.ly is expected to release its Android version in the next few weeks. If it can implement stickers while still maintaining popularity, it can overtake Periscope in the livestreaming category.