Roche (OTCQX:OTCQX:RHHBY) announced this morning that the GOYA study has failed. The GOYA study examined the efficacy and safety of the combination of Gazyva plus chemotherapy compared to Rituxan plus chemotherapy in the diffuse large B-cell Lymphoma (DLBCL) indication also known as aggressive Non-Hodgkin's lymphoma (aNHL).
The study did not meet its primary endpoint of improving the progression-free survival. In other words, it means that Gazyva did not demonstrate that people lived significantly longer without disease worsening or death when treated with Gazyva compared to its predecessor Rituxan / Mabthera. Thus, Gazyva did not show it was better than Rituxan / Mabthera.
Roche has not released figures or more information concerning the study. Full set of results will be communicated later during a medical congress.
The Rituxan / Mabthera franchise
Gazyva is the successor of Rituxan (also known as Mabthera) which is Roche's largest drug, realizing more than $ 7B in revenue. Rituxan / Mabthera will lose US patent protection in 2018 and we expect biosimilar competition in Europe during the second half of 2017. Therefore, Gazyva is essential in the biosimilars defense strategy that Roche has implemented. The following chart shows how the revenue of Rituxan / Mabthera is split between the different indications.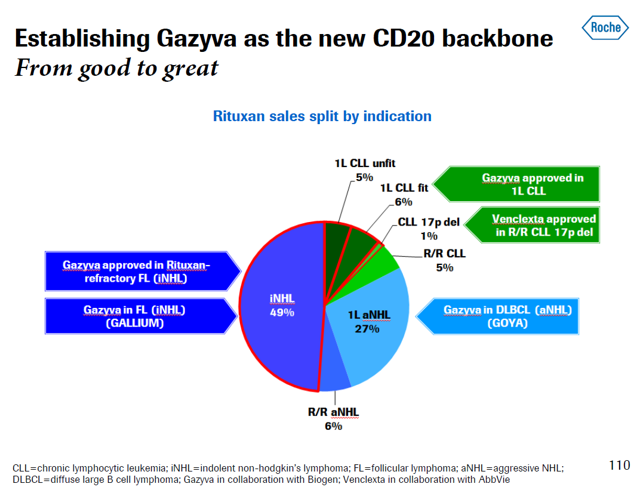 (Source: Company presentation)
The CLL11, GADOLIN and GALLIUM studies showed positive results in the following indications: chronic lymphocytic leukemia (CLL), indolent Non-Hodgkin's lymphoma (iNHL) and in 2nd line NHL. These indications represent 70% of Rituxan / Mabthera sales generated in hematology.
However, a portion of Rituxan / Mabthera sales are generated off-label (roughly 20%) in different indications such as multiple sclerosis, rheumatoid arthritis... Therefore, we can conclude that Roche has protected roughly $ 4B of Rituxan's sales ($ 7B * 80% * 70%). Keep also in mind, that the price of Gazyva is 25% higher than Rituxan.
This news is clearly negative for the company but it does not affect the company's growth profile. A large part of the franchise is protected (in terms of volume) and the higher price will also offset a part of the volume lost. Moreover, depending of the biosimilars penetration, Roche will lose more or less market share. I think that the biosimilars penetration will be slow because actors (physicians, patients...) will need time to adopt these new treatments.
NB: You may find more information about Roche and my investment case on the following link.
Disclosure: I am/we are long RHHBF.
I wrote this article myself, and it expresses my own opinions. I am not receiving compensation for it (other than from Seeking Alpha). I have no business relationship with any company whose stock is mentioned in this article.
Editor's Note: This article discusses one or more securities that do not trade on a major U.S. exchange. Please be aware of the risks associated with these stocks.