Auris Medical (NASDAQ:EARS) is a biomedical company focused on treating disorders of the ears. Its lead product - Keyzilen (AM-101) - is a novel treatment for tinnitus. Tinnitus is the perception of sound without external acoustic stimulation; it is a very common disorder. Approximately 25% of American adults have experienced tinnitus, with nearly 8% having frequent occurrences (Source). European population studies estimate that 7% to 14% of the population has spoken to their physician about tinnitus, whereas potentially disabling tinnitus occurs in 1% to 2.4% of people. The ATA - American Tinnitus Association - estimates that 50 million Americans suffer from the condition. Tinnitus may seriously impact the ability to sleep or relax or lead to tiredness, irritation, nervousness, despair, frustration, or depression.
There are currently no successful treatments for the condition and according to the Mayo clinic, drugs can't cure tinnitus.
It is important to note that tinnitus is not a single medical entity, it is sometimes referred to as a symptom of another underlying origin and the treatment will depend on the way the condition was created. The different causes and treatments currently available are reviewed here.
AM-101 is a treatment directed at tinnitus that emanates from an acute audiological trauma (very loud noise), from a physical trauma, or from a condition called Otitis Media (OM) that occurs when an infection in the outer ear penetrates into the inner ear. The ATA estimates that sufferers from these conditions are many, with 9.7% of US military veterans suffering from this condition, as well as people who are exposed to loud music, motor sports or hunting.
When the inner ear is experiencing very loud noise or physical trauma, a neurotransmitter, glutamate, is released in very high amounts in the Cochlea - the part of the inner ear responsible for perceiving sound. These high levels of glutamate produce an immediate response of very loud sound perception and even pain. Additionally, they produce a long lasting effect in the nerve cells that has a similar mechanism to learning and memory processes in other parts of the brain. The high glutamate levels activate receptors of the NMDA (N-Methyl-D-Aspartate) type, these receptors induce long term processes in the nerve cells and it is hypothesized that this is how the brain - 'learns' to hear the ringing that is associated with tinnitus - in the absence of an external sound.
The molecular mechanisms underlying learning and memory through activation of NMDA receptors have been studied since the 1970s. My PhD work was in this field, working on the phenomenon of long-term potentiation in the brain. In a lab next door, a visiting student from France was working on how tinnitus is also a learning process using the same molecules in the ear. This work was published in 2005 and it demonstrates why it is important for a person to have a relevant drug to use within a window of opportunity after the trauma to prevent 'consolidation' of the ringing sound.
AM-101 contains Esketamine hydrochloride, an NMDA receptor antagonist, formulated in a biocompatible and fully biodegradable gel. It is administered in one treatment cycle, comprising three intratympanic injections over 3 to 5 days into the middle ear. From there, the drug diffuses through the so-called round window membrane into the cochlea. Blocking the NMDA receptors is thought to stop the 'learning' process taking place in the ear and thus preventing the tinnitus from becoming permanent. It is still not clear how long the 'plastic' stage of the process lasts, but it is generally understood that if tinnitus arising from a trauma will not be treated at the earlier stages it is likely to become permanent.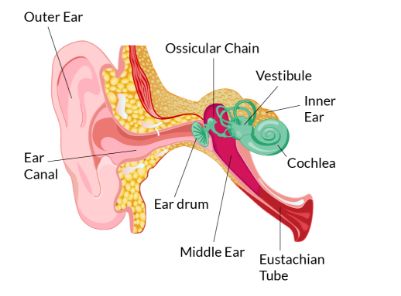 Source: Auris company website
AM-101 is currently being tested in 2 Phase 3 studies, TACTT2 and TACTT3. The TACTT2 trial is been conducted primarily in North American under an SPA - special protocol assessment - with the FDA, meaning that the design of the study was approved, and if successful, it will easily drive an approval process for the drug. The company recently announced that the FDA has granted the drug with a 'fast track' designation, demonstrating the FDA's confidence in the need for the treatment and showing that the company management knows how to communicate with the agency.
The primary end points on this trial are the improvement in tinnitus loudness from baseline to day 84 and the improvement in tinnitus impact as measured by the tinnitus functional index. The top line results from this trial are expected to announce in August.
In parallel, on June 28th, Auris announced the completion of enrollment of more than 630 patients with acute and post-acute tinnitus in the Phase 3 TACTT3 trial, which is being conducted in Europe. The TACTT3 trial consists of two strata, A and B. Stratum A, which has enrolled more than 300 patients is a confirmatory trial, evaluating efficacy in patients who are within three months from tinnitus onset.
As mentioned above, tinnitus is a 'learned' behavior for the neurons in the cochlea and it remains a question as to the window of opportunity that is available for treatment before the ringing sound becomes permanent. Previously, AM-101 was tested in acute cases but in the TACTT3 trial - stratum B enrolled approximately 330 patients is an exploratory trial evaluating efficacy beyond the three months acute time window focusing on patients who are three to six months from onset. The primary endpoint in the TACTT3 trial is the improvement in tinnitus loudness from baseline to day 84, and in this study, the tinnitus functional index is the main secondary end point. Topline results for this trial are expected in the fourth quarter of 2016. If this part of the trial is successful, it will open the potential market for the treatment to people who have waited longer after the auditory trauma event.
Phase 2 study results
AM-101 was previously tested in a Phase 2 study called TACTT0. This study had recruited patients with a similar condition to those in Phase 3 but also patients suffering from tinnitus induced by - ISSNHL - idiopathic sudden sensorineural hearing loss. The topline results from the study were not successful. However, when the ISSNHL patients were removed from the analysis, there was a significant efficacy demonstrated for the treatment. Improvement in tinnitus is measured in several scales, including a subjective report of the loudness, the ability to hear other sounds being played to the patient and general quality of life measures.
Regarding the justification to remove the ISSNHL patients, it is very likely that the tinnitus experienced by these patients is induced by a mechanism that does not involve glutamate activation of NMDA receptors and thus AM-101 would not be effective in preventing it. Another measure that differentiates the ISSNHL patients from the trauma and OM patients is the fact that a higher percentage of ISSNHL patients in the placebo group had significant spontaneous recovery.
In the TACTT0 clinical trial, patients with tinnitus following acute acoustic trauma or otitis media treated with 3 x AM-101 0.81 mg/mL showed a gradual and statistically significant improvement to Day 90 in patient reported outcomes (PROs) such as tinnitus loudness, sleep difficulties and overall tinnitus impact over placebo. At Day 90, mean tinnitus loudness improvement was 48%; 62% of patients reported much or very much improved tinnitus severity (unilaterally affected and treated).
Below is a figure from the published Phase 2 study demonstrating the efficacy among the participants after removal of the ISSNHL group.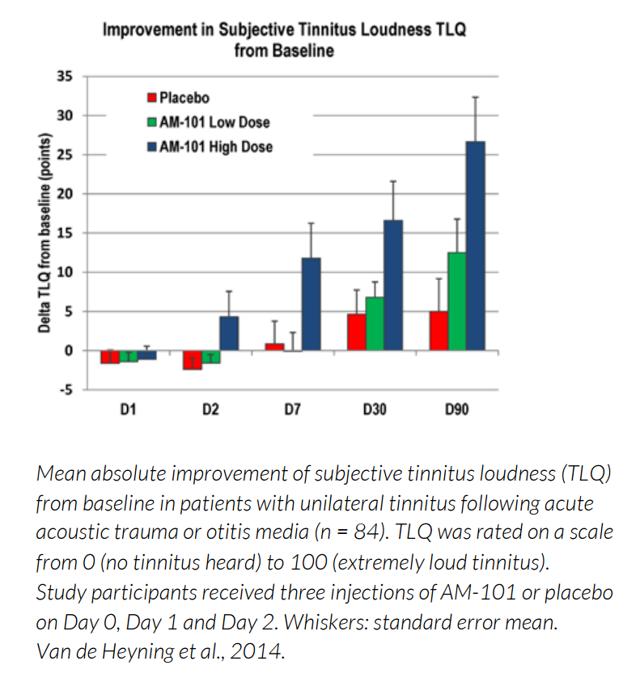 The treatment was also found to be safe - there was no impact on hearing or balance, even at much higher doses than those needed for suppressing tinnitus.
Treatment-emergent adverse events were reported by similar proportions of patients across the treatment groups.
Less than 10% of patients had nonfatal serious AEs (SAEs) with a similar proportion in the treatment and placebo arms.
All SAEs were considered either not related or unlikely related to treatment.
In the placebo group, 1 patient died because of cardiomyopathy (considered unrelated).
A total of 5 patients (2%) discontinued the study drug administration because of severe AEs: 3 in the placebo group (injection site discomfort, vertigo, and tinnitus) and 2 in the high-dose group (tinnitus and tympanic membrane hyperemia). All of these cases were resolved.
Based on these efficacy and safety results, and taking into account the suggested mode of action for the drug which has been successful in animal models, we believe that the upcoming topline data readouts are likely to be successful.
Potential market
On the recent earnings call in May, the company addressed the potential market as follows:
"Last month, one of our covering analysts hosted a conference call with the American Tinnitus Association to discuss market dynamics and access the opportunity for AM-101. On the call, the ATA highlighted that tinnitus sufferers are engaged with [well-informed] therapy seeking patient population with the lack of effective treatments. We believe that AM-101 has the potential to be an important advance for patients with acute tinnitus and represent approximately $750 million in US market potential."
In 2005, a medical journal headline announced: "Hearing loss and tinnitus: 250 million people and a US$10 billion potential market".
These numbers include many cases that have a different mechanism of induction of the tinnitus and would therefore not be initially relevant for AM-101. We estimate that at least 10% of the cases will make the potential market.
At the current market cap of less than $140 million, this represents a major opportunity if the treatment is approved.
AM-111
Auris are also developing another compound, AM-111 for the treatment of acute inner ear hearing loss. This compound is also currently being evaluated in a Phase 3 study that is due to read out in 2017.
The near term impact of this product on the company valuation is lower and we will not review it in this article.
Competition
As mentioned above, there is no currently available treatment for tinnitus. There are a few companies that are also developing treatments but they are further behind in the process. Two examples are:
Autifony Therapeutics is developing a Kv3 ion channel targeted drug to treat tinnitus and age related hearing loss (direct competition).
Autifony's lead compound, AUT00063, successfully completed Phase 1 clinical trials.
A Phase 2a tinnitus clinical trial was initiated in November 2014 in the UK (with funding support from Innovate UK).
Phase 2a age-related hearing loss clinical trial was initiated in March 2015 in the US. Otonomy (NASDAQ:OTIC) has a drug in development for tinnitus - in preclinical stage.
Possible reasons that the Phase 3 studies will not succeed
As with any new drug being developed a step up in the scale of a clinical study brings in a larger set of variables and unknowns. We believe that the safety demonstrated so far in the 248 patients that were enrolled in the Phase 2 study is likely to be a good predictor for safety in the Phase 3 studies. Therefore, we are not worried about safety being a problem with the near-term results.
Regarding efficacy, we are counting on the assumption that the cases of tinnitus caused by ISSNHL in the Phase 2 study were indeed fundamentally different from those in the Phase 3 studies. It is possible that this difference isn't real and was only a statistical anomaly, in which case, the efficacy of the treatment was never shown.
Additionally, the results are dependent to a large extent on behavioral changes and perceptions reported subjectively by the patients. In such instances, selecting a cohort of patients who tend to exaggerate or 'play down' their personal feelings about how well they are doing - in either the treatment or the placebo arm could have a major effect on the success of the trial.
In conclusion
We find Auris medical to be an undervalued opportunity with near-term data readouts for a new treatment that represents an unmet medical need.
Success in the Phase 3 studies set to announce topline data in August and later in Q4 will clear the way for approval with a potential billion dollar market.
Disclosure: I am/we are long EARS.
I wrote this article myself, and it expresses my own opinions. I am not receiving compensation for it (other than from Seeking Alpha). I have no business relationship with any company whose stock is mentioned in this article.