Chevron (NYSE:CVX) has regained almost 30% of its market capitalization over the past six months as oil prices have recovered and it now trades at its 52-week high. A t this point, some investors might be thinking that the stock is overpriced owing to its trailing earnings multiple of 154. But, in my view, Chevron is still geared to deliver growth because its forward P/E ratio for the next twelve months is projected at 22x.
This huge gap between the trailing and forward earnings multiples is a result of rapid growth in Chevron's earnings over the next year. In fact, Yahoo! Finance analysts expect Chevron's bottom line to shoot up almost 230% in the coming year, which does not surprise me considering the efficiency that the company has built into its business of late. As such, in this article, we will see why Chevron is well-placed to grow its earnings in light of an improving oil pricing environment.
Brownfield development will be a tailwind
In order to tide over a weak oil pricing environment, Chevron geared its business in such a manner that it invests in assets with higher rates of returns and sell-off assets that were not as productive in order to keep the liquidity in good shape. In short, Chevron is investing in the shorter-cycle and higher-return assets such as Jack & St. Malo, Tahiti, and Permian. More specifically, Chevron will spend around 80% of its capital budget in Brownfield development in the coming years.
Now, Brownfield development means Chevron will be working on existing infrastructure present at sites such as Jack and St. Malo. The reason why the company is focused on Brownfield development is because the presence of existing infrastructure at such sites will reduce the company's development costs and help it extract oil at low unit costs.
However, Chevron hasn't exactly pointed out for how many number of years it will be spending 80% of its capex on Brownfield development, but it has indeed pointed out that these Brownfield assets will have a Brent break-even point ranging between $20 per barrel and $40 a barrel.
Assuming that Chevron is able to achieve break-even at these Brownfield developments at the mid-point of its forecasted break-even range, i.e. at $30 a barrel, the company's cash margin on each barrel will still remain strong. This is because the company expects Brent oil to trade at a modest $52 a barrel until next year, which is not very far from the current Brent pricing of $47 a barrel.
This means that Chevron can generate a cash margin of $17 to $22 per barrel in light of the current Brent prices and forecasted pricing going forward from its Brownfield assets. Additionally, in order to generate such margins on each barrel, Chevron will spend less on capital expenditure. This is because the company has decided to reduce its capex for 2017 and 2018 to a range of $17-$22 billion, down from the earlier forecast of $20-$24 billion.
Now, 80% of the $17-$22 billion forecast for the next two years indicates that Chevron will spend in the range of $13.6 billion to $17.6 billion on Brownfield development, which comes to $15.6 billion at the mid-point. The company, however, has not pointed out as to how much production these Brownfield assets will deliver for Chevron. However, even if they account for 80% of the production based on the capex and the current rate of production (which stands at 2.7 million bpd), Brownfield could account for almost 2.2 million barrels per day of production.
Assuming that Chevron will generate a cash margin of $17 to $22 a barrel from the Brownfield assets, it can generate earnings between $37.4 million and $48.4 million each day from these assets, or almost $43 million per day. Thus, over the course of a quarter, these Brownfield developments will help Chevron earn almost $4 billion in profit, which is way better than the upstream loss of $1.45 billion recorded last quarter.
Thus, it is clear why Chevron is developing Brownfield projects such as Jack & St. Malo, where it is focused on constructing tieback wells from subsea completions to an existing semisubmersible unit. The company has nearly 6 wells online and plans to bring another 3 wells into production in 2016 at Jack & St. Malo owing to the impressive return profile over here.
Moreover, Chevron is progressing with the stage two developments at Jack & St. Malo, and in this stage, it is looking to add 4 additional wells. This is a good move as Chevron will be able to extract more oil from this area that remains attractive at a price of $40 per barrel during this prolonged period of recovery in the crude oil prices. The following chart represents the expected ramp up in production at Jack/St. Malo.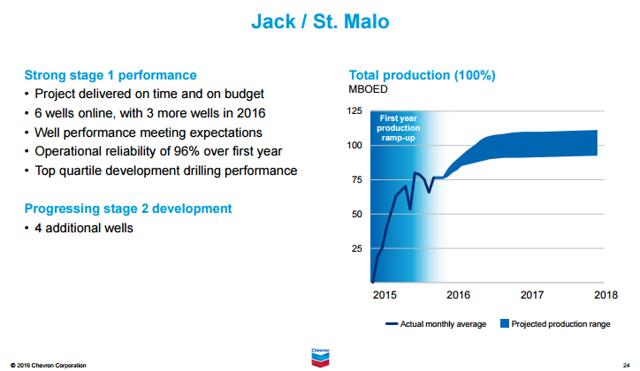 Source: Chevron
Thus, Chevron is doing the right thing by focusing on such assets where it can generate higher returns even at low oil prices. In fact, due to its strategy of increasing production from such areas, Chevron's gross margin and cash flow decline have been way lower than the drop in oil prices. This is shown below: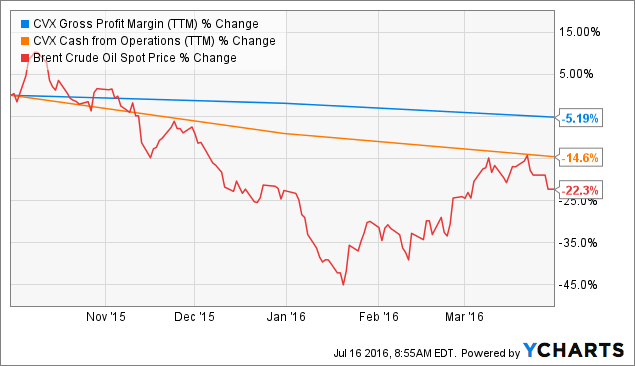 How Chevron is improving its efficiency
The reason why Chevron has managed to bump up its return profile in a lower oil price environment is because of its focus on improving drilling efficiencies, as a result of which it has managed to lower its development costs in the Delaware Basin and the Midland Basin in the Permian and the Gulf of Mexico. These improved drilling efficiencies are resulting from the deployment of longer laterals and an increase in frac stages.
For instance, the longer laterals have helped the company reduce its drilling days by 50% from pad 1 to Pad 5, reducing its horizontal well costs by 40% during the last reported quarter on a year-over-year basis.
At the same time, Chevron has improved its drilling footage and frac stages per day by 45% and 115%, respectively, on a year-over-year basis in the Permian. As a result of these improved drilling efficiencies, Chevron has been able to bring about 4,000 well locations online profitably, offering a rate of return of 10% at around $50 WTI as shown below.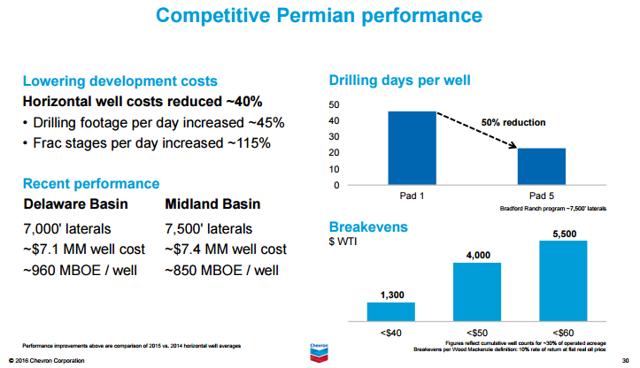 Source: Chevron
In fact, Chevron is busy driving efficiencies across its upstream segment. For instance, in West Africa, Chevron has shifted the "department dedicated vessels to a centrally-managed fleet using a decision support center." This move has allowed the company to record savings of 30% by lowering the number of vessels in the area by about 40%.
What a lower cost profile means for Chevron
As mentioned at the beginning of the article, Chevron's forward P/E ratio is way lower than the trailing P/E ratio on account of the expected growth in the company's earnings. In my opinion, Chevron will not find it too difficult to achieve earnings growth going forward considering that it has geared its business to do well in a low price environment.
On top of that, a sustained recovery in the oil price will also help Chevron improve its realizations going forward. Thus, a combination of higher oil pricing and lower costs will act as a tailwind for Chevron going forward, leading to growth in its earnings and share price.
Disclosure: I/we have no positions in any stocks mentioned, and no plans to initiate any positions within the next 72 hours.
I wrote this article myself, and it expresses my own opinions. I am not receiving compensation for it (other than from Seeking Alpha). I have no business relationship with any company whose stock is mentioned in this article.