While the markets continue to trade at all-time highs, shares of Foot Locker (NYSE:FL) remain more than 20% off their 52-week highs. We think there is a substantial amount of evidence to suggest shares of FL are dramatically undervalued at these current levels, and we see upside to above $70 in the next 12 months.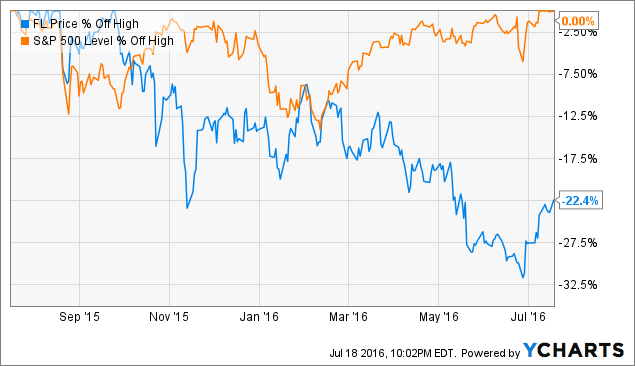 We have argued the case before for Finish Line (NASDAQ:FINL) that footwear sales have a natural built-in moat against nonstore retailer competition. In other words, we believe that brick-and-mortar sales have longevity in the footwear business because shoes are simply something consumers like to try on in-store. We think this is especially true for high-priced athletic shoes where fit is everything to the consumer.
FL's numbers support this thesis. The company comped 4.2% in 2013. That accelerated to 8% in 2014 and then 8.5% in 2015. Comps were 2.9% in the most recent quarter, but this deceleration is simply a natural slowing from back-to-back years of high single-digit comps. The point here is that the company is consistently comping strongly positive despite nonstore retailer encroachment. We believe this is early proof of FL's moat against nonstore retailers.
Towards the beginning of last year, the company set a $10 billion revenue target by FY20. That represents a 6% revenue CAGR from 2015's net sales of $7.4 billion versus a trailing 4-year sales CAGR of 7%. We think the mid single-digit sales CAGR is entirely possible driven by unit expansion in Europe and enhanced omni-channel capabilities. Store remodels and refreshes should drive in-store traffic and comps, while expansion of SIX:02 should help drive the women's business, which was rather weak last quarter. Nonetheless, we think a 6% sales CAGR into 2020 is somewhat aggressive, and our modeling suggests a 5% sales CAGR to the low-to-mid $9 billion range is a more accurate reflection of the company's true sales growth prospects.
The company also guided long-term for slight gross margin expansion, some SG&A leverage, EBIT margin expansion, and net profit margin expansion. The expansion rates aren't aggressive (only 120bps on the bottom line) and we actually think revenue scale could easily drive upside to these 2020 margin targets.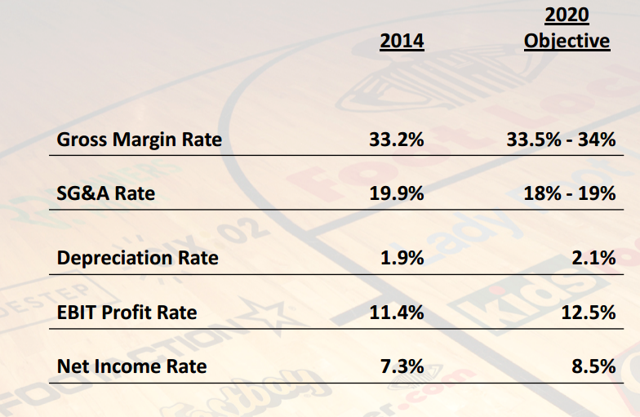 To be conservative, we model more or less in line with these 2020 targets. Our full model can be seen below.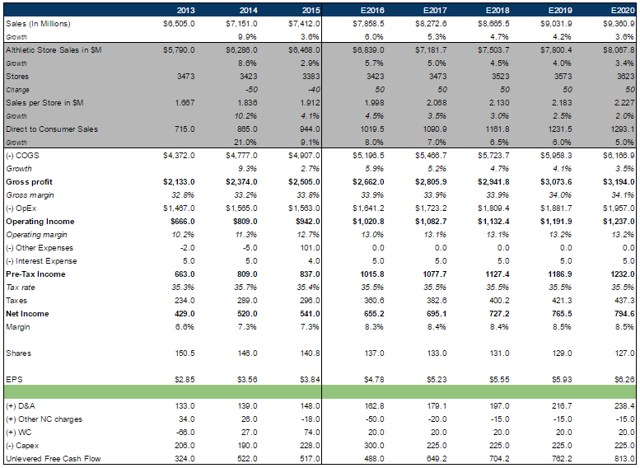 Essentially, we see FL as a stable mid single-digit sales grower and low double-digit earnings grower over the next several years. The market is currently awarding this type of growth with a trailing earnings multiple of 15x versus the market multiple of 25x. In our minds, we see FL as a stock with strong and stable growth potential, a strong earnings history, and good moat against nonstore retailers. None of these factors seemed baked into the valuation, which is at a 40% discount to a slower-growth broader market.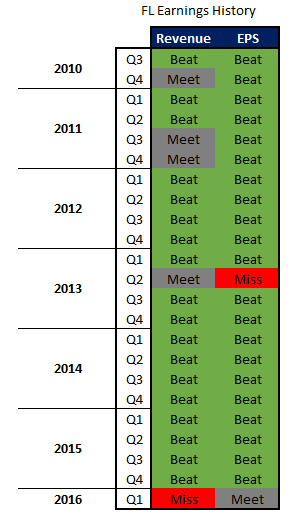 We think some more technical analysis aligns with our qualitative thesis. FL's valuation, though trending upward when smoothed out, is historically quite cyclical. The forward P/E multiple is subject to spikes and troughs, and the chart below makes it seem like we a hit a valuation trough at the end of June.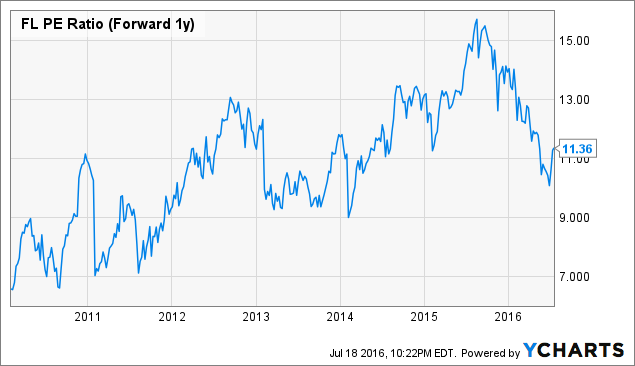 FL PE Ratio (Forward 1y) data by YCharts
A more convincing argument calling for a valuation trough rests with the following chart. At the end of June, FL's forward P/E multiple was almost 37.5% off its 5-yr high. This 37.5% off all-time high mark seems to represent a bottoming in valuation for FL, as it has served as a support for the valuation 3x over the past 5 years (including twice in 2011).
Both times in 2011, the stock saw significant multiple expansion after dropping almost 37.5% off highs (7x to 9x in a few months and then 7x to 13x in ~1 year). A slight rebound currently in the forward P/E multiple makes it seem like we did hit a valuation trough at the end of June and that the stock is positioned for multiple expansion over the next several months.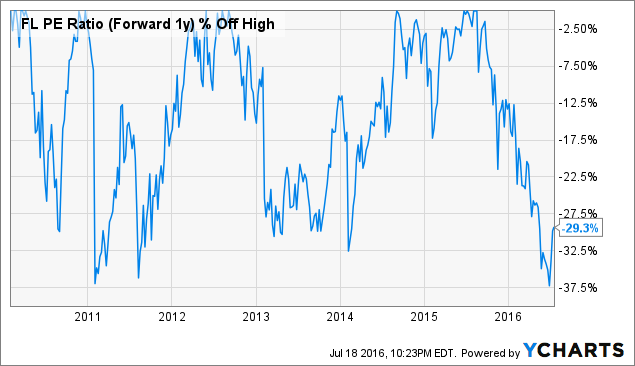 FL PE Ratio (Forward 1y) data by YCharts
Building off these charts, FL's 5-year average forward P/E multiple is just over 13x (ironically exactly where the forward P/E rebounded to last time valuation fell 37.5% off 5-year highs). Considering we think growth will continue at a relatively strong rate into the foreseeable future, we think the stock deserves to continue to trade around 13x forward earnings. Slapping a 13x multiple on our FY18E EPS of $5.55 implies a $70+ stock in ~12 months.
This is where the stock traded in September of last year. We do not identify any reason why the stock cannot retrace itself back to that level, and see significant upside to the current analyst estimates. We expect the company's string of ER beats to continue over the next several quarters, and this should propel multiple expansion on better-than-expected numbers. We think the end result is significant share price appreciation over the next 12 months.
Disclosure: I am/we are long FL.
I wrote this article myself, and it expresses my own opinions. I am not receiving compensation for it (other than from Seeking Alpha). I have no business relationship with any company whose stock is mentioned in this article.