By Parke Shall
"Despite the uncertainty created by Brexit, we achieved solid results by continuing to serve our clients across our diversified franchise and by managing our business efficiently." - Lloyd C. Blankfein
Goldman Sachs (NYSE:GS) started off Tuesday morning on the right foot by handily beating estimates on both lines. A reduction in workforce and solid revenue from fixed income and commodities helped push the bank past expectations. According to CNBC,
The bank said it reduced overall staffing by 5 percent in the second quarter and compensation fell 13 percent compared to the second quarter of 2015, which Goldman attributed to a decrease in net revenue.

The bank's revenue from its fixed income, currency and commodities trading unit was $1.93 billion, 20 percent higher than in the second quarter a year ago and also up compared to the first quarter of this year. Goldman and other big Wall Street banks suffered under-performance in their FICC businesses in the first quarter of this year, which impacted its revenue.
Bank of America (NYSE:BAC) also report an earnings beat earlier this week. Analysts were impressed with the bank's results, as noted by Seeking Alpha:
Citi's Keith Horowitz notes 3% revenue growth in Q2 represents the best quarter for that metric since Q4 of 2012. Core expenses fell on a year-over-year basis for the 17th consecutive quarter.
While it was a "noisy" quarter, Nomura's Steven Chubak notes fee income and the efficiency ratio were positive surprises, while core net interest income and credit costs were inline. This quarter's resetting of interest rate expectations (lower for longer) and curve flattening could put a damper on any positive EPS estimates for H2 and 2017, but Chubak suspects the stock price at 82% of tangible book value has already discounted this.
Speaking on the earnings call, CEO Brian Moynihan says Bank of America (+1.9%) doesn't need higher interest rates to grow earnings. Expense cuts and plans to grow fee income can do the job for now.
Banks are starting off the new week on the right foot and it looks as though the financial sector is set to continue into positive territory as we move into a fresh new week where market indices will be trying to push new highs.
We think financials remain an opportunity, as they have underperformed the S&P YTD and we think that the two could finally diverge.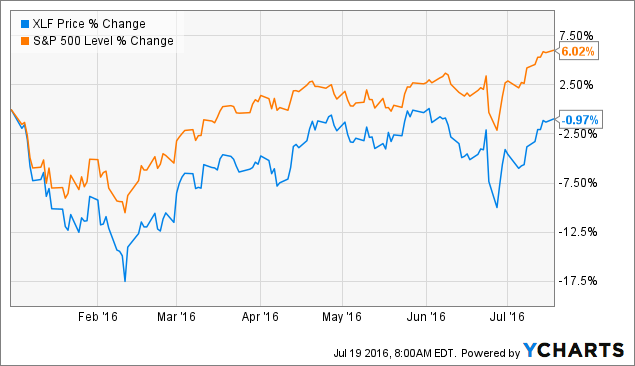 Last week, JPMorgan (NYSE:JPM) was the bank that impressed the street and set the tone for the indices. With some key regional banks set to report over the next two weeks, the momentum in the sector looks like it could continue.
Our readers will recall that we wrote an article about two weeks ago talking about why the financial sector is the only sector that we would be buying even though we thought that we were at a market top. We continue to believe that the market is going to correct 10% to 15% but we wanted to again reiterate why we think there is such strength in the banking sector today, given that Goldman and Bank of America have posted impressive results.
Obviously, the success of these two banks gives us confidence about the sector and its remaining components. But we think there are a couple more unique reasons that banks are an appealing sector to look at here.
First, banks trade at PE multiples that are historically low at a time where the banks have arguably been brought back to the best shape they have ever been in terms of how they are structured.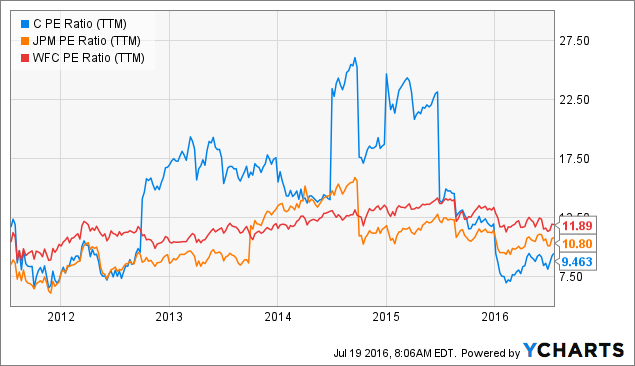 C PE Ratio (TTM) data by YCharts
After 2008, stringent rules slapped onto large banks made sure that they must be in top shape before allocating any money to shareholders. Every year, banks submit to stress tests administered by the Federal Reserve that they must pass in order to deploy capital to shareholders.
This year, most banks passed this test and many banks chose to implement a dividend or begin buying back stock. We think this is the first reason that banks are worth a look. We believe that buybacks are just getting started for the sector and that this added accretiveness to the sector's earnings will help continue to give it strength.
Shareholders that invest in the big banks like JPMorgan and Bank of America will also see a nominal dividend in addition to banks repurchasing their own shares.
Banks also stand to benefit substantially if the Federal Reserve ever looks to hike interest rates again. Given that the market is now at all-time highs, the odds of a rate hike before the end of this year have once again climbed into territory where it seems reasonable. While the rest of the market would likely correct on this move, banks would be the obvious beneficiary and the sector would likely jump another 3% to 5% simply on this news.
We believe that success in the sector can continue no matter which direction the market moves. Should the market move lower and the economy begin to slow, we think banks have produced results and are so cheap that there remains very little downside from here. Here is a chart of some of the major banks and the price to book value: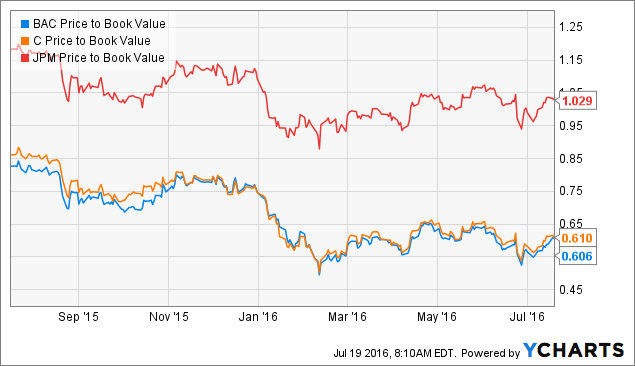 BAC Price to Book Value data by YCharts
If the market moves up, this increases the chance of rate hikes, which obviously will increase profit for the larger banks.
Given that these banks have passed the financial stress test needed and that these banks have implemented new policies and procedures for dealing with credit, we expect that all of these banks will be able to weather the coming short-term debt cycle bubble burst.
The most dangerous part of the financial sector right now, we believe, is peer-to-peer lending. While Citibank had some ties to Prosper, most of the big banks are not associating themselves with the loan books of peer-to-peer lending companies anymore. We believe this is going to be the first bubble that bursts, alongside of the automotive financial sector. When this happens, then we can start to look at and identify potentially risky loan portfolios of mainstream banks.
For now, however, major banks should be able to weather the turning in the coming 7-8 year short term debt cycle just fine. We may consider buying here and definitely will consider if banks and financials start to see pressure from a correction in equity markets or in the credit markets.
Disclosure: I/we have no positions in any stocks mentioned, and no plans to initiate any positions within the next 72 hours.
I wrote this article myself, and it expresses my own opinions. I am not receiving compensation for it (other than from Seeking Alpha). I have no business relationship with any company whose stock is mentioned in this article.