Leading North American Oriented Strand Board producers Norbord Inc. (NYSE:OSB) and Louisiana-Pacific Corporation (NYSE:LPX) are cashing in on the highest OSB prices we've seen in three years.
Yet forest product analysts have yet to recognize the mountain of cash flow being earned by these companies. Here is the list of analysts recommendations for Norbord as of two months ago, and I have seen few changes to this list of price targets. Our target price is $36 USD versus the current $22.52, $5 higher than the highest target price. If you look at the current OSB prices and the trend, the supply/demand situation, I believe I can back that up, and could even be too conservative. I've seen OSB skyrocket before and this could be a rerun of Q3 2013 when OSB hit an average of $347/Kft2.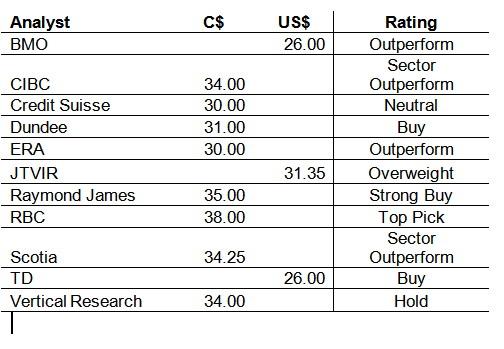 North Central benchmark 7/16 OSB at the mill FOB hit $300/Kft2 on Friday, which is 32.7% higher than the Q1 2016 average. (All dollars USD).
Even more interestingly, Western Canada OSB mill prices are currently at $270 USD, up 41% from Q1 2016 and 71% over Q2 2015.
In the chart below, the FOB mill Western Canada price of OSB is the red line, and that of North Central USA (basically the mills in timber heavy states in Michigan, Minnesota, etc) is the blue line.
You can see the prices of OSB have been steadily up, even as the stock prices of major producers have been stuck in a trading range.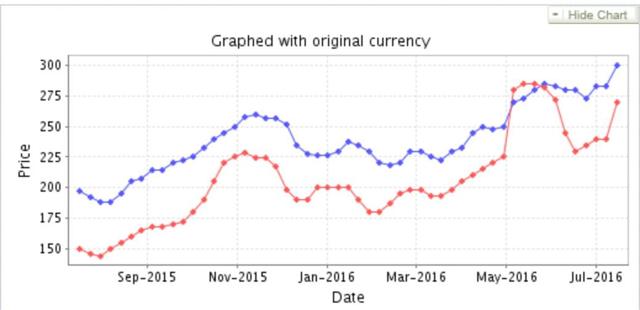 The price in Western Canada spiked in May due to the Fort McMurray fires, then fell back, but have since rallied again, due to strong demand from real estate developers and home remodeling in Vancouver. Greater Vancouver area home prices have been skyrocketing, up 32.1% year over year. So the incentive to build more houses and tear down and rebuild, has never been greater.
Norbord, with 6.3 billion ft2 of active OSB mill annual capacity in North America, is the largest. The company has 6 mills in the USA and 5 in Canada, so if there is any trade friction between the USA and Canada in a post-Trump administration, the company is hedged. Norbord's last twelve months shipments to Q1 2016 were 76% weighted in North America. The company does not disclose the split between US and Canadian consumption, but most Canadian production has traditionally been exported to Eastern Canada and the USA. However, the OSB is staying in Canada as demand for panel in B.C. has strengthened on consistent builder demand.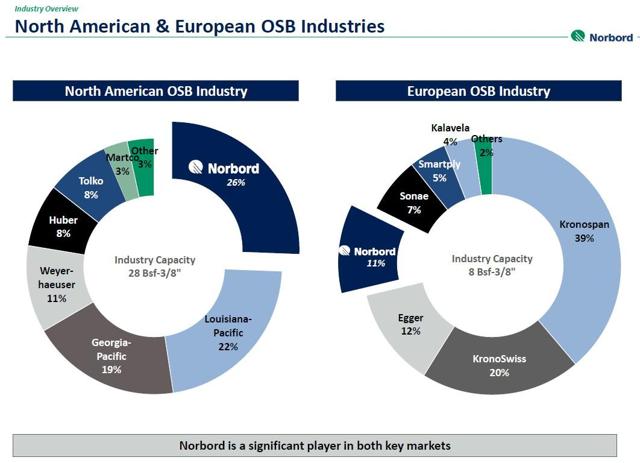 Norbord has 3 OSB mills in Western Canada with combined capacity of 2 billion ft2 per year and therefore is cashing in on the high OSB prices on the Pacific Coast and I suspect, some extra rebuilding demand in Fort McMurray, AB.
OSB is still fundamentally cheap compared to plywood, which it substitutes for in most home building and repair applications, with the possible exception of roofing. Western 4 ply 1/2 inch sheathing plywood trading at $417 USD as of July 15 (Random Lengths) versus $365 when I wrote about Norbord in this article on May 9.
OSB has been gaining market share on plywood and has about a 2/3 share of engineered wood panel consumption in North America.
The Toronto, Ontario delivered OSB price was $350 CAD/Kft2 recently yet I can buy OSB 4x8 foot sheet 7/16" at my local Home Depot (NYSE:HD) for $12.30 CAD or $375 per thousand ft2. So OSB retail margins are tiny and fundamentally, the product is very inexpensive when you compare it to paint and other home improvement products. The added kicker for OSB is that a tornado or hurricane can immediately cause a spike in local demand due to preventative measures, or unfortunately, for rebuilding due to home devastation.
Low OSB prices are over in my view and we have not seen an inflation adjusted increase for over 12 years after the price hit $443 in Q2 of 2004. Dealer inventories have been kept low and they are shipping whatever they buy according to trade information. As US housing starts increase, buyers are becoming more aggressive, yet the industry is projected to be operating at over 90% with few idled mills able to be put on line. Apparently there was a buying panic last week with producers being able to dictate price during a usually slow July month. Low 10 and 30 year mortgage rates are driving home demand even though lot availability is limiting what US homebuilders can add to their inventory. US home builder confidence index notched down to 59 but is high particularly in the West where it hit 70.
The US Census Bureau announced that June US new residential construction numbers were steady to up albeit off a revised down May number. June housing starts were up 4.8% to 1.189 million per year and Single Family Dwelling starts up at a SAAR of 778,000 rate or 4.4% higher than the May revised number. Canadian housing starts hit 218,000 per year at a seasonally adjusted rate, and June SFD starts for Toronto and Vancouver were 45,000 and 35,000, high for this time of year.
If builders are producing more houses, or investors tear down and rebuild on a lot, then they'll need more panels. The American Plywood Association estimates a single family dwelling on a per start basis in 2015, required 3,080 ft2 of plywood and 11,300 ft2 of OSB, 3/8" basis.
I think Norbord's stock price has not broken to new highs (until today - the 52 week high was $29.10 CAD on the TSX where it primarily trades but I see it is at $29.25 on better than usual volume) and slumped last month to the $24 area due to the possible misconception that Norbord is going to be heavily impacted by the U.K. "Brexit" vote on June 24 and the slump in the pound sterling. Norbord has a retail style reporting cycle with 13 week quarters ending on Saturdays and then Q4 ending on December 31. So Q4 2015 had 96 days, Q 2016 had only 86 days and Q2 will have 91 days or 5 more shipping days, which will boost revenues and profits even more.
Yes, Norbord has 24% of its LTM shipments of its panels from the UK and Genk, Belgium, including an MDF, a particleboard and 2 OSB plants at Inverness, Scotland and Genk, Belgium. But the pound has come back, and a lower pound will actually help Norbord's UK plants become more competitive abroad and domestically versus Eastern European product imported to the UK. Norbord is investing $135 million to double OSB production at its Inverness, Scotland plant.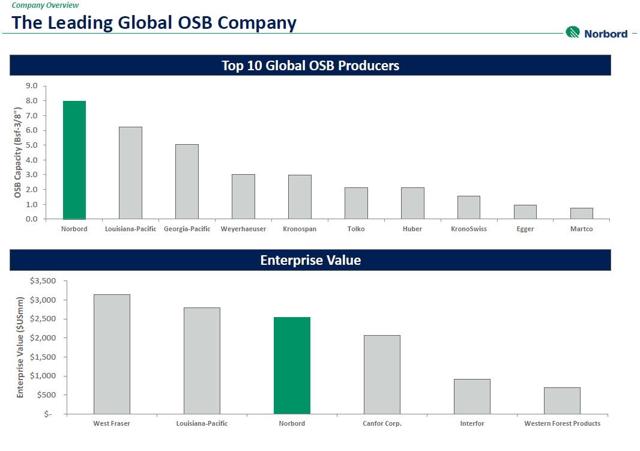 The company, however, generates a stable $10 million EBITDA per quarter and I estimate only 10% of its adjusted EBITDA from Europe in Q2 by my estimate, so the Brexit effect on starling will have zero impact on Q2 operating results to be reported July 26 but will have some asset conversion loss effects on the balance sheet which will go into comprehensive income. The pound should rebound and I expect only a minor impact on Norbord's financial results when Q3 is reported. The company has no FOREX hedges so translation losses from GBP and EUR to USD will reduce headline Q2 EPS but will have minimal impact on cash flow and adjusted EBITDA and EPS and I believe analysts will look through these impacts at underlying cash flow generation.
I calculate that Norbord realized $37/Kft2 more in OSB pricing in Q2 over Q1, which in itself was a great quarter on weaker OSB prices with the company generating $61 million in adjusted EBITDA. In addition, Q2 has 5 more selling days than Q1. All in all, I expect, after adjustments, that Norbord will earn $109 million EBITDA in Q2 and 77 cents in adjusted earnings per share, well ahead of the average of 10 analysts estimate of 45 cents. I expect if OSB prices continue at current levels, Norbord will earn even more in Q3, and I am expecting $1.05 per share versus analyst estimate of 47 cents.
Our 2016 price target for Norbord is $36 USD or approximately $47 CAD, at only 9 times our $4 US annual EPS run rate. The company will have prodigious cash flow in Q2 and Q3, which is seasonally strong. Q4 may be softer, but I believe OSB prices could continue to be strong as the industry has consolidated with more plywood mills being closed by private competitor Georgia-Pacific and public companies Weyerhaeuser (NYSE:WY) and Boise Cascade (NYSE:BCC).
Norbord is the most highly leveraged pure play on OSB and earns $50 million additional annualized EBITDA for every $10 move in OSB prices (company says $58 million but that is including two idled mills one of which is permanently mothballed). Although North Central has performed better than the price where Norbord sells most of its product, I believe the discount is going to narrow again with stronger demand in urban areas. A third of Norbord's production is sold at Southeastern USA prices where most mills are located, and the discount increased from $11 in Q1 to $22 in Q2 by my calculation. But the suprisingly strong Western Canada OSB price, where Norbord produces 34%, will give a boost to results that most analysts have not incorporated in their target prices. The other 33% production is split between NC (16%), the SW USA (13%) and Eastern Canada (6%).
Given an average $37 hike in OSB average price for Q2 over Q1, the EBITDA will increase by $185 million on an annualized basis. Including the increase in shipping days, and not allowing for the Margin Improvement Program which Norbord is implementing, I expect Q2 EBITDA to be $109 million. However, there may be some costs for the fire at the High Level Alberta mill which I expect to be minimal as the company only stopped shipping for a few days when it extinguished a fire in the wood deck. The company stopped production for two weeks but continued to ship out of inventories.
So I expect Norbord to generate cash flow of over $400 million Q2 2016-Q1 2017, and will have enough to fund its $120 million 2016 CAPEX budget and have enough to raise the dividend by 300% to 40 cents per share by Q3. A dividend increase on July 26 is highly likely. The company also plants to pay off $200 million in secured senior notes higher cost debt due February 2017, which will save it 18 cents per share.
Louisiana-Pacific has 2 OSB mills in British Columbia with 1.2 billion Kft2 annual capacity, 1 active OSB mill in Quebec, and six others in the United States, with a total active capacity of 4.9 billion ft2. LPX offers more plants in North Central OSB area and also diversification with two plants in Chile (a third planned) and one in Brazil. We will write a separate report on LPX in the near future, but we fully expect LPX to report excellent results when it reports on August 4.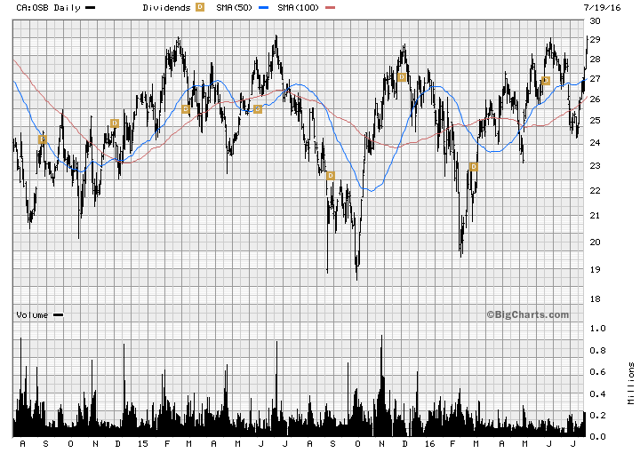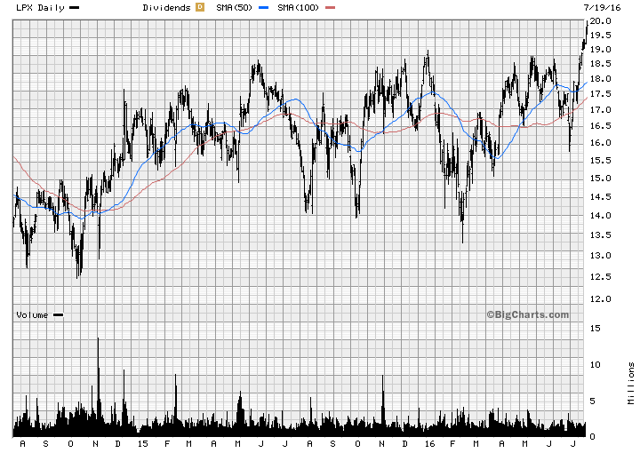 Disclosure: I am/we are long OSB, LPX, WY. I wrote this article myself, and it expresses my own opinions. I am not receiving compensation for it. I have no business relationship with any company whose stock is mentioned in this article.