PIMCO recently released their monthly earnings scorecard on their closed-end funds. Their funds tend to be very popular given the low-cost, brand name, and high distribution rates. The data shows that while high-yield credit continues to perform well, these are really black boxes where a significant amount of trust has to be given to management. Many of the popular funds like PIMCO Dynamic Income (NYSE:PDI) saw their UNII bucket jump considerably since their last report undermining many investors' belief (including ours) that the fund's days of large special dividends were over.
As the table below shows, the three-month rolling coverage ratios have risen significantly in the last 30 days. Why is that? Most likely it is Dan Ivascyn and his team taking profits and closing out derivative swaps. In addition, they are likely realizing some net investment income that was earned earlier this year and housed in unrealized gains or used for pay-swaps. The timing is not a coincidence as the fiscal year end for most of these funds is June 30th and the sponsor likely wanted to book these gains for the annual report.
We remain bullish on PDI, PCI and PCM at these levels.
May UNII Scorecard: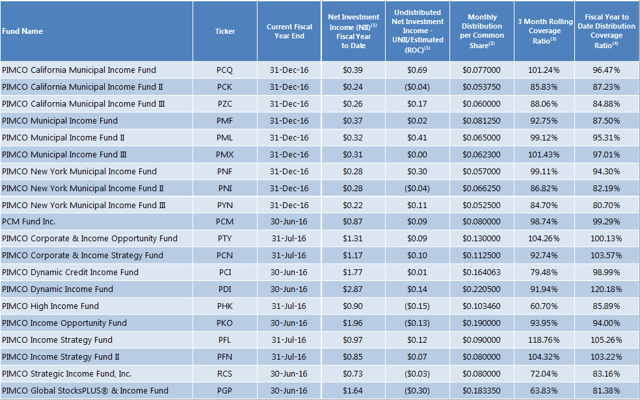 (Source: PIMCO Website)
June UNII Scorecard: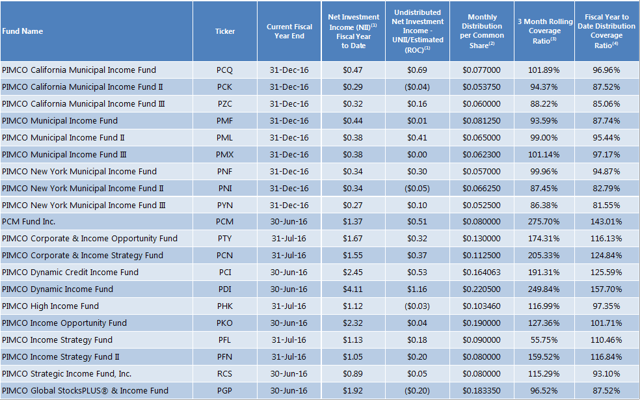 (Source: PIMCO Website)
Clearly, many of the corporate-focused credit funds had many of the same swap bets that paid off, except possibly for PIMCO Income Strategy Fund (NYSE:PFL). Notice that the 3-month coverage for PFL is just 55% but the fiscal year end is July 31, 2016. We could see similar realization of these derivative positions or unrealized gains from other derivative positions on next month's scorecard. PIMCO is famous for this lumpy NII given their use of off-balance sheet swaps and using income from previous periods, and reinvesting into additional derivative exposure which provide additional investment cash flows.
We think one of the main takeaways of this radical change in the last 30 days is just how nebulous the PIMCO 'black-box' is. The company's funds, including PDI, PKO, PCM, PCI, PTY, and several others with exposure to corporate credits, are benefiting from tighter high-yield spreads and non-agency MBS which continues to rally. Much of these funds could be close cousins of each other given the holdings composition. The majority of these corporate funds have large allocations to non-agency MBS and high-yield credits with swap overlays.
Our write-up on PIMCO Dynamic Credit Income Fund (NYSE:PCI) two weeks ago indicated that there was a possibility of a distribution cut given their underearning of that rate. However, given these new numbers, the chances of that happening today are fairly small. We think PCI is a screaming buy here despite the run already realized in high yield credits. The current discount of 6.8% is a standout amongst the PIMCO fund lineup, with PIMCO Income Strategy Fund the only other fund trading below NAV (albeit fractionally).
PDI is still the best value (see "The Greatest Bond Fund Ever?") given the strong NII yield of 10.3%, earning an excess over distribution of 76 bps, and a tighter maturity of 5.8 years. PDI, along with PKO, PCI, and other non-agency MBS-focused funds are likely to continue to benefit from PIMCO's move into the space early on in 2010-2012, when these busted securities were selling for a fraction of par. As housing prices continue to rise and the supply of these securities wanes as refinancing and low issuance decrease their numbers, the tailwind should continue.
*It should be noted that the only reason PHK is as high as it is, is largely because the funds below it are mostly muni-focused and tax-free yields. We would caution investors on that fund.
Attention: some of the below data on excess is outdated and has not been updated for this latest release including PCI (NII yield is over 9% today).

Conclusion
In typical PIMCO fashion, the star fixed-income team produced strong June numbers as they likely took some derivative gains. Clearly, investor (and our) concerns regarding a few funds (mostly PCI) were overstated and have been completely alleviated. The resulting trading performance since the scorecard's release is minor, given the inefficiencies that exist in the market (most investors in these funds probably do not even know the scorecard exists let alone have seen it yet) - although many investors likely had faith that coverage ratios would recover. We think there are few opportunities for those hunting for yield that have the risk-return profile that some of these funds carry.
Marketplace Service For Those Hunting For Yield
We launched our new marketplace service, Yield Hunting: Alternative Income Investing a few months ago dedicated to yield investors who wish to avoid the froth associated with the equity, REIT, and other more volatile areas of the market. We encourage investors to utilize the free two-week trial in order to benefit from our yield opportunities within closed-end funds, business development companies, ETFs and other niche areas. We attempt to construct a "low-maintenance portfolio" with a yield in excess of 7% on a tax-equivalent basis with capital gain optionality.
Disclosure: I am/we are long PDI, PCI, PCM, PML, PKO.
I wrote this article myself, and it expresses my own opinions. I am not receiving compensation for it (other than from Seeking Alpha). I have no business relationship with any company whose stock is mentioned in this article.
Additional disclosure: The commentary does not constitute individualized investment advice. The opinions offered herein are not personalized recommendations to buy, sell or hold securities. As I have no knowledge of individual investor circumstances, goals, and/or portfolio concentration or diversification, readers are expected to complete their own due diligence before purchasing any stocks mentioned. The strategies discussed are strictly for illustrative and educational purposes and should not be construed as a recommendation to purchase or sell, or an offer to sell or a solicitation of an offer to buy any security. There is no guarantee that any strategies discussed will be effective. The information provided is not intended to be a complete analysis of every material fact respecting any strategy. The examples presented do not take into consideration commissions, tax implications or other transactions costs, which may significantly affect the economic consequences of a given strategy. This material represents an assessment of the market environment at a specific time and is not intended to be a forecast of future events or a guarantee of future results. This information should not be relied upon by the reader as research or investment advice regarding the funds or any security in particular.