With an attractive valuation and continued growth in free cash flow, I cited Nike (NYSE:NKE) as the most promising player in the sports equipment sector going forward. However, with recent sales pressure and growing competition from Adidas, is there cause for concern?
Recently, Nike has taken a short-term dip, with the stock down from $56 in late May when I last wrote about the company to a low of $52 in late June before rebounding to $57.74 at the time of writing: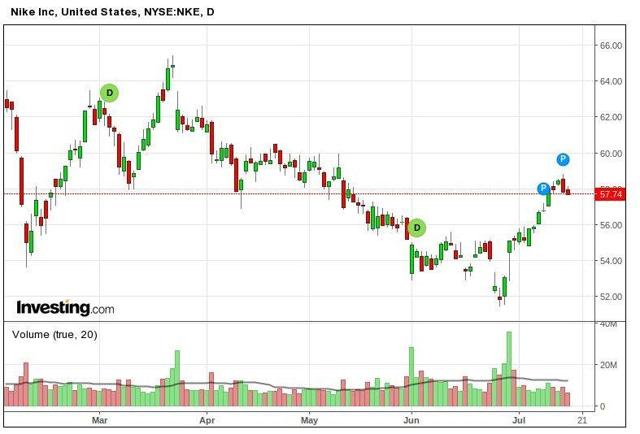 In my previous analysis of the company on May 22, I made the argument that in spite of lower free cash flow levels, Nike had continued to grow earnings and was trading at an attractive valuation. Indeed, the sudden spike in price since late June may serve as somewhat of a confirmation that the sell-off might have been unjustified.
However, one of the key reasons behind my backing of Nike has always been its competitive advantage. The company has a world renowned brand image and for this reason has always been able to maintain the lead against its competitors. Take that aspect away, and my opinion on the company would be inclined to change significantly. So, is Nike coming under competitive pressure and are there long-term concerns in this regard?
Investors have been given cause for concern after Nike reported only an 11 percent gain in orders last quarter, which were below the 13 percent projected by analysts. One of the driving factors behind this has been the steady rise of Adidas (OTCQX:ADDYY) and Under Armour (NYSE:UA) in capturing footwear sales. For instance, while Nike still owns 90 of the basketball sneaker market in North America, Under Armour has made significant inroads in capturing some of this market. Moreover, Adidas has capitalized on the growing popularity of running sneakers which are increasingly being worn as casual shoes, while basketball sneakers are declining in popularity.
Unquestionably - Nike's most powerful asset is its brand image. In order to maintain this brand image, the company needs to stay relevant and ensure its product line continues to cater to consumer tastes. While Nike has been a great marketing company in that it continually has been able to attract major sports celebrities to advertise its products, it is ultimately the product that consumers are interested in. Even a strong brand image will not be sufficient for Nike if competitors can better cater to consumer tastes.
Looking forward, I would recommend that a potential investor look closely at future sales and earnings performance to discern if this company can continue growing sustainably. Further misses on sales or earnings expectations could signal a red flag. Moreover, it is my opinion that Nike now needs to show it can develop products in line with changing consumer tastes. While the company excels at luxury promotion of existing product lineups, this in itself is not sufficient to carry the company forward.
Disclosure: I/we have no positions in any stocks mentioned, and no plans to initiate any positions within the next 72 hours.
I wrote this article myself, and it expresses my own opinions. I am not receiving compensation for it (other than from Seeking Alpha). I have no business relationship with any company whose stock is mentioned in this article.
Editor's Note: This article discusses one or more securities that do not trade on a major U.S. exchange. Please be aware of the risks associated with these stocks.