When I last wrote about Deere & Company (NYSE:DE) in 2012, it was classified as a dividend challenger stock with a track record of nine years of straight dividend increases, and is shaping up to make the transition to a dividend contender. Almost four years on, the company has 13 years of straight dividend increases, albeit this year's increase is forecast to be marginal. Some investors are very bearish on DE and believe the stock is overvalued, however, I argue that the headwinds are short term, and by viewing the company's longer-term performance, we can see it is a good, long-term industrial stock to hold as part of any diversified portfolio. When I say long term, I mean old school long term; longer than a social media news cycle, longer term than Pokemon reinvented 20 years later as Pokemon Go.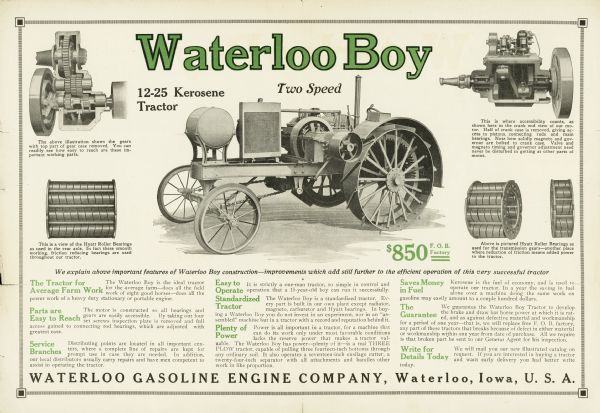 After years of investigating tractor production, Deere buys the maker of Waterloo Boy tractors. The tractor will soon become the company's basic product and 5,634 Waterloo Boys are sold in 1918.
This article will examine Deere & Co.'s suitability as a core holding within a dividend growth portfolio and its standing as a robust company that pays an annual dividend increasing on a year-on-year basis. It will review the company's current financial performance and provide an analysis of the company's share price and performance from 1972 to 2016. It will also provide a focus case study that shows how an initial investment of $1,000 in 1982 would turn into a sizeable holding valued at $180,666 in 2016, delivering a dedicated (and growing) dividend income stream of $5,220 per annum.
Company Overview
The John Deere portfolio of businesses is varied. One of the key business groups - Agricultural and Construction Equipment - is positioned to take advantage of global growth requiring increased agricultural output and infrastructure. In terms of commodities markets, the company is more prone to market changes in corn and wheat, and fluctuations in demand for road and building construction equipment, rather than market cycles from resource commodities. The second major business group - Turf and Forestry Equipment - supports business development by growing market share in specific targeted markets and helps to underpin financial performance of the overall business. The Supporting Businesses - Financial Services, Power Systems, Parts Services, and the Intelligent Solutions Group - strengthen and differentiate Deere & Co.'s equipment business groups.
The business strategy Deere & Co. is pursuing is shown below: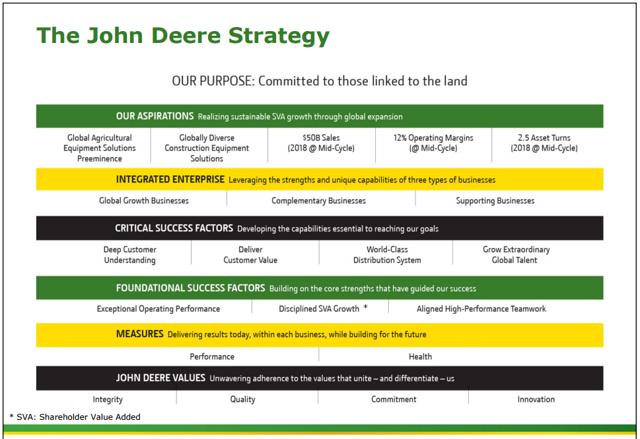 Deere & Co. has set three specific aspirational goals against which investors can measure management's success:
$50 Billion in sales by 2018 mid cycle;
12% operating margins at 2018 mid cycle; and
2.5 asset turns by 2018 mid cycle.
Dividend Growth Portfolio Structure
The foundations or core of a dividend growth portfolio should be based upon reputable companies with a proven track record of performance over multiple investment cycles; they represent a core holding when they are highly liquid companies, generating substantial revenue, delivering healthy annual profits, and providing a good return on equity for investors. These companies also deliver sustained increases on dividends paid, delivering additional returns for investors via a dedicated dividend income stream.
As I have written previously, Deere & Co. is the type of stock individual investors should look for to complement core holdings within a dividend growth portfolio. It demonstrates the attributes required to evolve into a Dividend Champion, both in terms of capital and dividend growth. It has faced strong headwinds in recent years due to stronger-than-usual annual corn and grain harvests, but I believe these are short-term headwinds, and when a longer-term strategic view is taken, it is evident that Deere & Co. has a future assured in history. As one reader recently put to the bears on Deere:
"Really? An Unmitigated Disaster? Is DE going bankrupt? Are they cheating their customers... are they lying about their products? Is the company unethical and immoral? What have I missed??"
Founded in 1837 and approaching its 185th anniversary of doing business, the company has proven it can continue to develop and evolve in a market that is constantly changing, and more importantly, management has shown that it has the capacity to endure hard seasonal impacts (drought) as well as financial impacts (global financial crisis). In both corporate and farming environments, the company has tilled the soil, sown the seed and annually nurtures the crop to endure seasonal events (such as downturns driven by weather and cyclical commodity markets), with the intention of delivering a decent return on investment when dividends are harvested annually.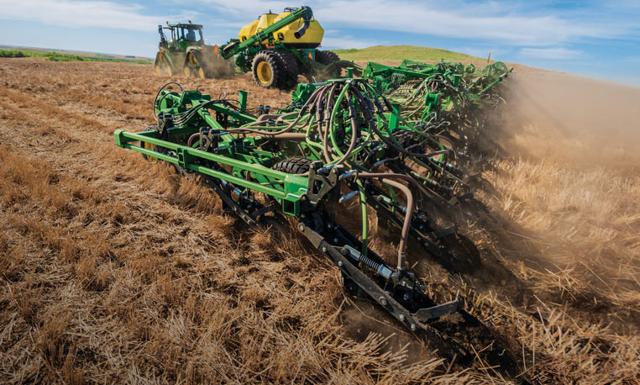 Recent Financial Performance
In its most recent announcement on financial results from the second quarter 2016 results, Deere & Co.'s SVP and CFO, Mr. Raj Kalathur, highlighted the following performance points:
Net sales and revenue were down, but globally 4% better than previous sales guidance.
Full-year outlook expects net sales to be down about 9%.
Deere will face challenging conditions for the rest of the year.
The company is continuing to perform at a much higher level than in previous downturns.
This is due in large part to management's success in developing a more durable business model and a broader range of revenue sources.
Unmitigated disaster? No. Disappointment? Yes. Unexpected? No. Is there hope? Yes. Is this a normal cyclical downturn that the company has prepared for? Yes. Does these present opportunities for longer-term dividend growth investors? Absolutely… at the right entry point when investors buy the dips.
Looking to its current performance, Deere & Co. is trading with a PE ratio of 16.74 and has a five-year forward-looking PEG ratio of 21.72. The company's current share price on 18 July, 2016, of $83.41 per share represents a $60.61 premium over its current book value per share (which is ~$6 lower than October 2012). The stock is approximately 14.44% below its 52-week high of $97.49 per share and 18.89% above its 52-week low of $70.16 per share. Its current profit margin is 5.83% (TTM) against a return on equity of 20.98% (about half of what it was in 2012) and it is forecast to pay an annual dividend of $2.41 (2016).
A current snapshot of Deere & Co.'s key financial statistics as at 18 July, 2016, is shown below: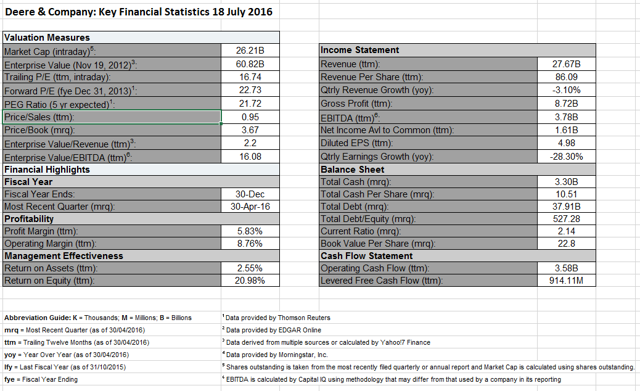 Dividend Performance
Besides being a long profitable diversified industrial company, Deere & Co. has the added attraction for investors seeking to generate additional returns on their capital invested. The company pays an increasing annual dividend forecast to be $2.41 for 2016 at a yield of 2.89% based on a share price of $83.41. The table below shows the annual dividend paid each year for the last 13 years: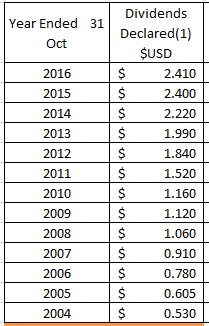 The dividend revenue has been stable, incremental, reflecting a pattern of established and sustained growth. However, decreased revenue will put pressure on management's ability to sustain the dividend increases, questioning its ability to be a potential dividend contender cum champion. But investing in a reputable industrial company paying a sustained dividend income stream (progressive or not) is still a wise investment decision when one views holding the stock for the long term.
But how does that dividend performance picture look over a longer period of time? By drawing on historical data from Deere & Co.'s website for dividends paid, we can see a much longer (and still positive) overview of dividend growth performance.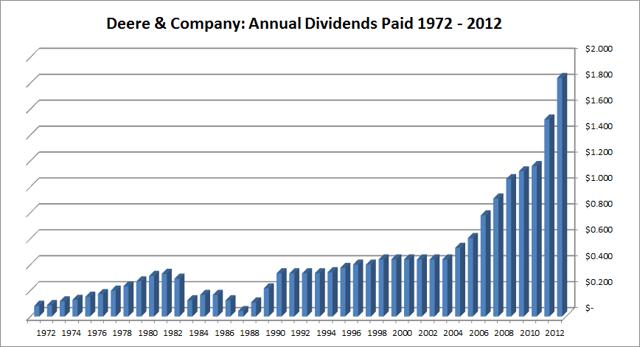 Why I See Long-Term Potential Upside
Seasonal weather impacts on farming and forestry industrial companies are probably the most well-known risk that investors are aware of. A bumper year of harvest leads to a flow-on effect of increased sales in farm equipment the following year (or just prior to any fiscal year-end tax breaks lapsing). Likewise the reverse is true; a poor year and poor harvest, or crops affected by force majeure, will most likely lead to reduced sales the following year when cash is tight. It is therefore critical that the company has a tight rein on management of cash flow and the ability to service long-term and short-term debt. Weather has been known to make a market more than once.
But even with short-term headwinds from the commodities market fluctuations and stronger-than-usual crop results, from a longer-term perspective, one thing underpins Deere & Co.'s strategic future - a growing world population and a non-stop demand for corn and grain as the following slides illustrate (also put as "The only way is up" by Yazz in 1988):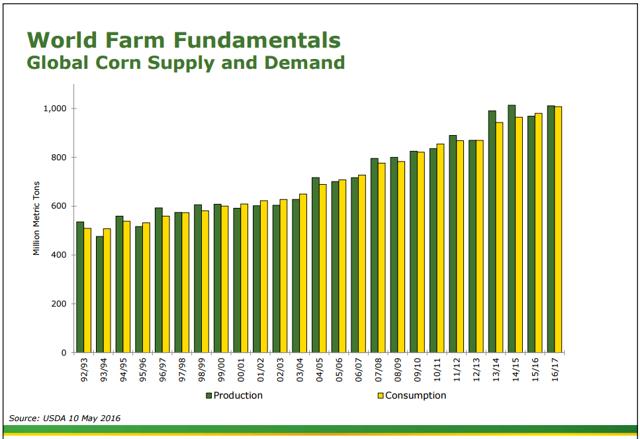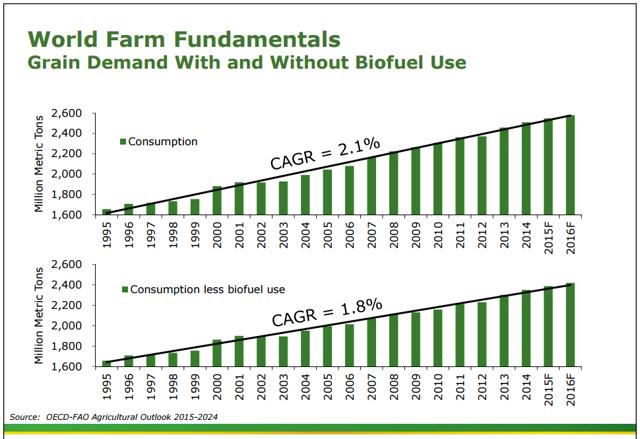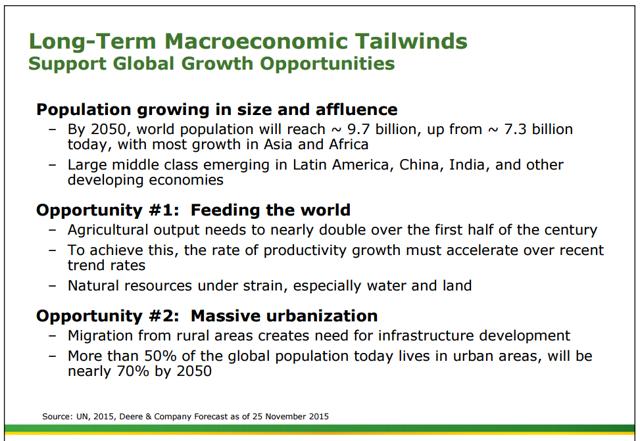 Deere & Co.'s strong track record is warranted, but it has been impacted over the longer term by seasonal events and the global financial crisis, but on the whole, its performance is strong.
Digging for Dividend Growth - Dividends for the Long Term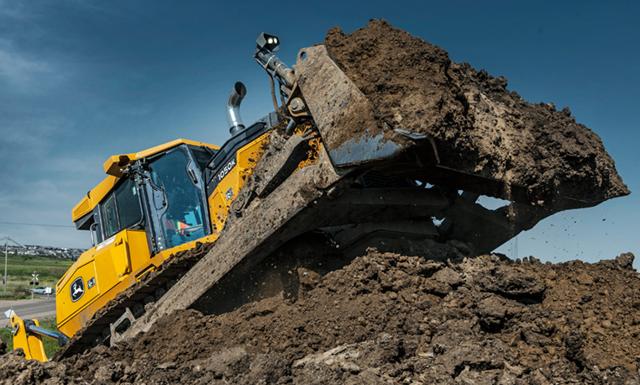 I indicated at the start of this article that I would utilize a case study that shows how an initial investment of $1,000 in 1982 would turn into a sizeable holding valued at $180,666 in 2016 (about $4,500 lower than this time in 2012), delivering a dedicated (and growing) dividend income stream of $5,220 per annum. The results based on those variables are shown below: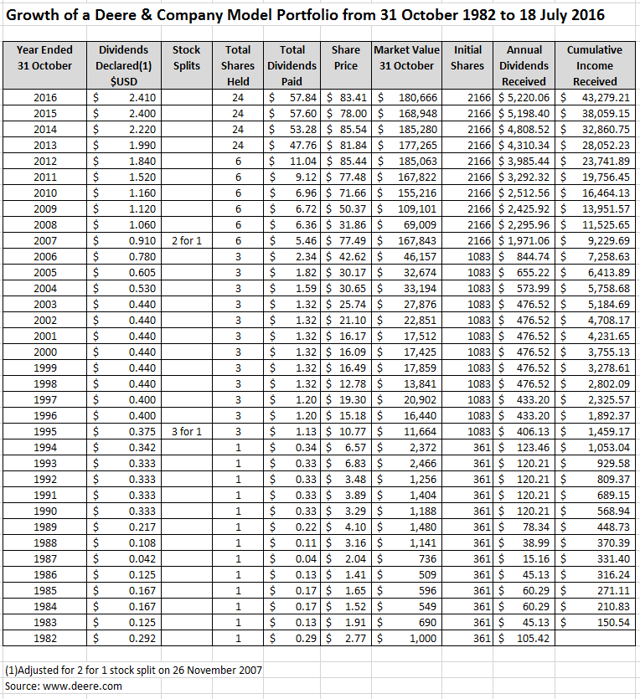 The above capital growth can be seen in the following graph: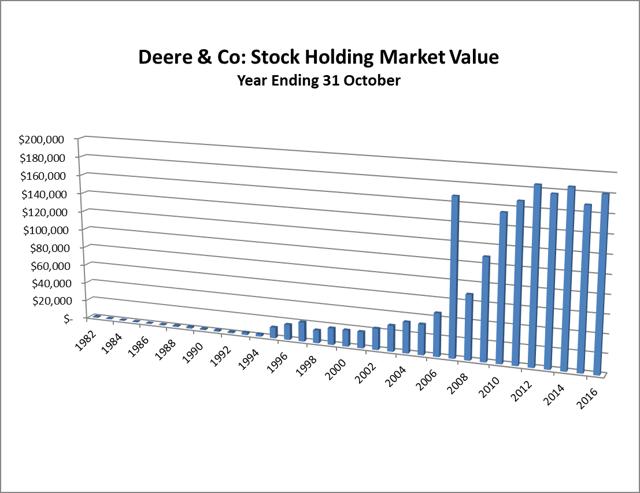 Here in lies the patience test for the dividend growth investor. This example obviously assumes the investor didn't need that initial $1,000 of capital back, or need to pay a university tuition bill, or buy a car with some of those proceeds. While we can't predict future results with certainty, we can look back on past performance, and this example clearly shows investors considering a dividend growth portfolio strategy what the end results over time can be. And this also assumes that the investor doesn't give in to fear and sell during strong market headwinds such as the global financial crisis, or short-term periods of underperformance such as now.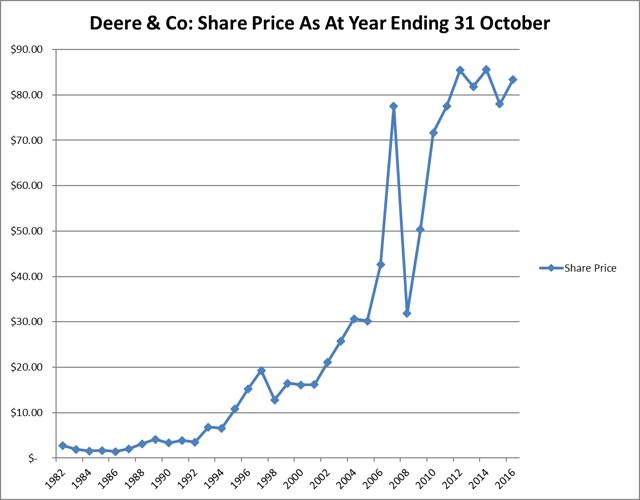 Future Dividend Contender and Possible Dividend Champion
The historical performance of Deere & Co. combined with its strong growth in share price and annual dividend payments makes it a suitable stock to consider holding within a diversified investment portfolio. It is a stock that complements core holdings of Dividend Champions, and its weighting can be adjusted over time depending on its future performance. Investors should remain aware of the seasonal risks that have the potential to affect a sustained performance record, as well as how management controls its long-term debt holdings.
But long-term history speaks for itself - "From little things, big things grow"…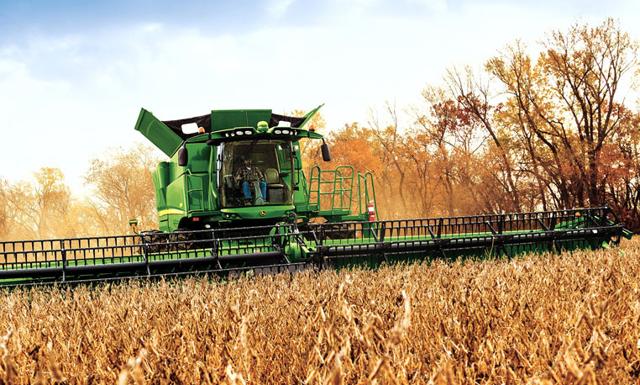 Disclosure: I/we have no positions in any stocks mentioned, and no plans to initiate any positions within the next 72 hours.
I wrote this article myself, and it expresses my own opinions. I am not receiving compensation for it (other than from Seeking Alpha). I have no business relationship with any company whose stock is mentioned in this article.
Additional disclosure: This advice is general advice only. You should seek independent financial advice prior to making any investments of your own.