Brief background
As of May 2015, Hargreaves Services Plc (OTC:HGRVF) consists of these divisions:
1. Coal production and distribution - Revenue of £485.9m and underlying operating profit of £34.8m.
2. Transport - Revenue of £68.3m and underlying operating profit of £2.3m.
3. Industrial Services - Revenue of £127.8m and underlying operating profit of £5.7m.
From its latest interim report revenue dropped by 50% from the same period last year that led to a 77% decline in continuing operating profits.
The worse affected division was its coal production and distribution, with revenue falling by 66% and profits are non-existent.
The best performing segment is its Industrial Services, which saw a 16.8% fall in revenue with profits declining by 14%.
Afterward, the company faced further setbacks including:
1. The closure of Sahaviriya Steel Industries (UK) Limited ("SSI") at Redcar, in which Hargreaves provides coal to the plant. And that lucrative business earned the company a nice £4m ($5.32m) in operating profits each year.
Now, expect a similar reduction in operating profits, along with £1.5m in redundancy costs.
Also, this leaves the company with coal and coke stocks of approximately £14m.
2. The closure of Eggborough and Liverpool Bulk Terminal Operations (which Hargreaves provides handling services) means further hits to its Industrial Service Division in the following ways:
A). A redundancy cost of £0.7m in the current financial year.
B). A reduction of £1.5m in operating profits for the next financial year.
3. RWE has ceased its purchase of coal from the Tower joint venture by 31 March 2016; the impairment charges amount to £4.9m.
4. And finally, "Brexit" led to the postponement of a £7m earthworks project at a major UK port.
Now, management wants to move Hargreaves Services Plc away from coal producing to property redevelopment.
The old business model saw an 85.5% collapse of its share price since the peak of 2012, which left many investors bruised.
Hargreaves Services transforming its business model
Earlier this year, management has updated investors of its plans to sell off parts of its coal division, which includes:
A. coal and coke stocks,
B. surplus plant and equipment, and
C. loans to the Tower joint venture.
The net realizable value of these assets is approximately £66m as summarized below.
Current Indicative Legacy Balance Sheet Items

as at 31 March 2016

£m

Surplus Yellow Plant

10.0

Maltby Face Equipment

5.0

Other

2.0

Property, Plant & Equipment

17.0

Thermal Coal

10.0

Coke

10.0

Coking Coal

2.0

Other

1.0

Inventory

23.0

Tower Loans

23.0

Other Working Capital

9.0

Maltby Pension

(5.0)

Other Balances

(1.0)

Net Legacy Assets for Realisation

66.0
Source: Lse.co.uk.
And management has promised investors it will realize cash by selling the bulk of these legacy assets by May 2017.
The predicament with selling off "non-performing" assets is who will buy and at what price! Therefore, shareholders should keep an eye on the "Thermal Coal" price (see below) because further deterioration means further write-downs of its legacy assets.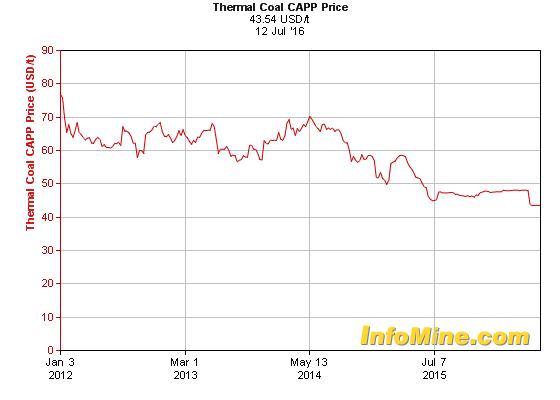 As mentioned earlier, RWE's decision to cease purchase of its coal will hit the value of the Tower joint venture assets.
When it finally sells off its legacy assets, Hargreaves sales division would comprise of the following:
A. UK Specialty Coal Distribution,
B. Special Earthworks and Infrastructure Services (incl. Industrial Services and Transport and Logistics), and
C. Property and Energy.
You will notice that there is a "new" division called Property and Energy and management is hoping that would be the breadwinner.
Before that let's look at another company that did transform into a property development business from a mining producer.
The Harworth Group route
The Harworth Group (formerly known as UK Coal and Coalfield Resources) has 27,000 acres of land across 200 sites around the Midlands and the North of England.
The business values these assets at £343.7m ($457.1m) compared to last year's £57m ($75m).
Although it raised £111m ($146.5m) and used £87m ($115m) to acquire these assets from buying out the remaining stake of Harworth Estate, it also incurred £64m ($84.4m) of debt in the process.
That investment has transformed the business's financial statements to this:
| | | |
| --- | --- | --- |
| | 2015 (£m) | 2014 (£m) |
| Operating profits | 34.2 (incl. £24m from revaluation) | 0 |
| Equity | 297 | 58.6 |
| Debt | 64.5 | 0 |
| Cash | 27.5 | 1.5 |
| Total Assets | 393.7 | 64.7 |
| Capex | 41 | 0 |
| Cash profit | (2.7) | 0.07 |
Furthermore, Harworth does not pay a dividend or generate a positive cash profit yet, but its market capitalization is £224m ($298m) with an EV of £261m ($347.1m).
The same can happen to Hargreaves Services where it could receive a "re-rating" from analysts. Its market value is languishing at £58m.
Hargreaves Services - The next frontier
Hargreaves began planning permission at Blindwells (near Edinburgh) two years ago and expects a decision by the second half of this calendar year.
If successful, it has the scope for the development of 1,600 houses, and management plans to achieve a "long-term" revenue stream by selling plots house builders.
Furthermore, management has categorized its 15,500 acres of land into the following:
| | |
| --- | --- |
| Land Category | Acres |
| Housing | 530 |
| Energy Generation | 350 |
| Industrial | 1,170 |
| Retail | 70 |
| Agricultural | 2,340 |
| Forestry | 990 |
| Low Grade | 10,050 |
(N.B.: 3,000 acres are for operational use and excluded from the above calculations.)
However, management has not provided us with any value per acre surrounding these categories, but using UK government statistics based on the average values of agricultural land and Industrial land, you get the following:
| | | | |
| --- | --- | --- | --- |
| Type of land | £/hectare | £/acre | Total value |
| Agricultural | 21,000 | 8,498.41 | £19.9m* |
| Industrial | 482,000 | 195,058.8 | £228.2m* |
Source: www.gov.co.uk. *data from the number of acres Hargreaves has allocated.
The above consists of 3,510 acres of land out of the 15,500 acres.
Remember, these are average prices based on February 2015.
The costs of developing the land are unknown, and further details are needed.
Still, I believe Hargreaves represents a greater value than Harworth because it has liquidity from its cash balance and the eventual disposal of its coal assets.
Secondly, it already possesses these acreages saving money from acquiring empty coal mines in the UK.
Third, it is downsizing the original business into a profitable division and that alone could generate operating profits of £10m-£15m going forward (though management gave no guarantees).
Are Hargreaves' shares worth taking up?
The uncertainty surrounding the business did not stop management from purchasing the stock at £1.7/share (here are the details):
| | | | | | |
| --- | --- | --- | --- | --- | --- |
| Director | Total beneficial holding prior to purchase | Holding % | Shares bought | Resultant beneficial holding | Holding % |
| Gordon Banham | 2,273,466 | 7.12% | 205,000 | 2,478,466 | 7.77% |
| David Morgan | - | - | 30,000 | 30,000 | 0.09% |
| Peter Jones | - | - | 10,000 | 10,000 | 0.03% |
| Nigel Halkes | - | - | 5,000 | 5,000 | 0.02% |
At £1.83/share, the business is valued at £58m ($77m) with an enterprise value of £88.7m ($118m).
Its equity is valued at £141m ($187.5m), a 37% discount to its EV. Management has marked down its total assets from £407m in 2012 to £272m today.
From a technical perspective, the company is showing signs of a momentum shift from "oversold" levels to moving towards its equilibrium level, though it's far too early to tell.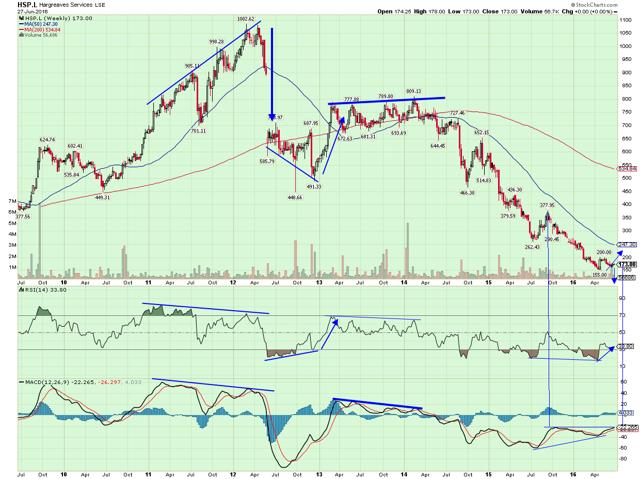 The golden opportunity here is how much it costs to transform these brownfield sites into property and industrial development as well as getting planning permission.
But given the UK net migration of 333,000 and with an ever increasing population (it expects to increase by 4.4m to 70m in 11 years' time) then these buildings and facilities are needed for the future.
Reasons to invest
1. Management has plans to dispose of an unprofitable division worth £66m.
2. Hargreaves already owns 18,500 acres (though 15,500 acres has been categorized).
3. Its other businesses alone would generate between £10m and £15m in operating profits going forward; this is protection if property and energy projects divisions don't go to plan.
4. Revenue from its property and energy division comes from selling plots of land to home builders and leasing sites to build wind farms.
Although this is an early stage of development, my views would be to wait for its next results (expected on 9th August) for clarifications on strategic management objectives and how it will take the business forward.
Disclosure: I/we have no positions in any stocks mentioned, and no plans to initiate any positions within the next 72 hours.
I wrote this article myself, and it expresses my own opinions. I am not receiving compensation for it (other than from Seeking Alpha). I have no business relationship with any company whose stock is mentioned in this article.