JPMorgan Chase (NYSE:JPM), Bank of America (NYSE:BAC) and Citigroup (NYSE:C) all beat earnings expectations for the 2nd quarter, but one Wall Street bank didn't. Want to guess which one? Let me give you a hint: It was Warren Buffett's favorite bank, Wells Fargo (NYSE:WFC). Since most banks beat earnings expectations for the last quarter, why didn't Wells Fargo? The reason is that earnings expectations for banks like Bank of America and Citigroup have already been quite low, which made it so much easier for such banks to beat consensus estimates. On the other hand, analysts and investors alike have higher expectations with respect to Wells Fargo, whose management has done an excellent job in the last decade growing shareholder value.
For the most recent quarter, Q2-16, Wells Fargo pulled in $5.56 billion in earnings, slightly below last year's figure of $5.72 billion in profits. On a per-share basis, Wells Fargo earned 1.01 compared to $1.03 a year ago. Analysts were shooting for earnings per share of 1.01/share, which means Wells Fargo met expectations.
Wells Fargo reported solid financial gains for the last quarter, largely because the bank has morphed into a loan machine that continues to pump out more loans to the bank's customers. Wells Fargo's outstanding loans hit $957.2 billion at the end of the last quarter, an improvement of $68.7 billion, or 8 percent, compared to the 2nd quarter of last year. Loan growth has emerged as a major earnings driver for Wells Fargo, and the strength of it has been visible across Wells Fargo's loan portfolio.
Whether it is industrial loans, commercial real estate, or credit cards, Wells Fargo's business foundation has enjoyed strong growth over the last year: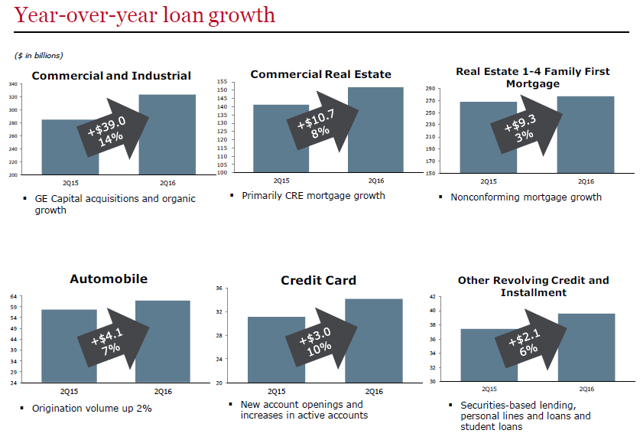 Source: Wells Fargo
The loan book is obviously doing a great job for Wells Fargo, but that's not the only thing that the bank has going for itself. Loans, deposits, revenues, and pre-tax pre-provision profits all grew Y/Y.
See for yourself: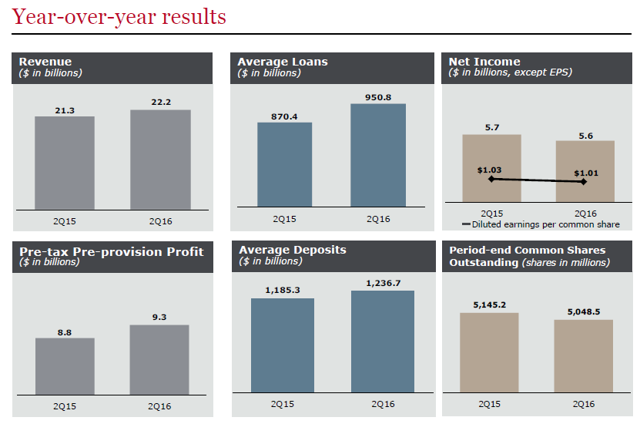 Source: Wells Fargo
Not Cheap, But Quality Got Its Price, Right?
Wells Fargo's book value has risen ~7 percent over the last year from $32.96/share to $35.38/share in Q2-16. And Wells Fargo isn't cheap, selling for ~1.36x accounting book value, or ABV, one of the highest valuation ratios in the sector, but the bank's solid fundamentals justify the premium price IMO.
Attractive Income Play
Wells Fargo is a S&P 500 company that comes with a 3.15 percent dividend yield. The bank has consistently grown its dividend payout for years, and is in a good position (again, based on growth in key measures) to continue to raise its dividend in the years ahead.
Your Takeaway
Wells Fargo reported a solid 2nd quarter and met the consensus earnings estimate. Though profits declined slightly Y/Y, Warren Buffett's favorite bank saw continued strong growth in its loan portfolio, which underpins Wells Fargo's investment value. Wells Fargo has done a great job for shareholders during/after the Great Recession, returning to growth quickly, and making the right capital decisions, including consistent dividend growth. As a result, Wells Fargo is one of the most expensive Wall Street banks, and for good reason. Buy for income and capital appreciation.
Disclosure: I am/we are long BAC.
I wrote this article myself, and it expresses my own opinions. I am not receiving compensation for it (other than from Seeking Alpha). I have no business relationship with any company whose stock is mentioned in this article.