Netflix (NASDAQ: NFLX) shares were down more than 15 percent in after hours trading following news that the company missed its added-subscriber goals for the second quarter, reeling in only net 160,000 US subscribers vs. guidance of 500,000, and 1.52 million international subscribers vs. guidance of 2 million. Given how steep the drop was, and the general investor love for NFLX, it wouldn't be a surprise to see the stock bottom out quickly today, and then rebound.
Still, while Netflix may not bloody the water too much today, a serious problem in the company's business model is making itself apparent: subscribers don't think Netflix is worth much more than what it is currently charging. Increased customer churn following the end of Netflix's two year grandfathering clause, which protected a large portion of Netflix's customers from price increases, suggests that many customers are unwilling to pay extra for the service Netflix provides.
A survey by UBS found that 41% of subscribers would be unwilling to pay more for Netflix. While these surveys are often exaggerated in the sense that customers underestimate how much more they are willing to pay, the recent increase in churn for Netflix shows that a larger portion of customers than previously thought may really not be willing to accept a price increase. UBS thought that roughly 3% to 4% of customers would drop the streaming service, and that total US net additions would come in at 450,000. Obviously, Netflix didn't meet their expectations.
NFLX Is Already Over Priced
Over the past few years, investors have shown a willingness to stomach triple digit P/E ratios, treating Netflix like a tech start-up, and disregarding short-term earnings. Problem is, the best days for Netflix may not be ahead of it, but instead behind. Netflix is a mature company and is going to face a lot of headwinds in the future as content grows more expensive and competition increases.
Netflix isn't the only "tech" company given leeway when it comes to earnings. Amazon (NASDAQ: AMZN) also suffers from similarly high earnings. Unlike Amazon however, Netflix will likely never be able to achieve a near monopoly on the streaming market. AMZN enjoys high barriers of entry, making it extremely difficult for competitors to achieve the size of scale and market penetration that Amazon has. Point is, it would be far easier to set up an online streaming service than to launch a full-scale online retailer with two day shipping and low prices.
Still, NFLX's earnings of 9 cents a share vs. expectations of 2 cents is welcomed news. Further, while the company failed to meet expectations in added new international subscribers, revenue and subscriber growth abroad still looks impressive, even if a correction was due. Regardless, NFLX remains overvalued in my opinion and the company needs to be considered by investors not as a tech stock but instead as a media company, where high P/E rations and non-existent profits are not so easily overlook.

In its letter to shareholders, Netflix did note the increase in competition, but that said competition did not contribute materially to their Q2 miss. In my opinion, people are beginning to recognize that there are numerous alternatives to Netflix and that the company may not be worth its current price, let alone increasing prices.
With Content Costs Rising, Netflix is Facing a Squeeze
Netflix will spend about $5 billion on content this year, far more than most of its competitors. While the company is proving that it's willing to spend and spend big, such high costs will make it difficult to produce substantial profits any time soon. This compares to just over $3 billion spent on content in 2014. Since 2014, the total size for Netflix's library has shrunk by about 33 percent, although original programming is increasing.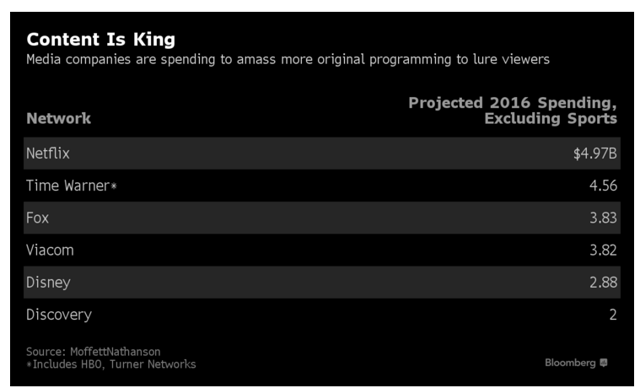 Netflix is now faced with a serious challenge. Studios want more money for their content, and many are now streaming their content through their own services or with deals with Amazon and other competitors. Adding high-quality content from other studios is simply growing more expensive.
Producing in-house content will become more necessary for Netflix, but such content can be expensive to produce. The upcoming "The Crown" series, about Queen Elizabeth, will cost Netflix at least $150 million over six seasons, ten episodes a piece. "Orange is the New Black" costs $4 million per episode, while "House of Cards" costs $4.5 million. "Sense8," meanwhile, costs an astounding $9 million per episode, making it the most expensive show on earth.
In order to maintain and increase growth, Netflix will likely have to rely on new in-house content. The company already has acknowledged that this is the future in original content, but as the above numbers illustrate, producing said content is expensive, and if the company misses and pays a lot of money for content that subscribers don't enjoy, the losses can pile up quickly.
Netflix Has A Great Future, Just Not At Current Prices
Netflix does have a bright future as a content and media company. However, the U.S. market appears to be nearing full saturation, while international growth may come with its own headwinds, like the need to add localized content. In my opinion, for Netflix to become a more attractive buy, its P/E ratios need to come in line with media companies like Time-Warner (NYSE:TWX) (>50, at the very least).
Disclosure: I/we have no positions in any stocks mentioned, and no plans to initiate any positions within the next 72 hours.
I wrote this article myself, and it expresses my own opinions. I am not receiving compensation for it (other than from Seeking Alpha). I have no business relationship with any company whose stock is mentioned in this article.