One week has passed since Andrew Left of Citron Research made his renewed short call on Valeant Pharmaceuticals (NYSE:VRX). Good for him, he got a quick 11% drop on a phone call in to CNBC as the stock was moving towards its 50-day moving average. Many investors were caught long, and some had to capitulate, I was not one of those people. Fortunately, I sold some of my position that morning purely on a chart pattern suggesting a quick pullback before the resumption of the new uptrend that I believe is starting in the stock price.
The stock behaved in an almost textbook fashion in a wicked shakeout that seems to happen to most every stock I buy near a long bottom. I have seen this time and time again, and it frankly drives me crazy.
A stock that has been beaten into submission and way oversold makes a comeback when least expected running to the 50DMA, only to have a nasty two or three-day pullback to a recent level of support.
Here is an intraday chart of Valeant coinciding with the media reports of Mr. Left's short call and the news of Pearson selling his shares for tax reasons.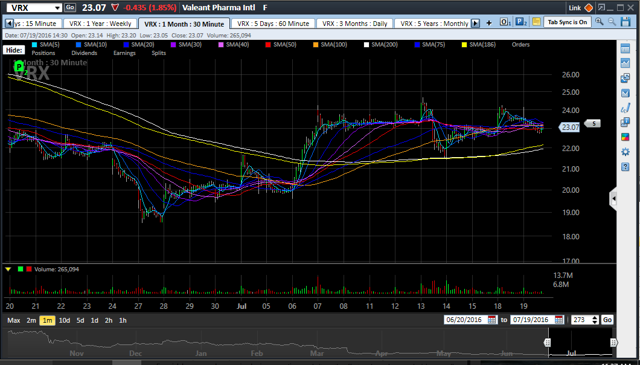 Above is a 1-month intraday chart showing an initial strong breakout from the Brexit low which had zero to do with Valeant's cash flow or exposure to the Eurozone. The stock was racing to hit the 50-day at around $25.60 when it took a turn mid-morning and ended the day down around 6% after being up 6% for a 12% swing.
It must be nice to call in to CNBC and get to blast a stock and say it is going to zero. What I heard was a very arrogant Left blasting the company and using Pearson selling and likely an upside down position to talk down the stock and create fear and panic for anyone ready to ride the momentum train back to glory land.
There is very little conviction among traders in this stock at the moment, as every trader is trying their best to game the bottom. It is a trading mechanism and anyone at any time can get hurt.
An investor can take a look at Tesaro Biotechnology (NASDAQ:TSRO) to see what happens when a biotech stock catches fire.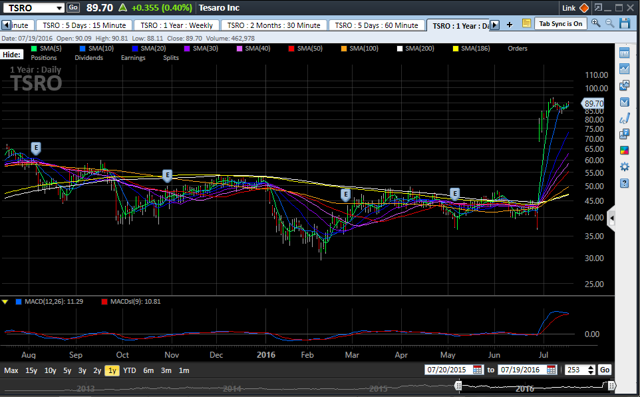 How would you like to be short Tesaro at $36 and wake up to see it trading at $70? This happens more often than one would think.
I for one was amused to hear Left give his reasoning on the stock price and calling it a zero. Of course, it won't go there overnight he added a little later and then says "if it opens tomorrow at $28, it doesn't mean I am wrong."
I got a little news flash for you all; the market makes everyone look like a fool quite regularly. I found him to be bully and arrogant, and his reasoning lacked substance. This is how media spin works; he has a following and people are of a herd mentality, following the advice of others and trading on fear and speculation.
I got hurt that day and, of course, wished I would have dumped the whole position instead of part of it that morning; however, I do not want to be on the sidelines when I believe we will see a large gap-up in the not-too-distant future. I reloaded at $19.61 and then again at the $21.70 level and again this morning between $23.20 to 22.87.
Do not let fear be your driver in this market. Valeant is trading at less than 1 times sales and has some very smart and talented people at the helm that will likely surprise the street.
I think we see $35 before $18.
Conclusion
Shorts get caught, longs get caught, hedging is important; keeping conviction is paramount to making doubles and triples in the market. Shakeouts are always media related and occur when people are forced to sell on margin. I was happy to see the Sequoia fund capitulate in June, to me that is a sure buying sign.
As always, do your own research, make your own decisions, and don't take advice from people with their own agenda. Trust yourself and trade well.
Disclosure: I am/we are long VRX.
I wrote this article myself, and it expresses my own opinions. I am not receiving compensation for it (other than from Seeking Alpha). I have no business relationship with any company whose stock is mentioned in this article.