On Tuesday, shares of cigarette giant Philip Morris (NYSE:PM) tumbled after the company reported very disappointing second-quarter results. Not only did the headline numbers come up well short of expectations, but some internal figures showed troubling signs. These poor results will limit long-term capital returns for investors, which puts a sizable dent in potential upside for the stock.
Cigarette shipment volume in the quarter declined by 4.8%, and management on the conference call admitted that this year's decline will likely be worse than originally expected. The company blamed these issues on declines in low-margin environments, but it led to a 3.1% net revenue decrease. Revenues would have been higher if not for currencies, and the company's positive pricing variance in Q2 wasn't as strong as previous quarters.
While the company did revise its negative currency hit forecast from $0.45 to $0.40 a share, this number basically changes by the day thanks to volatile foreign exchange markets. If the dollar continues its recent rally, Philip Morris will be hurt, and revenues/earnings will be pressured. While the company maintained its forecast for 10% to 12% adjusted earnings per share growth, which excludes currency impacts, the adjusted EPS number was only up 1.7% through the first six months of 2016. Management is looking for a big Q4 this year, although some will remain skeptical this much progress can be made. If shipment volumes remain weak, I have a hard time believing the company will hit its mark.
When it comes to Philip Morris, most investors love the stock for its strong dividend, and in the past the stock buyback program. Overall, the company's balance sheet remains very bloated with debt, and cash flows are under pressure thanks to currencies. Given the state of current results, I'm not expecting much of a dividend raise this year, and I'll detail my prediction once I can read through the 10-Q filing. On the conference call, we did get this statement from the company's CFO:
Well, we'd rather - I think if we were to arrange the buyback, we would like to see the positive outlook for the next few years, so have something of the, I guess more longer lasting program than just one quarter or one year with the buyback. Remember, our focus always more strategically is on the dividend and creating the room for the dividend growth. And buyback comes - after all of other opportunities to invest, I mean buyback will come last.
Currently, the dividend is basically using up all of the company's free cash flow. I've taken this statement and some others we've seen from management to mean that we won't see buybacks until late 2017 at the earliest. That's assuming the company gets some help from the US dollar, because a further strengthening of the greenback will only push the buyback timeline out further. There's even a chance that enough dollar strength could force the company to cut the dividend, but we are not at that point yet.
Philip Morris shares have lost more than $3 in Tuesday trading as I write this, and I think that's a fair reaction to the disappointing quarter. The stock has rallied nicely this year, and a double miss was not going to keep that momentum going. As seen in the chart below, this post-earnings decline has resulted in shares losing the 50-day moving average. If they can't get back above this key technical level, the stock could trade down to the 200-day (currently at $93.41 but rising). A pullback to the mid $90s seems plausible if overall markets decline from their highs, and would give us a better chance to re-evaluate Philip Morris.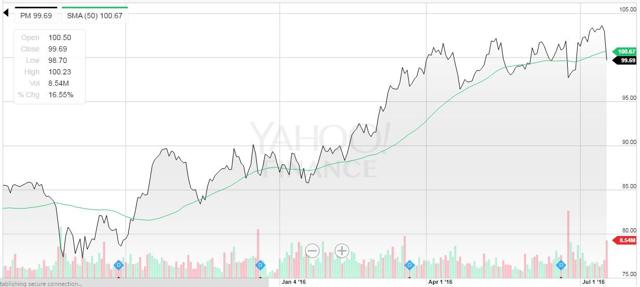 (Source: Yahoo! Finance)
Disclosure: I/we have no positions in any stocks mentioned, and no plans to initiate any positions within the next 72 hours.
I wrote this article myself, and it expresses my own opinions. I am not receiving compensation for it (other than from Seeking Alpha). I have no business relationship with any company whose stock is mentioned in this article.
Additional disclosure: Investors are always reminded that before making any investment, you should do your own proper due diligence on any name directly or indirectly mentioned in this article. Investors should also consider seeking advice from a broker or financial adviser before making any investment decisions. Any material in this article should be considered general information, and not relied on as a formal investment recommendation.