Business Overview
The 1970s and 1980s gave us the PC revolution, putting computing at our fingertips. In the 1990s through the early 2000s, the Internet revolution connected us to a massive information web that spans the planet. And now the next revolution is connecting the Internet back to the physical world we live in, in effect, giving that world its first electronic nervous system. Some call this the "sensor revolution," an outpouring of smart devices that monitor our surroundings in ways we could barely imagine just a few years ago.
Nowhere does the sensor revolution offer more promise than in industrial production, where sensors are increasingly being used to detect potential failures and maintenance issues, allowing companies to operate more efficiently, cost effectively, and safely. The global market for industrial machinery sensors is estimated to be worth nearly $20 billion right now and is growing fast.
With only $7.5 million in trailing 12-month revenue, Electro-Sensors (NASDAQ:ELSE) is by no means a behemoth in this highly fragmented industry. The company makes and sells speed monitors, temperature sensors, pulse generators, motion controllers, and various other types of sensors that monitor and control critical moving parts on industrial machines. These products are sold to customers in more than a dozen industries, ranging from agriculture and textile production to mining and wastewater treatment.
Growth Likely to Accelerate
Electro-Sensors' core revenue, excluding its former AutoData Systems division which was sold in late 2011, increased from $4.3 million in 2005 to $7.6 million in 2015, a 10-year CAGR of just under 6%. While this certainly isn't spectacular, given that the sensor revolution is still in its early stages, growth has nowhere to go but up.
For one, most industrial sensors are still the "dumb" version without Wi-Fi capabilities. Wi-Fi-enabled sensors aren't only superior in that they give users remote access via email, text, web, etc., they're also easier and cheaper to install than traditional wire-based sensors. This was a major reason why Electro-Sensors acquired the HazardPRO wireless hazard monitoring product line in early 2014. It's been the company's best-selling product line since it began shipping in Q2 of 2015, and will likely become the main revenue growth driver going forward.
Obscured Profitability
Getting a clear picture of Electro-Sensors' earnings power can be somewhat tricky. We certainly can't rely on reported net income. Why? Because it overstates the company's true earnings as it includes "non-recurring" income related to the gain on the sale of equity investments. EBIT is a superior alternative since it excludes this non-recurring income. In 2015 alone, for instance, the difference between net income and EBIT was $924k.
But EBIT, too, has its problems. One is the previously mentioned HazardPRO acquisition. This new product line led to a temporary increase in manufacturing costs and R&D spending, putting significant pressure on gross and EBIT margins. Profitability was further hurt by unfavorable cyclicality in agriculture-related industries, which is where a large chunk of Electro-Sensors' business comes from. Taken together, these things caused the company's EBIT margins to shrink from the low to mid-teens to just 1.5% as of the most recent 12-month period.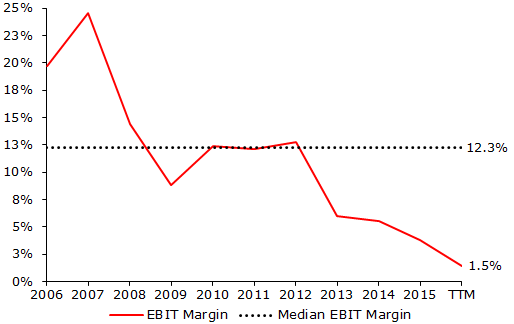 Note: This EBIT margin represents the core business. All non-recurring income and revenue has been excluded from the calculation.
Source: A North Investments, Superior's SEC filings
A simple way to adjust for these distortions is to simply normalize EBIT. To do this, take the 10-year median EBIT margin (12.3%) and multiply it by trailing 12-month revenue ($7.5 million). If calculated correctly, we should get normalized EBIT of roughly $915k. To put things in perspective, this is more than 8x higher than Electro-Sensors' reported trailing 12-month EBIT of $109k. (We'll be using normalized EBIT for valuation purposes.)
Off-Balance Sheet Assets
Like the income statement, Electro-Sensors' balance sheet also doesn't reflect reality. Yes, the company has $8 million in cash and zero debt, which is quite impressive given its small size. But let's not overlook the patents. Electro-Sensors holds six patents related to sensor technology. These patents were internally developed and therefore aren't recorded as an asset on the balance sheet. Which raises an important question: What are these patents worth?
It's impossible to be precise, but here's what we know. The average transaction price for similar patents was roughly $570k in 2015 (latest data available). Applying this number to Electro-Sensors' patents gives us an estimated patent portfolio value of $3.4 million. This means that Electro-Sensors' book value, including the value of its patents, is around $15.4 million, which is greater than its current market cap. This seems cheap considering that sensor companies typically trade for ~3x book value.
Significantly Undervalued
Despite its robust fundamentals and valuable off-balance sheet patent portfolio, Electro-Sensors has an enterprise value, or EV, of only $3.2 million. Again, recall that the company generated $915k in normalized EBIT over the past 12 months. This equates to a measly 3.5x EV/EBIT, a nearly 80% discount to sensor competitors shown below. A valuation discrepancy of this magnitude is simply unjustified given that many of these higher-valuation competitors have declining revenues, lower normalized EBIT margins, and/or debt-bloated balance sheets.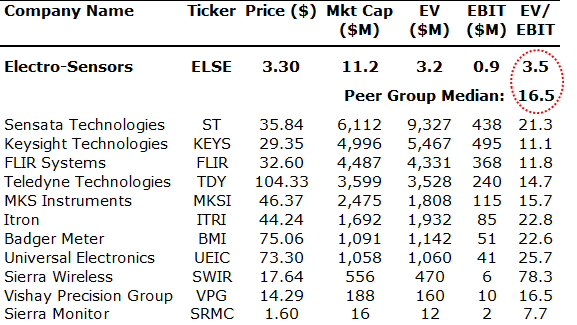 Note: All peer EBIT numbers have also been normalized to make the valuation comparison fair and consistent.
Source: A North Investments
Even at a conservative 10x EV/EBIT multiple - still a substantial 40% discount to peers - Electro-Sensors would be valued at around $5.05/share, which represents more than 50% upside from the recent price of $3.30/share. Applying a still reasonable peer-like 16.5x EV/EBIT multiple drives a fair value of roughly $6.80/share, or just over 105% upside potential from the recent price. In short, this stock is an obvious buy right now.
Investment Risks
All investments come with some level of risk, and Electro-Sensors is no exception. Here are the key risks to consider before investing in this stock:
A large chunk of Electro-Sensors' business comes from agriculture-related industries such as grain, feed, and milling. As such, unpredictable variations in crop yields can hurt demand for its agricultural machinery sensors.
The company's operations are concentrated at a single location. If anything were to happen to this building - like, for example, a fire - it would have a material adverse effect on the business.
Insiders control more than 50% of the outstanding shares, meaning that smaller retail investors have little say in what happens at the company.
Daily trading volume hovers around 3,000 shares. While this is plenty of volume for most retail investors, larger or institutional investors could have difficulty entering/exiting trades in a timely (and profitable) fashion.
Conclusion
Electro-Sensors is a wonderful little company that so far has flown under the radar of most analysts and investors. This lack of coverage is the reason why this stock trades at such a substantial discount to less financially healthy, less profitable, and/or slower growing peers. Those who buy below $3.50/share are likely to reap tremendous long-term gains as this mispricing gets corrected: valuation points to upside of at least 50%, and possibly as much as 100%+, over the next 24-36 months.
Disclosure: I am/we are long ELSE, SRMC.
I wrote this article myself, and it expresses my own opinions. I am not receiving compensation for it (other than from Seeking Alpha). I have no business relationship with any company whose stock is mentioned in this article.
Editor's Note: This article covers one or more stocks trading at less than $1 per share and/or with less than a $100 million market cap. Please be aware of the risks associated with these stocks.