Ship owners are facing an interesting dilemma. Many of the segments are facing an oversupply of vessels, which is driving down rates. However, at the same time, ship yards are starving for business and offering new builds at multi-year low prices. Will owners continue to shun new builds and allow the market to rebalance? Or will these exceptionally low prices inspire more orders which could threaten to prolong the downturn?
For those new to shipping or not quite up to speed please allow me to provide a bit of an overview. Also, recently I started a Shipping 101 series. In the latest installment we examined the supply side of maritime trade. I encourage all interested to read this as many of the ideas in this article build upon that base.
Overview
One only needs to look at the current market to gain an appreciation of how supply-side imbalances can impact rates and stocks.
Take the dry bulk market, for example. It is widely accepted that currently, the dry bulk market is experiencing supply and demand disequilibrium. This was the result of too many ships being ordered prior to the 2008 crash to supply a commodity demand boom that was unsustainable in the long run. The end result was a massive amount of supply that was ordered before 2008 and being delivered as late as 2014 due to shipyard backlogs and the drawn-out nature of the shipbuilding process. Thus, the available supply soon outpaced post-boom demand, resulting in market disequilibrium. Recently, the oversupply issue in dry bulk has been met with waning global demand for key commodities, compounding the problem.
Another example can be found in the container segment, which has seen a massive influx of mega-box ships that have created yet another oversupply problem just as key trade routes have experienced some slowing. The end result is some of the lowest charter rates in several years for many classes.
Additionally, while LNG demand has stagnated over the past five years, an order book of 30%+ is poised to hit the water, further adding to the oversupply of vessels. This has brought spot rates down from over 100K per day to around 30K over the past year-plus.
Finally, while the demand-side fundamentals have been somewhat positive for product tankers and crude tankers, another oversupply problem here (in certain classes) threatens to create a headwind in this market, as an influx of super tankers is set to hit the water in late 2016 and early 2017.
Notice, of all the major shipping markets, one single theme has contributed the most to these rough times: an oversupply of vessels. So let there be no mistake, the supply side in shipping can make or break a market and needs to be taken into consideration in any sort of investment examination.
Dilemma
Realizing the drastic oversupply issues plaguing many segments, owners have reacted accordingly and recently curtailed new build orders. A trend that was helped by the flight of PE from shipping and dwindling credit access for a struggling segment.
This drop in orders comes even as prices for new builds are the lowest in over a decade.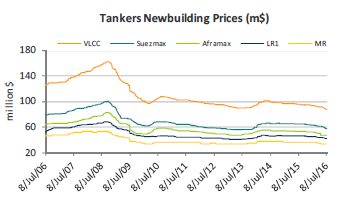 Source: Intermodal Week 28 Report
This scenario presents an interesting dilemma. Will owners (who have the capital resources - and there are still many out there) take advantage of these low prices at the risk of collectively maintaining a market imbalance geared toward low rates?
For several months now I have voiced my concern about this scenario playing out in such a way as to stall any recovery. In short, I believe the low prices will entice owners to order at the first significant sign of a rate upswing which would continue to maintain an oversupply and thus rate pressure.
Up till now those fears have been unjustified.
Orders
However, a busy week of ordering has left me wondering if things are beginning to head down that path. There were a few orders for VLCC's this past week, but one order in particular for the crude tanker segment has forced me to consider that this possibility is unfolding and putting in jeopardy a 2018 projected recovery for that specific segment.
This order was obviously not inspired by current market conditions. Instead I believe it was a direct result of owners attempting to position themselves to take advantage of absurdly low prices to put tonnage on the water as a projected 2018 recovery begins to manifest.
Of course, if others follow suit it could mean that the 2018 projected recovery could be pushed back.
So how could one order create so much fuss in my mind?
Well, it wasn't so much the order of four VLCC's, with an option for four additional VLCC's, that created this concern, it was the price of the vessels.
Both Fearnley's and Intermodal (among others) noted that the suspected price for each of these VLCC's is around $80M which would be an approximate 50% reduction from prices just 8 years ago. Additionally, this price represents an approximate 10% drop from just last week.
This development is important for several reasons and we will get to those. But first it is important to understand how this situation has developed.
Yard Surplus
We all know that the years leading up to the 2008 crash were a boom time for commodities and the vessels that transported them. As charter rates were moving up owners sought to expand their fleet in an effort to capitalize on the strong market. This created a boom for shipyards.
However, we all know how this cycle ended-with a historic crash.
But an interesting side effect came out of this. A massive amount of shipyards poised to supply a boom that was clearly unsustainable. The result today is an oversupply of shipyards that are all competing for increasingly scarce new build demand.
This competition among shipyards struggling to survive is leading to depressed prices for new builds. This development has three significant impacts.
Impact
First, distorted pricing will impact the market. Artificially low prices will induce greater activity in the new build market. The degree of distorted pricing should have a correlation to the amount of vessels ordered. This threatens to prolong the market downturn.
Second, asset prices are tied to new build prices. As new build prices are reduced, this also has an impact on the second hand markets. While the new build market has been relatively depressed lately the second hand market has been picking up pace. But this latest move could mean that some owners who were considering a relatively new second hand vessel could find a more compelling deal in the new build market following the latest price reduction. The lower prices of new builds will carry over to the second hand market as prices adjust accordingly across the spectrum.
Third, as a result, asset values and therefore real time NAV for companies will be affected. Large NAV decreases in highly levered companies could impact LTV covenants. Additionally, I recently wrote an article which examined the impact of NAV on stock prices for the tanker segment. I concluded that while charter rates had reached 2008 levels for tankers the reason stocks had not responded in kind was due in part to artificially depressed asset values.
Duration
The predicament that shipyards find themselves in is nothing new in the business world, or shipping for that matter. If the afore mentioned supply side 101 article, I tried to explain why ships sail even during loss making charter periods as opposed to ceasing operations all together. Basically, it comes down to what will lose the least amount of money and still allow them to have a business when the market recovers.
Shipyards are facing that same situation. As they struggle to stay alive keeping skilled labor and facilities operational may be worth the losses in the short run as opposed to ceasing operations. So as ships sail during loss making charters, so to do ship yards construct vessels at losses. This is where the heavy discounting comes into play.
While some yards have already closed, mostly Chinese since they are seen as the least desirable builder, others may be poised to ride out this scenario for many years.
Unlike shipping, where bankruptcies do very little to alleviate an oversupply issue since vessels are simply resold on the open market and supply is never really curtailed as a result, bankruptcies in ship yards will actually have the effect of curtailing the supply side thus restoring balance.
Therefore, this situation will only be corrected once a sufficient amount of yard capacity is removed from the equation. Of course, we could see another demand side boom which would require the now excess capacity, but I see that as highly unlikely.
Conclusion
After weeks and weeks of no orders on the tanker front, this past week has been quite busy with the four firm and four options as well as three additional VLCC orders from other parties. All prices were undisclosed which leads me to speculate that new build discounts are increasing as shipyards struggle to stay alive. So the $80M estimate for these vessels probably isn't too far off.
Yes, the overall order book for maritime trade has declined since the beginning of 2016, down 12% by vessel numbers and 8% by gross tonnage. Many might take comfort in this as we are still making progress in thinning out the order book.
Clarksons recently noted that ordering has been subdued to say the least with just 97 orders of 20,000 DWT or more across just 27 yards during the first half of the year.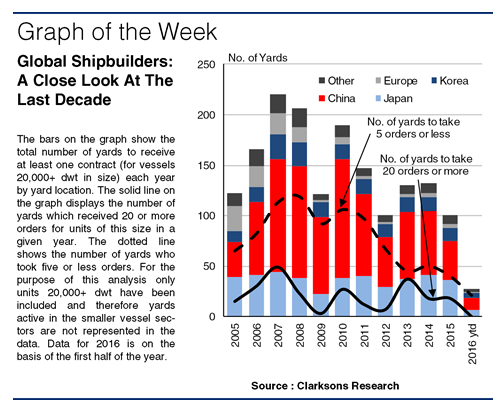 Source: Clarksons
So maybe I am reading a bit too much into this latest order. After all, Allied Shipbroking when addressing this stated "it does seem however that given the state of the market (even that of tankers who have seen their earnings shrink over the course of the past couple of months) it is still proving to be a difficult sale to any potential buyers. At the same time the huge uncertainty that overhangs the markets with regards to potential prospects over the course of the next two years makes the decision of placing a new order a fairly difficult one to make and as such it will likely take a considerable amount of discounts on top of the current ones seen in order to drive activity further in this market."
But I can't help but to think that the prospect of a 2018 recovery, which not so coincidentally is when these are scheduled for delivery, coupled with 50% discounts from just a decade ago could begin making some waves.
In fact, if Allied is correct we should be seeing more discounts before prices pick up. As we move closer to a widely accepted market correction date and prices continue to slide I believe owners will become increasingly tempted to test the new build market.
Clarksons seems to agree and suggests that there is "optimism from some quarters that 2H 2016 could see increased contract volumes."
So for the next few months, unfortunately, new build orders must be watched closely in order to determine if this is a fairly isolated order or if this is the beginning of a new round of contracting brought on by even lower prices.
In closing, I would like to leave off with a brief segment from a Splash 24/7 article by Sam Chambers:
Many yards are still marketing 2018 delivery slots, which could lead to a significant price drop to keep drydocks busy.

Speaking with Splash last week, the president of Clarkson Research, Dr Martin Stopford said that with global shipbuilding output at least 30% above the underlying demand for new ships, current output could only be sustained by "heroic price cutting".

"Cutting capacity makes sense," Stopford said, "but with the market split 37% China, 35% South Korea and 19% Japan it's a game of chicken for who cuts first and most."

Stopford also questioned whether the cuts are in capacity or prices.

"Don't rule out some big price cuts," he told Splash.
Update: Since this story appeared on Value Investors Edge, Splash 24/7 reported that the National Shipping Company of Saudi Arabia (Bahri) has teamed up with Arab Petroleum Investments Corp (APICORP) to launch a $1.5bn investment fund that could buy up to 15 VLCCs, putting the Saudi owner firmly at the top of the global VLCC ownership ranks.
Note: Value Investor's Edge subscribers receive a 72-hour advantage on all macro reports and trade ideas from James Catlin as well as exclusive research by J. Mintzmyer.
I welcome all questions/comments and invite you to follow me on Seeking Alpha as I continue to cover all aspects of maritime trade. Thank you for reading.

Disclosure: I/we have no positions in any stocks mentioned, and no plans to initiate any positions within the next 72 hours.
I wrote this article myself, and it expresses my own opinions. I am not receiving compensation for it (other than from Seeking Alpha). I have no business relationship with any company whose stock is mentioned in this article.