After going through one of the most prolific bull market in decades, are we getting closer to another bubble bursting? This thought has crossed many investors' minds as we advance through more bad news. Since the oil price collapsed in 2014, many other events happened strengthening the black swan theorists' case and other pessimistic believers. Emerging markets led by China aren't able to sustain their double digit growth, the U.S. economy is not as strong as expected and the Eurozone is in the middle of the Brexit tragedy. It seems there is no where to find the shining sun these days.
As an investor, you have two options during such rough periods. You can start selling your holdings for a healthy profit and hide your money in money market funds and other "high yield" savings accounts and wait for the next crash to happen. The problem with this solution is that you don't know when the next crash will happen and the market is so unpredictable that it could go up for another 3 years and gain another 40% before losing 20% of its value. If this ever happens, you would be losing three years of income while sitting on the sidelines with virtually no growth of your portfolio.
I'm one of the investors who would rather keep my money invested and look for the rare buying opportunities. By selecting dividend growth companies, I also benefit from the dividend payout if the market ever drops. Since it will always go up, I would rather cash in a 3%-4% dividend yield during bad times and show a temporary paper loss than having my money parked and earning 1% to 1.5% with the continuous doubt if I should invest my money or not.
However, finding buying opportunities has become harder as the market has gained in value. This is why I've worked on identifying four qualities all my future holdings should show to make sure they are value plays and they will gain back their original value, and more, after any market correction. These qualities correspond to the four components of successful dividend growth companies.
Solid Business Model
The first quality a company must show to be considered a value play is a solid business model. Such a model should not only demonstrate flawless execution but also important competitive advantages that are very hard to replicate. We often refer this as an economic moat. A great example of an advantage hard to replicate would be the largest North American railroad company: Canadian National Railway (NYSE:CNI).
CNI's business model relies on the most effective and performing railway network. Since railroads are very expensive to build and maintain, it's almost impossible for a new competitor to enter this market. It would take billions in investment and decades just to build a similar network. CNI's business is highly cyclical due to the fact it transports goods manufactured by other companies. During a recession, CNI will show slower numbers while offering great buying opportunities. However, since its business model is almost impossible to replicate and the fact that the world will always continue to require transportation of goods by train, CNI will always come back during bullish cycles. In the meantime, it will continue to generate strong dividend payouts: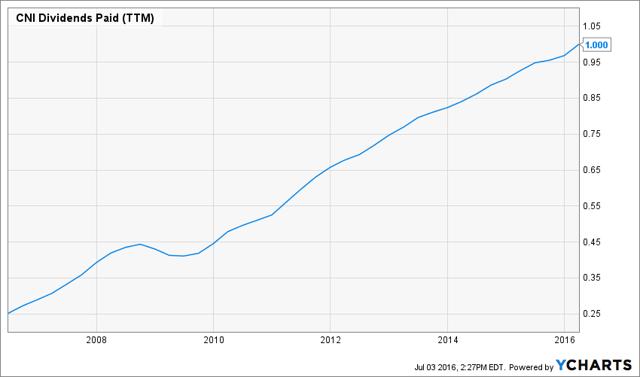 Source: Ycharts
Strong Dividend Growth Perspective
The dividend growth metric is the backbone of the investing principles that I use to manage my portfolios. The idea of receiving a continuous and improving income every quarter will ease any investor's mind while going through a market crunch. Even if you show a paper loss for three to four years as it happened after the 2008 credit crunch, you will not only continue to be paid to wait, your dividend checks increase faster than your paycheck.
One of the best examples of dividend growth companies is definitely Johnson & Johnson (NYSE:JNJ). This company is not only part of the dividend aristocrats (25 years with consecutive dividend increase), but it is also part of the prestigious group of dividend kings showing over 50 years with consecutive dividend increases.
JNJ is present across the world and offers over 20 multimillionaire brands. JNJ is a leader with many of its consumable products and also through its healthcare product division. Since the company continues to invest massively in R&D, it also shows an interesting drug pipeline.
These factors lead JNJ to become one of the most respectable dividend paying companies. Owning a company like JNJ in your portfolio will assure you of continuous dividend increases until you retire. No matter what the market will do, JNJ will always find a solution to increase its payout. It's not a promise, it's a fact that has endured more than half a century, facing countless recessions and market crash. At the end of the year, JNJ shareholders already received more than the previous one.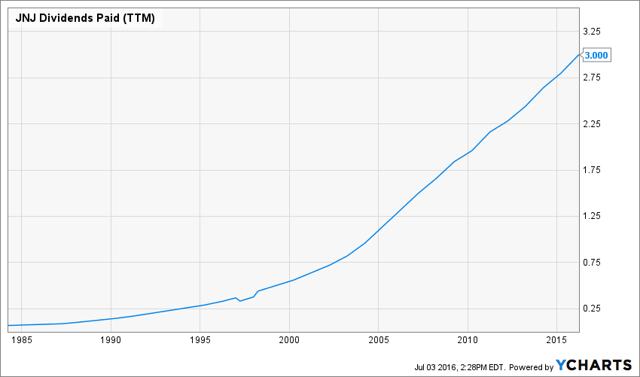 Source: Ycharts
Successful Growth Vector
In order to be able to continue increasing its payout, a dividend growth company cannot rely solely on its past to guarantee its future. You know very well that past returns are by no way an indication of future returns. This is the same rationale that needs to be applied toward dividend payments. A good example of a company finding successful growth vector is Lockheed Martin (NYSE:LMT).
LMT has shown strong earnings increases over the past five years, apart from a mediocre revenue trend.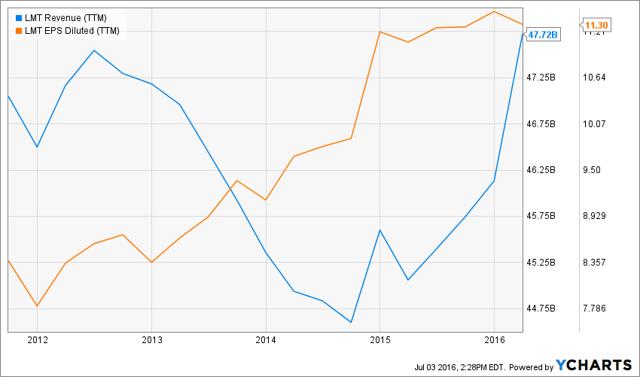 Source: Ycharts
The problem was as follows: 80% of LMT's revenues are coming from the U.S. government (military being the more important segment). Since military expense controls (read: cuts) have been on the table for many years, LMT can't really expect to improve its revenues over the next few years. LMT's core business is solid and will continue to provide solid cash flow. The company had done a great deal of work improving its profitability, but at one point, it had to find another successful growth vector. This is why LMT bought Sikorsky Aircraft, a helicopter aircraft division making LMT a leader in this industry. LMT will be able to successfully integrate its acquisition due to its knowledge in this field. This is a smart move as it will give another push to the company's revenue perspectives. With increasing revenues and an obvious talent for improving its earnings, you can definitely consider LMT to be a strong dividend payer in your portfolio even through a recession.
Sustainable Cash Flow Generation Abilities
The last, but not least, quality a company should show is a sustainable ability to generate cash flow. As a dividend growth investor, cash flow generation is crucial to ensure future dividend payment. The type of business and its environment will tell you a lot about a company's ability to generate excess cash that it can eventually distribute to its shareholders.
For example, 3M Co (NYSE:MMM) has shaped its business to generate consistent cash flow no matter if the economy falls into a recession or not. Its product sales are composed of roughly 50% of repeat business through consumable products. The best example would be their famous Post-it that must be repurchased by its users after its use. There isn't a more sustainable product to replace it and therefore, it leads to continuous, repetitive sales. These sales will generate sustainable cash flow offering the company possibilities to reinvest in R&D, improve their marketing strategy or reward their shareholders with share repurchases and dividend payouts. This is exactly what MMM does with its money.
As you can see in the following graph, the company's free cash flow is consistent and has proven to be sustainable even during a strong recession.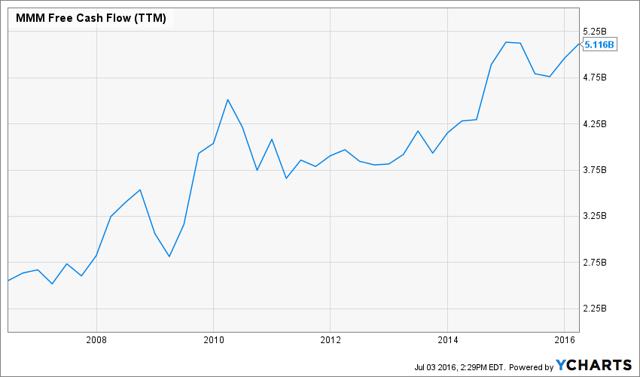 Source: Ycharts
Conclusion
I have decided to share with you four different examples to illustrate the four crucial qualities a company must show today to be considered as a value play. The combination of these four qualities ensures a stronger investment on top of all the metrics and ratios you could think of. Unfortunately, past ratios during a bullish market can't guarantee their future when we hit a recession. The application of qualitative factors in your analysis will help you to better select holdings with strong value when it's time to go through the storm.
Disclaimer: The opinions and the strategies of the author are not intended to ever be a recommendation to buy or sell a security. The strategy the author uses has worked for him and it is for you to decide if it could benefit your financial future. Please remember to do your own research and know your risk tolerance.
Disclosure: I/we have no positions in any stocks mentioned, but may initiate a long position in CNI, JNJ, LMT, MMM over the next 72 hours.
I wrote this article myself, and it expresses my own opinions. I am not receiving compensation for it (other than from Seeking Alpha). I have no business relationship with any company whose stock is mentioned in this article.
Additional disclosure: I hold CNI, JNJ, LMT, MMM in my DividendStocksRock portfolios.