Philip Morris (NYSE:PM) is out with its Q2 2016 results. On the surface, this seems like a pretty mediocre quarter. The company met its own expectations, but missed analyst revenue and earnings estimates. Though, there are a few bright spots in the report. The stock is down ~3% as of this writing.

A look inside the numbers
Looking through the numbers, it is clear that Philip Morris faced considerable currency headwinds in Q2. Adjusted earnings were down 5%, net revenues were down 3.1% and operating income down 4.8%. Without the currency impact, these numbers would look much different: up 1.4%, up 1.8% and up 1.7%, respectively.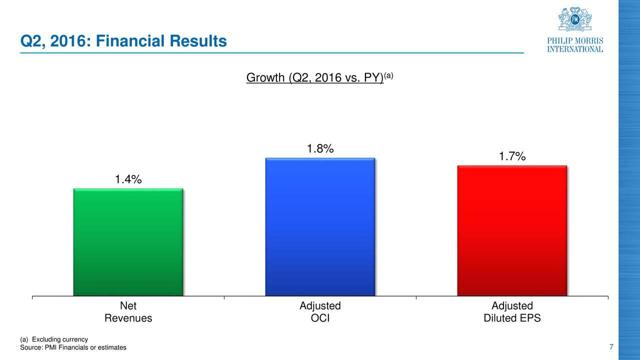 Cigarette volumes declined by a sharp 4.8%, hurt by the loss of lower margin business in Pakistan and the Philippines. Most of the loss volumes occurred in Philip Morris' discounted "other" brands, while the core Marlboro brand saw a more modest 3.1% decline in volumes.
One upshot of large current headwind is that any minor improvements will have an outsized effect on earnings. This appears to be the case as Philip Morris raised its 2016 full-year reported diluted EPS guidance to a range of $4.45 to $4.55 and lowered its full-year currency impact by a nickel, from $0.45 to $0.40.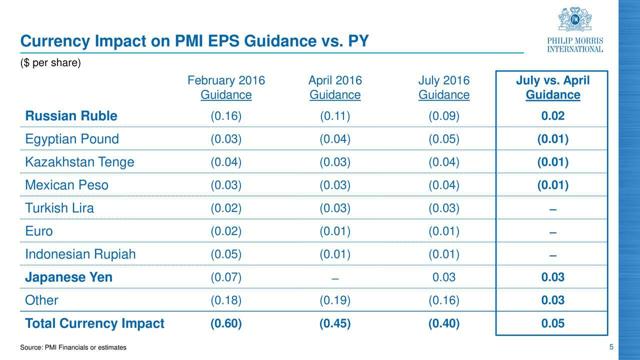 Nevertheless, we remain fully on track to deliver our full-year guidance, revised today for improving currency, which continues to represent a currency-neutral adjusted diluted EPS growth rate of approximately 10% to 12% versus 2015,"

André Calantzopoulos, Philip Morris CEO
Dividend growth will be modest
I think many can agree that most Philip Morris investors are in the stock for income, not growth. As a result, the safety of the dividend is one of the main drivers of the share price.
There have been several articles written about the possibility of Philip Morris lowering its dividend. I do not see such a move coming. The payout ratio, based on free cash flow, has risen to around 75% as of Q2 2016, while the EPS payout ratio is closer to 90%. While both metrics are higher than ideal, they do not point towards an imminent cut.
Philip Morris noted that it expects both earnings and free cash flow to rise towards the second half of the year. Furthermore, both of these metrics should be broadly in line with the 2015 numbers. Given that last year's dividend increase was just 2%, its smallest ever increase, Philip Morris' 2016 dividend growth prospects are likely to be not much better.
Conclusion
Philip Morris remains one of the more stable names in my portfolio. The 4% yield is way above average for this market. Though PM is getting a tad pricey, trading at ~20x earnings even when adding back the currency headwind. I believe Philip Morris is a solid long-term hold, though would not add at current prices even with the recent dip.
Disclaimer: The opinions in this article are for informational purposes only and should not be construed as a recommendation to buy or sell the stocks mentioned. Please do your own due diligence before making any investment decision.
Disclosure: I am/we are long PM.
I wrote this article myself, and it expresses my own opinions. I am not receiving compensation for it (other than from Seeking Alpha). I have no business relationship with any company whose stock is mentioned in this article.