Year-to-date, Nucor Corp (NYSE:NUE) investors have enjoyed a 43% total return. North America's largest steelmaker has been riding high on several fronts.

The company reports before the market opens on Thursday.
A rundown of key pre-earnings notes and markers follows.
Steelmakers Get Anti-dumping Tariff Relief
In May, the United States International Trade Commission levied anti-dumping tariffs on illegal steel imports. This was on top of other tariff actions taken earlier in the year.
Nucor management has howled about unfair steel imports for years. Finally, it appears relief is on the way.
Please make no mistake: Nucor is arguably the most-efficient mini-mill operator in the world. By utilizing a highly-flexible workforce, ensuring tight expense control, and employing efficient supply chain processes, Company management has never shied away from a fair fight.
However, when other countries purposely over-produce steel, and their governments subsidize the industry, the playing field isn't level.
Free trade means fair trade, too.
China has been fingered as the primary culprit. The government denies all allegations. Nonetheless, the new tariffs stand.
Non-residential Construction Improving
Non-residential construction is a big driver for Nucor. In 2016, management expects non-res demand to improve by approximately 5%; which is about what it rose in 2015.
In addition, NUE has moved towards supplying more steel to the automotive industry. The company saw 1Q 2016 automotive sales rise by 20% over the prior year.
Management reported 2015 total domestic steel consumption had reached its highest level since 2006. Demand is robust.
Now that illegal steel dumping is being curtailed, the balance should tip to Nucor, and other domestic producers.
Stable Cash Flow
Despite a particularly challenging post-recession period for steelmakers, Nucor has maintained stable cash flows throughout. Since 2013, operating cash flow has risen smartly. 2015 was a blowout year.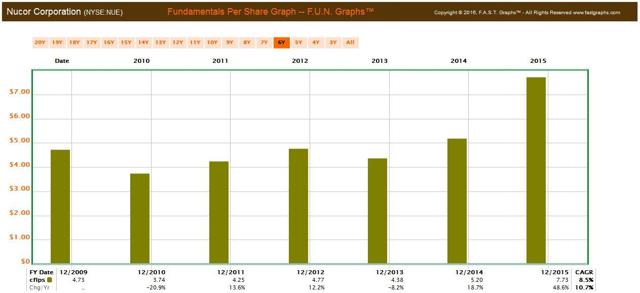 Indeed, Nucor has used a protracted steel industry downturn to free cash flow into savvy growth projects; placing the company into position for a formidable rally when the business turns.
During the last steel industry up-cycle from 2004 through 2007, Nucor improved cash flow per share by 56%.
Using The Downturn to Become Stronger
Since 2010, NUE management has closed 3 major deals.
The company completed construction of a world-class DRI (Direct Reduced Iron) facility in St. James Parish in Louisiana. DRI is a substitute steelmaking feedstock. It may be used in lieu of scrap, contingent upon economics. Currently, Nucor has the ability to run scrap, DRI or a combination through its mills.
Nucor acquired Skyline Steel, a high-quality steel products distributor. Skyline Steel LLC operates a steel distributor business serving the U.S., Canada, Mexico and the Caribbean. This acquisition allowed the business to expand its span from supplying raw materials to distributing finished products.
NUE acquired Gallatin Steel, a Kentucky-based mill. Primarily, Gallatin Steel Co. turns melted scrap metal into coil. Its location puts North Carolina-based Nucor's footprint squarely into the U.S. heartland; and the backyard of U.S. Steel (NYSE:X). Gallatin's location on the Ohio River provides access to many key mid-continent markets. The purchase also helped rationalize the domestic sheet steel market.
Nucor Corp spent over $2 billion on these deals.
What To Watch On Earnings Ahead
Going forward, good investors should watch for more than scrap / steel pricing and routine margins. I encourage them to watch several key operational and financial items, too.
These are outlined below.
Mill rates
Steel mills rates greater than 80% is the ticket. Nucor hasn't met this level in several years.
(data compiled via Nucor earnings releases)
1Q 2016 saw the company register a 74% mill rate, the best result since the second half of 2014. The upcoming quarter is likely to show improvement on a track to 80%.
SG&A expense
Nucor's culture and management style permit a highly flexible cost structure. Whether a senior manager or a production worker, each shares in a system whereby they make money when the company makes money. Unlike many other businesses, it's a top-to-bottom exercise. On the other hand, during difficult times, Nucor can pull in its horns; the labor force is aligned. The variable compensation structure is also a reason why Nucor never lays off employees.
In 2015, the company recorded 2.8% SG&A expense as a function of total revenue. This was far below all peers.
The ratio was just under 3.0% for 1Q 2016.
Imported Steel Volumes
In 2015, about 29% of all U.S. steel consumption was imported. This was actually down a bit from 2014; however, still reflects historically high levels. During the first-quarter conference call, Nucor management indicated imports were easing, as corroborated by industry data.
Watch to see if that trend continues in 2Q: in no small part due to recently-enacted anti-dumping tariffs.
Raw Materials Segment
Nucor operates via 3 segments: Steel Mills, Steel Products, and Raw Materials.
Since segregating the Raw Materials business unit in 2015 (and including year-over-year comps), the performance of this unit has been rugged, to say the least.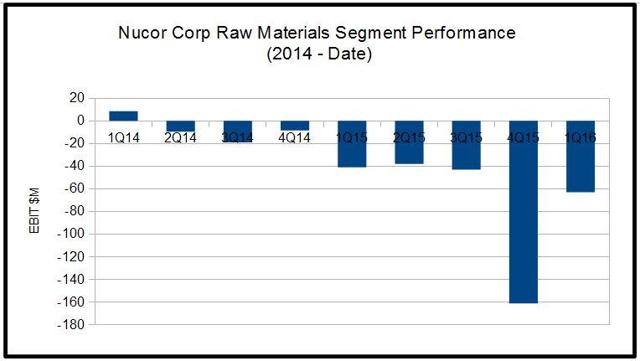 (data compiled via Nucor earnings releases)
The yawning loss at the end of 2015 was cut significantly in the most recent quarter.
Watch to see if the figure is cut further when Nucor reports 2Q on Thursday.
Valuation
Cyclical stocks are notoriously difficult to value.
First, when valuing NUE stock, I submit a price-and-earnings analysis isn't the best valuation metric. It's price-and-cash flow. A F.A.S.T. graph illustrates the long-term relationship: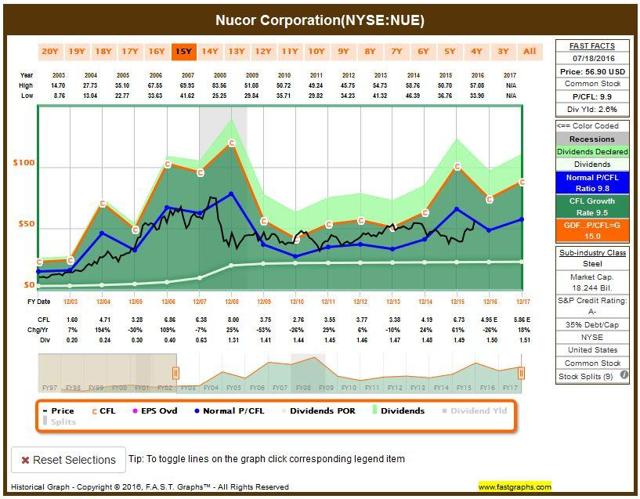 (courtesy of fastgraphs.net)
We see a 10x P/CF multiple is a "through-the-cycle" normalized average. In addition, Mr. Market tends to be especially forward-looking when viewing NUE. Therefore, I think a sighting out to at least 2017 is appropriate.
Based upon current Street estimates, this approach suggests a ~$60 FVE. If the non-residential construction / steel demand upswing continues, cash flow may be anticipated to rise into 2018. Analysts are now forecasting $6.30 per share.
Another reasonable NUE valuation metric is price-to-sales. A F.A.S.T. graph offers insight.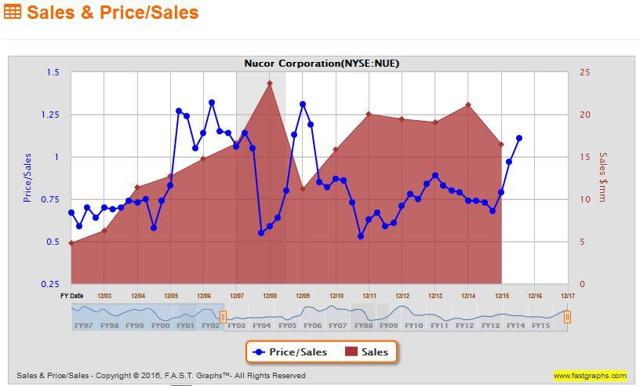 (courtesy of fastgraphs.net)
Here we see top-cycle P/S clocks in between 1.0x and 1.25x. Current Price-to-Sales is 1.1x.
Next, another F.A.S.T. graph detailing historical sales is found below.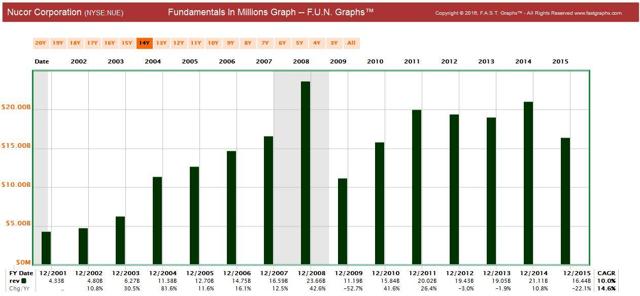 (courtesy of fastgraphs.net)
Note the dramatic post-2001 recession rise in revenues. If Nucor obtains just half this top-line growth from the succeeding 2009 low, revenue could be $22.2 billion. This is conservative: the Company recorded 2014 sales of $21 billion.
Using the current diluted share count, $22 billion in sales translates to ~$70 per share. A peak cycle 1.0x P/S multiple yields a $70 price target.
Nucor stock reached the mid-$70s during the last peak cycle.
Closing Comments
Recently, NUE has been flirting with multi-year highs.
Indeed, I do not recommend trying to purchase shares now and "game" earnings. Instead, consider reading, listening and thinking about the facts with the benefit of the second-quarter press release, financials, and conference call.
After a significant run-up, the shares are bound to take a breather, or pull back a bit. However, for investors who believe the steel industry is poised for its peak-cycle run, I contend there is none better than Nucor Corp.
The company is very well-managed, owns a strong franchise, has the best balance sheet in the industry (A- S&P credit rating), earns profits in cash, and is particularly shareholder-friendly. In my view, it's the hands-down best-of-breed.
Long investors know Nucor is one of a select group companies earning the title of a Dividend Aristocrat: having raised the dividend for at least 25 consecutive years. NUE shareholders have enjoyed a dividend bump since 1973.
Please do you own careful due diligence before making any investment decision. This article is not a recommendation to buy or sell any stock. Good luck with all your 2016 investments.
Disclosure: I am/we are long NUE.
I wrote this article myself, and it expresses my own opinions. I am not receiving compensation for it (other than from Seeking Alpha). I have no business relationship with any company whose stock is mentioned in this article.