Smith & Wesson Holding Co. (SWHC)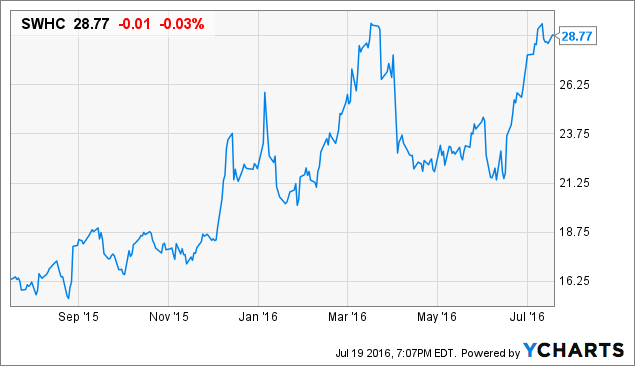 Recent Stock Price: $28.76
Shares Outstanding: 56 million
Market Cap: $1.61 billion
52-Week Range: $14.71-30.44
Smith & Wesson Holding Company made the news recently when it announced its accessories division, Battenfield Technologies, plans to acquire Taylor Brands, a designer and distributor of knives and specialty tools, for a total of $85 million in cash.
The deal comes following Smith & Wesson's 2014 acquisition of Battenfeld Technologies, a hunting and shooting accessories firm, for $130.5 million.
There weren't too many details made available with regard to Taylor Brands' business results, as it is a private company. However, Smith & Wesson did say the company's trailing 12-month revenue was approximately $39 million, and says the purchase price represents an estimated multiple of 11x the trailing 12 months' EBITDA for Taylor Brands. With Smith & Wesson paying 2.17x sales and 11x EBITDA for the company, Taylor Brands' EBITDA computes to $7.72 million over the past 12 months.
This deal is positive news for a few reasons. First, as mentioned, it looks like the company paid a pretty fair price for this business at 11x EBITDA. And the acquisition helps Smith & Wesson expand on its already rapidly growing accessories business - in the last year, for example, its accessories division contributed $65.29 million in revenue - a 216% jump from the $20.6 million reported in 2015.
In the past quarter, revenue in this division was $16.13 million, or 166% higher than the $6 million reported the previous year. The division made up less than 10% of total net sales last quarter, so there's plenty of room for growth here.
This is also a higher-margin business than the company's firearms division. According to its annual report, Smith & Wesson had 49.9% gross margin in its accessories division last year, compared to 39.7% in its firearms division. In the last quarter, gross margins rose to 52.1%, with 21.8% operating margins.
Now, whether or not Smith & Wesson stock is a buy here is debatable. The last time I covered the stock, I said it was cheap at $16.24 per share, as it was trading at a P/E of 15 (compared to a 20.62 P/E of the S&P 500 at the time), and a forward P/E of 13.53. The stock has risen more than 70% since the article, and the stock now trades at a P/E of 17.12 and a forward P/E of 15.22, according to analyst estimates at Yahoo Finance. So, the valuation is slightly higher than the last time I covered the stock, but nowhere near being overvalued, in my view.
However, Smith & Wesson is a stronger company now than it was then. The company ended last quarter with $191 million in cash and equivalents and $166 million in debt, and has made a few acquisitions to diversify its business outside of gun sales.
Of course, a rise in gun sales has certainly helped the stock over the past year or so; firearm sales were up 56.4% year over year this past quarter, and made up 92% of sales.
But this is a volatile business, and I think the company diversifying into more of an outdoor hunting/accessories business is a smart move. I expect the company to continue its rapid growth. I continue to hold onto my shares of Smith & Wesson, and will look to add more on any future dips.
Disclosure: I am/we are long SWHC.
I wrote this article myself, and it expresses my own opinions. I am not receiving compensation for it (other than from Seeking Alpha). I have no business relationship with any company whose stock is mentioned in this article.