| | | | |
| --- | --- | --- | --- |
| ($ millions) | Q2 2016 | Q2 2015 | Growth Rate |
| Net Interest Income | 441 | 375 | 18% |
| Non-Interest Income | 93 | 80 | 16% |
| Revenue | 534 | 455 | 17% |
| Provision for Loan Losses | 14 | 17 | -18% |
| Operating Expenses | 320 | 263 | 22% |
| Pre-Tax Income | 200 | 175 | 14% |
| Taxes | 36 | 44 | -18% |
| Net Income | 164 | 131 | 25% |
First Republic Bank (NYSE:FRC) reported results for the quarter ended June 30, 2016 (Q2 2016) that were consistent with recent trends. FRC continues to exhibit strong growth and profitability. Unfortunately, its valuation remains expensive at 20x earnings in the past year, according to Yahoo Finance. Below are some highlights from Q2 2016.
Revenue increased 17% to $534 million due to a combination of improved core net interest margin ("NIM"), asset growth and increase in fee income.
Provision for loan losses remains negligible.
Operating expenses continue to grow faster than revenue because FRC is investing in its products and shifting emphasis to segments that feature higher cost structures but lower capital requirements.
Tax rate of 18% was significantly lower than the tax rate in the second quarter of 2015 (Q2 2015) due to a change in accounting rules.
FRC's revenue growth in Q2 2016 demonstrates it is not losing steam after years of strong growth. The most recent quarter's revenue increase of 17% matched the growth rate for Q2 2015 and exceeded FRC's average annual growth rate of 13% since 2010. The improvement in revenue reflected a 4-basis-point increase in core NIM, asset growth of 22% and a 16% increase in non-interest income.
A favorable shift in the mix of FRC's earning assets was one of the key drivers in the improvement in core NIM which can be thought of as the equivalent of gross margin for a bank. The chart below shows that cash, the lowest yielding asset declined as a percentage of earning assets, and securities, the highest yielding asset, increased. Loans make up the overwhelming majority of earning assets. Their yield of 3.41% is moderately below FRC's average yield of 3.60%.
Composition of Average Assets and Yields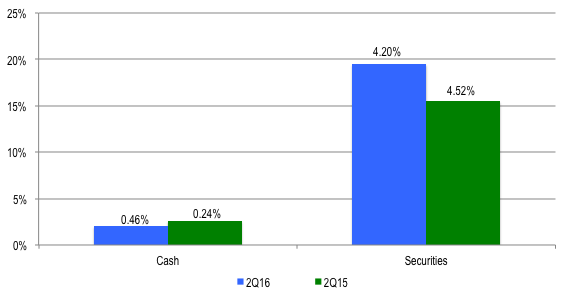 Source: First Republic Bank 8-k
Note: Percentages above bars represent average yield during the quarter.
A more favorable mix of funding sources fueled a 5 bp reduction in FRC's cost of funds in Q2 2016. This reduction had a positive impact on FRC's core NIM and revenue. According to FRC's earnings release for Q2 2016, checking deposits, which is FRC's cheapest source of funding, represented 53% of interest bearing liabilities in Q2 2016 compared with 49% in the same period in 2015. FRC's management has done a good job of aligning asset growth with deposit growth. This strategy is critical to maximizing NIM because deposits are a cheap, stable source of funding. The average annual growth rates for loans and deposits since 2006 are almost identical at 20.5%.
Lower asset yields detracted from FRC's core NIM in Q2 2016. The chart below demonstrates asset yields have been declining for several years. This trend should continue in the near-term because FRC still has loans originated before 2009 when interest rates were a lot higher. When borrowers repay these loans, FRC is forced to redeploy the funds at a lower rate.
Asset Yields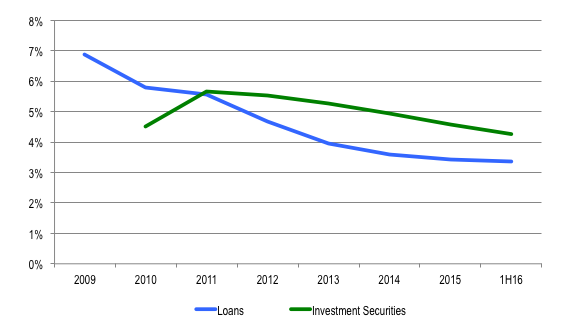 Source: FRC 10-k and 8-k filings
Note: FRC owned minimal investment securities before 2010.
The short to medium term negative outlook for asset yields belies a more optimistic long-term view. The Federal Reserve began the process of raising interest rates in December 2015. This 25 bp hike probably explains why FRC's yield on cash was 46 bps in Q2 2016 compared with 24 bps in Q2 2015. Furthermore, the trend in FRC's yield on loans suggests borrowers are accepting the prospect that rates will trend upward. Although the yield on FRC's loan portfolio has been declining since at least 2009, the rate of decline is much less severe. FRC's loan yield declined 6 bps in the first half of 2016 relative to the portfolio's yield for 2015. This implies a much smaller decrease for 2016 than prior years. It is reasonable to assume that FRC's asset yields will reverse their downward trend in the near future, and rising interest rates will drive further improvement in core NIM.
FRC reported solid growth in non-interest income. Non-interest income for Q2 2016 was 16% greater than in Q2 2015 primarily due to fees for investment management and brokerage. These are products that management has successfully targeted for growth. Investment management fee income increased $12 million or 27% due to a combination of organic growth and FRC's acquisition of Constellation in the second half of 2015, which had $8.6 billion of assets under management at the time of purchase. FRC had $38.3 billion of AUM at June 30, 2016. FRC had less than $8 billion of AUM at the end of 2011.
FRC's provision for loan losses remains negligible, reflecting its conservative culture, high quality client base and effective risk management. The loan loss provision for Q2 2016 was $14 million or annualized rate of 12 bps of average loans outstanding. FDIC aggregate data for U.S. banks indicates the provision for 2015 was 44 bps of loans outstanding in 2015. FRC's superior performance is a reflection of its emphasis on credit risk management. In an interview with American Banker, Jim Herbert, CEO of FRC, explained how if FRC incurs a loss on a loan it deducts a portion of the loss from the compensation of the employee responsible for the loan. This claw back provision demonstrates FRC's commitment to prudent lending practices.
Rising expenses have detracted from FRC's otherwise successful growth story, and Q2 2016 was no different. The bank's efficiency ratio rose 200 bps to 59.8%. FRC's efficiency ratio has been trending upward since 2011 when it was 48.7%. During this quarter's earnings call, management attributed the increase to a shift to businesses that generally have a higher ratio of expenses to revenue, such as investment management, and the bank's effort to invest more in its business. Since the Great Recession, FRC has been directing resources to fee based businesses because they have lower capital requirements which management believes more than offsets the higher efficiency ratio in terms of generating shareholder value.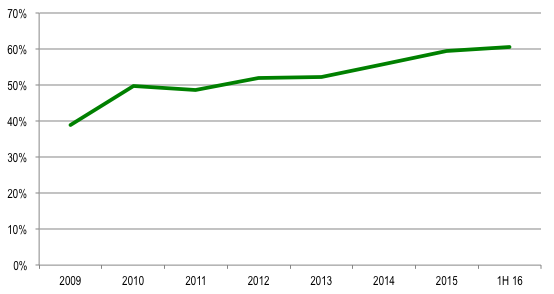 FRC's bottom line got a boost from a change in the accounting rule for the tax expense related to stock based compensation. The Financial Accounting Standard Board (FASB) issued a new rule that requires companies to record the tax benefit from employees' exercise of stock based compensation as a deduction to income tax expense instead of an increase to paid in capital. FRC elected to adopt this new accounting rule early. Consequently, its tax rate was 18% compared with 25% in Q2 2016.
Expensive Valuation
FRC reported solid results for Q2 2016 and demonstrated that its growth story is clearly intact. However, its traditional valuation metrics remain aggressive relative to banks' with lower growth rates. CNBC calculates FRC's price to 12 month trailing earnings as 23 compared with an industry average of less than 13. Some investors obviously the above average price-to-earnings ratio is justified by FRC's superior growth rates. According to CNBC.com, FRC's earnings per share increased 23% in the past year compared with just 6% for the banking industry. FRC would be a compelling stock to add to a growth portfolio if the market suffered a moderate correction.
Disclosure: I/we have no positions in any stocks mentioned, and no plans to initiate any positions within the next 72 hours.
I wrote this article myself, and it expresses my own opinions. I am not receiving compensation for it (other than from Seeking Alpha). I have no business relationship with any company whose stock is mentioned in this article.