Following the Brexit vote and the drop in interest rates, shares of Altria (NYSE:MO) have picked up and are currently trading close to $70. The risk-off mode in the markets raised the demand for dividend stocks, and Altria is certainly a prime candidate. But is this rally sustainable? Does it have something to do with the company's fundamentals? First, let's look at its upcoming earnings report.
Q2 earnings report
Altria will report its earnings next week. For now, the market consensus of the EPS is set at $0.80, which is 6 cents higher than in the same quarter last week. And the company's earnings could have risen not only due to higher prices, but also due to an increase in shipments. One of the positive signs that U.S. consumers are spending more is seen in the recent consumer spending report, in which personal consumption expenditures picked up by 0.4% back in May and by 1.1% in April - a faster pace than in the first few months of the year. Also, several other economic reports, including consumer sentiment and non-farm payroll report, were positive and indicate the U.S. economy is progressing. And although the elasticity of demand for cigarettes tends to be inelastic, there are still some consumers - mostly young consumers - who react to changes in the economy; therefore, Altria could still benefit, even if it's not by much, from higher consumer spending, which could reflect in its upcoming earnings report in terms of shipments.
Despite the strong earnings report and the solid track record Altria has when it comes to raising its dividend every year, the recent rally in the stock has less to do with the company's strength and more to do with its appeal. That, and the drop in interest rates.
If you value a stock by using a DCF valuation, then a drop in interest rates should raise the value of a company, and this was the case for Altria. And this conclusion is also reinforced by the recent rally of the S&P 500, which reached a new record high. But this is a partial explanation. The other side of this coin is that Altria, much like other dividend stocks, tend to rise when interest rates drop and market sentiment moves towards risk-off mode. Moreover, considering its business is in the U.S., and given the potential adverse impact the Brexit vote could have on businesses in Europe (and not only in the UK), the demand for companies that are less affected by the possible slowdown in Europe has risen. The chart below shows the relation between Altria stock and the U.S. 10-year Treasury yield for 2016.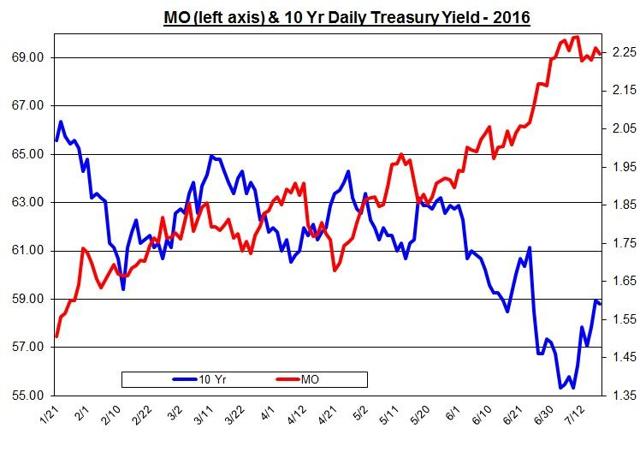 Source: Google Finance and FRED
Even though the U.S. 10-year Treasury yields bounced back in the past few days, it remains at a very low level. And the linear correlation of the percent changes of the two data series is robust at -0.5 over the past couple of months - a strong and significant negative relation.
Bottom line
I still think Altria is a strong company and is likely to do well in the coming months. But the recent recovery is mostly fueled by low interest rates and market sentiment. And in the past few days, the shift towards dividend stocks has subsided and the market sentiment is slowly changing back to risk-on. If the company were to report better-than-expected earnings and reaffirm its annual guidance (or better yet, raise its annual guidance), then this will be the missing part needed to sustain Altria's rally moving forward. Otherwise, this rally could change course if interest rates were to climb back up and the sentiment were to move towards risk-on.
For more, please read: "Is it Time to Buy Altria?"
Disclosure: I am/we are long MO.
I wrote this article myself, and it expresses my own opinions. I am not receiving compensation for it (other than from Seeking Alpha). I have no business relationship with any company whose stock is mentioned in this article.