Johnson & Johnson (NYSE:JNJ) is widely viewed as the gold standard among U.S. stocks, and there is good reason for that. The list of accolades for this company is long and impressive: J&J has achieved 32 consecutive years of adjusted earnings growth, has raised its dividend for 54 years in a row, and is one of only two U.S.-listed companies to hold the "AAA" credit rating. It has proved to be a model of consistency, posting solid results seemingly each and every quarter.
Today, J&J is out with quarterly earnings again, and the results once again beat expectations. The company delivered a "beat-and-raise", in which it surpassed analyst forecasts on revenue and earnings, and also raised its full-year guidance. This sent the stock up another 2% on July 19, and it has performed extremely well for a prolonged period.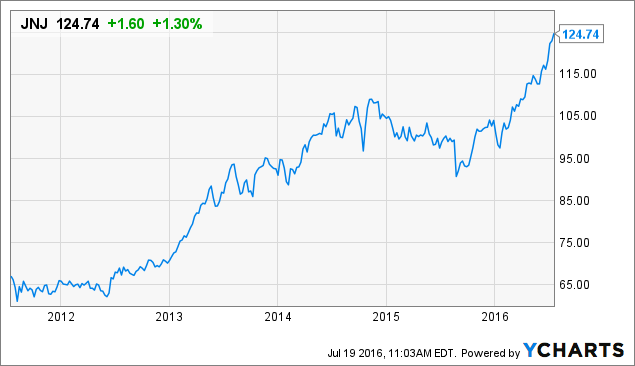 After such a strong rally over the past five years, it is reasonable to question whether the stock is still undervalued. On the surface, J&J looks fairly valued to possibly overvalued - most finance web sites quote the stock with a P/E of 23. That could indicate the stock is overvalued. But underneath the surface, there is still reason to believe J&J is still undervalued.
Balanced Business Pays Dividends
One of the big reasons why J&J is a blue-chip stalwart is because the company operates a highly diversified, balanced business across both geographic markets and industries. It has three core businesses - pharmaceuticals, medical devices, and consumer healthcare - that each provide growth and strong profits. In addition, the company has a significant international business. Approximately 48% of J&J's total revenue comes from international markets.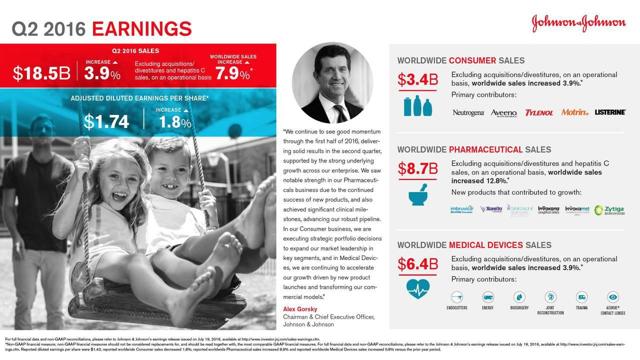 The company's balanced business fuels its excellent results. Last quarter, it earned $1.74 per share after adjusting for one-time items, on $18.48 billion of revenue. These results beat analyst expectations, which called for $1.69 of adjusted EPS and $17.89 billion of sales. Even better, J&J management also raised guidance for the full year. The company now expects adjusted EPS to reach $6.63-6.73 per share in 2016, up from previous guidance of $6.53-6.68 per share.
Surprisingly, the biggest contributor for J&J's strong results right now is domestic growth. Revenue rose 7.4% in the U.S. last quarter, which was more than double the 3.1% growth seen in the international markets. This is contrary to what many large multi-national companies are experiencing this year, which is higher growth in developing economies around the world. The reason for this is that J&J grew pharmaceutical sales by 13% in the U.S. last quarter, driven by strong results from new products like Imbruvica and Xarelto.
On a year-over-year basis, revenue grew 3.9% from the second quarter 2015. Net profit declined 11% to $4 billion for the quarter, which looks very weak. It would therefore be very odd to see a stock perform as well as J&J has, if earnings are declining at a double-digit rate. However, this is where it is important to dig underneath the surface when analyzing this stock.
Focus on Adjusted Earnings
J&J's earnings are affected by a number of factors that are not expected to last over the long term. The company took a significant amount of one-time expenses last quarter, including $493 million in litigation expense, which shaved $0.18 per share from EPS, and restructuring expense, which took out another $0.03 per share from earnings. Excluding these factors reveals a much different picture: J&J's earnings as adjusted for one-time items actually grew 2% year over year.
This is why investors are willing to continue bidding up the stock. J&J is not as expensive as it seems after stripping out the non-recurring items and focusing on core, operational earnings. While many finance web sites show a P/E nearing 23, which is a premium to the S&P 500 forward valuation, J&J actually trades for 18 times the midpoint of guidance for this year. That is a more modest valuation which makes the stock actually look undervalued, not overvalued.
Final Thoughts
According to the company, the stock has delivered an 8.7% total return in the past decade. Although J&J has made a huge rally in the past five years, I believe there is a good chance the stock can deliver returns at or above that level. It is important to focus on the adjusted EPS figure, because that is a better indication of future profitability. At 18 times, I do not believe the stock is at the point where multiple contraction is a significant risk.
As a result, as long as the company can continue to grow earnings per share by 6% or more each year, the stock should at least return 8.7% per year over the long term, after including current and future dividends. Plus, any multiple expansion from current levels would represent even higher returns.
Disclaimer: This article represents the opinion of the author, who is not a licensed financial advisor. This article is intended for informational and educational purposes only, and should not be construed as investment advice to any particular individual. Readers should perform their own due diligence before making any investment decisions.
Disclosure: I/we have no positions in any stocks mentioned, and no plans to initiate any positions within the next 72 hours.
I wrote this article myself, and it expresses my own opinions. I am not receiving compensation for it (other than from Seeking Alpha). I have no business relationship with any company whose stock is mentioned in this article.