Industrial REIT Prologis, Inc. (NYSE: PLD), a global logistics leader, was one of the US-based REITs that took it on the chin after the Brexit vote.
Prologis is the big dog in the industrial REIT sector. Including its JVs and new development, the company operates over 665 million SF of industrial space located in 20 countries.
However, Prologis is also leveraged to ecommerce growth. Shareholders have benefited as retail inventories and supply chains continue to evolve with consumer preferences shifting to online sales and omnichannel retail.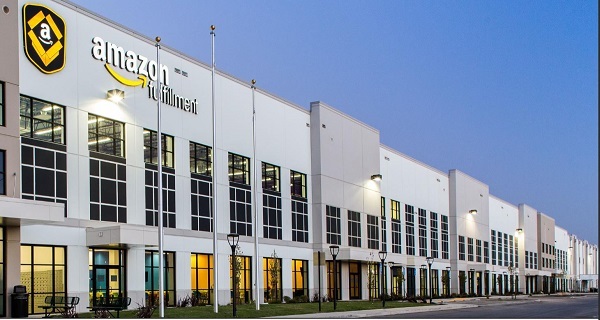 Source: Prologis
The company leases modern distribution facilities to a diverse base of approximately 5,200 customers across two major categories: business-to-business and retail/online fulfillment.
Prologis is a $27 billion cap industrial REIT blue-chip with a global portfolio of Class-A logistics and distribution warehouses. It is an S&P 500 company with a BBB+ rated balance sheet, paying a quarterly distribution with a 3.25% yield.
One of the reasons that I cover Prologis, and make it a point to cover quarterly earnings calls, is that CEO Hamid Moghadam has his fingers on the pulse of the global economy. If you are not familiar with the company, here are links to recent focus articles:
In case anyone is keeping score, PLD shares were trading at $39.47 and $45.78, respectively, when those two articles were written.
Another reason for investors to carefully track Prologis' results is despite having a huge, multinational operation - including multiple JVs and global developments - the company is able to compile all of its financial information remarkably quickly, and is the first industrial REIT to report earnings.
Investors who own other REITs in the sector can usually glean some important insights.
Tale Of The Tape - Brexit Drop and Recovery
During the past 52 weeks, Prologis shares have traded in a range of $34.60-51.66.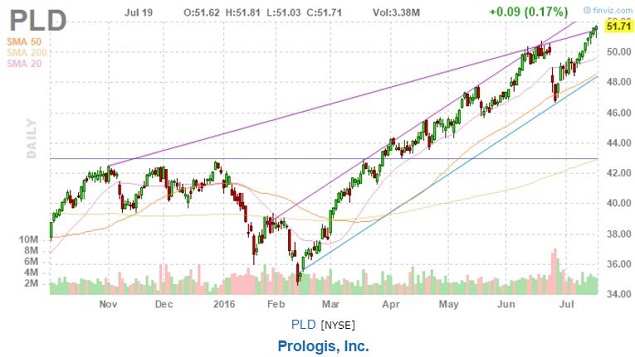 After reporting Q2 earnings on July 19, PLD closed at a new high of $51.71 per share. This represents a 7.4% recovery from the post-Brexit panic selling on June 24, when it gapped down and closed at $48.14 per share.
What About Brexit Concerns?
The Brexit vote drove down the shares of REITs with exposure to UK and European assets. In addition to fears regarding slow GDP growth and a possible UK recession, the unprecedented drop in value of the British pound and the euro versus the US dollar created an immediate AFFO forex headwind.
My article "Brexit Vote Creates Opportunities For REIT Investors To Exploit" was published prior to market open on Monday, June 27th. At the time, I wrote:
"While global headlines have focused on the plunge in the value of equities, and most foreign currencies vs. the US dollar, that is not the whole story."

"While the Brexit situation is unprecedented, it is a political crises, not a financial meltdown. It is a tempest in an English teapot compared with the global financial crises which led to the Great Recession."
Regarding Prologis specifically, I pointed out how the stronger dollar would make importing goods into the US from across the pond more attractive.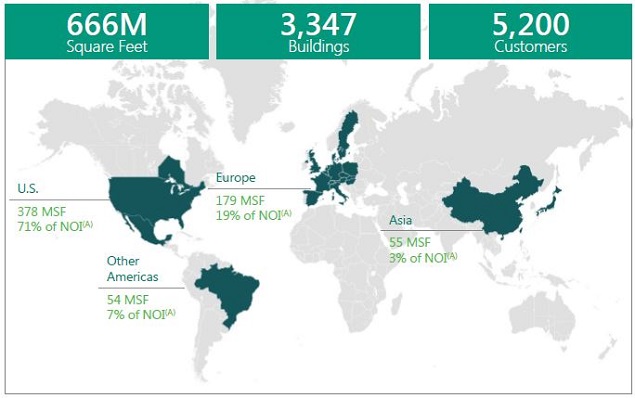 Source: Prologis - Q2 2016 Supplemental (for all unattributed slides)
The majority of Prologis' revenues are generated in the US, and an increase in imports from UK and EU countries could help offset forex headwinds.
In other words, I cautioned investors not to throw out this REIT blue-chip baby with the Brexit-tainted bath water.
Moghadam addressed the UK market at the beginning of his prepared remarks during the Q2 earnings call:
"We understand though that some of you are concerned about our exposure to Europe generally and to the UK specifically. So far, however, the impact of Brexit on our operations has been minimal. Our UK customers serve mostly domestic consumers and we believe the decision to leave the EU will not materially change the buying habits of 65 million people."

We're also confident in our overall European business. E-commerce and supply chain reconfiguration continue as big drivers of demand for our product. The Class A market is where the action is and where our portfolio is focused. Any modest decline in GDP growth would, in all likelihood, be offset by the need to carry slightly higher inventories."
The company has boots on the ground and skin in the game. Therefore, I feel strength reported in global markets is an important takeaway for all commercial real estate investors. However, an important caveat to keep in mind is that Prologis deals in Class-A properties.
In many of these markets, modern industrial facilities suitable for ecommerce fulfillment and distribution are relatively scarce. The reports of market health and leasing success may not translate directly to other asset classes.
Additionally, Prologis is actively developing new modern facilities and harvesting its extensive land bank around the globe. During the first half of the year, the company completed 16 build-to-suit projects totaling ~6.8 million SF.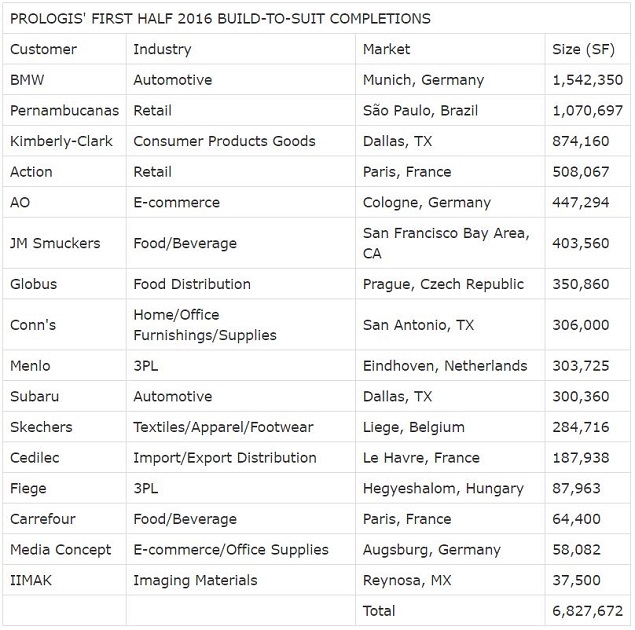 Source: Prologis - July 7, 2016 Seeking Alpha
Prologis has an additional 14 projects currently underway in excess of 5.4 million SF of build-to-suit facilities. Notably, 75% of these development projects are with existing customers, another advantage the company has over smaller competitors.
Prologis Q2 Earnings Highlights
On July 19, the company released its earnings print for the quarter ended June 30, 2016.
Prologis continues to execute on its business plan and crush year-over-year comparisons:
Core FFO per share increased 15% over the same period last year.
Q2 2016 occupancy increased to 96.1% from 95.4%, with Europe up 130 bps Y/Y.
Prologis saw increases of 17.8% on rent rollovers during Q2 2016, with US rents up 23.5% Y/Y.
The company raised ssNOI expectations for FY 2016 to 4.75-5.25%, from 4.0-4.5%.
Record leasing volume of 49 million SF included 9 million of development leasing.
The core FFO outlook for FY 2016 was updated to $2.52-2.58 per share, from $2.50-2.60 per share.
Prologis Q2 Earnings Call Takeaways
In a nutshell, after posting strong performance in 2015, the results for 2016 are even better, according to CEO Moghadam:
"We posted another great quarter with positive rent change at almost 18% while maintaining high occupancies. Our core FFO per share grew 15%. Our capital deployment and monetization activities were above expectations as we continued to strengthen our balance sheet.

In our Strategic Capital business, we have ample fresh commitments from investors and are well-positioned to take advantage of any market opportunities that may present themselves. All in all, the last six months have been the best in our company's history."
This echoes glowing reports from the previous earnings calls, where statements like "US market fundamentals are the best we've ever seen" were shared with analysts and investors.
North America: Rents are up sharply in the US. Moghadam expects another year of net absorption exceeding new supply. Exceptions would be weakness in Houston and Columbus due to excess new supply of spec industrial space.
Prologis is cautious regarding Dallas, but mentioned new supply is increasing in the south, while the company primarily owns properties further north, around the airport.
Brazil: This is the softest market in Latin America. Prologis facilities are 100% leased, but rents are down 10% from previous peaks.
Europe/UK: According to Prologis CEO - Europe & Asia, Gary Anderson,
"Occupancy in our European portfolio is 95.6%, up 130 basis points year-over-year and 70 basis points quarter-over-quarter. The UK led all regions at 98.8% occupied and today the 22.4 million square foot operating pool in the UK is 100% leased. Rent change on roll for the quarter totaled 5.1% in Europe with all regions delivering positive results and was led by the UK at 17.6%."

"Today, the UK portfolio is 100% leased, has a weighted average lease term of eight years, has only 11% of leases expiring over the next 18 months, and has in-place rents that are roughly 10% below market."
Poland was singled out on the call as being the only market in Europe with significant overbuilding by merchant developers, who are offering rental incentives "up to 40%."
Clearly, the proverbial glass remains quite full in Europe if Poland is the only weak link.
China: Notably, both occupancy and rents continue to rise, which might surprise some investors. Prologis remains active in just four key markets, which might explain the strong results. Additionally, land costs continue to rise as new projects are developed, which continues to pressure rents upward.
Japan: New Class-A supply is being absorbed, and cap rate compression continues. Again, a shortage in modern facilities appears to trump a slow economy.
FX Update: According to CFO Tom Olinger,
"Related to FX, our 2016 and 2017 estimated core earnings are fully hedged relative to the U.S. dollar and we've already hedged about half of 2018."

"To be clear, asset values in Europe have not declined. In fact, the appraised value of our assets in our European ventures increased 70 basis points in the second quarter lead by the UK at a 100 basis points."
This flies in the face of recent headlines that have focused upon investor fund withdrawals in the UK and Europe causing portfolio values to decline.
Bottom Line - Industrial Strength
Industrial REITs have outperformed the broader REIT sector, as shown by the MSCI REIT Index (RMZ) below. However, there still appears to be a bit relative weakness based on exposure to global trade.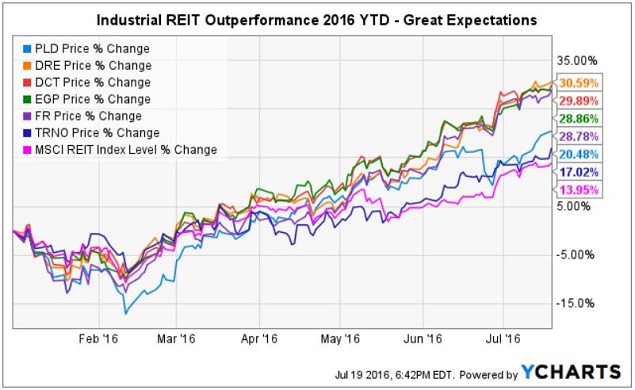 Along with Prologis, Terreno Realty (NYSE: TRNO), which strictly has exposure to only six markets, all major US ports of entry, trails the pack.
Investor Takeaway
Recent global events, and a US presidential election where both candidates threaten to cancel or renegotiate trade agreements serve to underscore the importance of strong Prologis results and its steady outlook for 2H2016.
Industrial REITs with US port exposure may actually benefit from a surge in imports, due to the strong US dollar making foreign goods appear attractive. However, a trade war could have the opposite effect, if campaign rhetoric turns into legislation.
Bearish sell-side analysts at BofA/Merrill Lynch, SunTrust and UBS all reduced Prologis from Buy to Hold after the Brexit vote, following earlier downgrades from Deutsche Bank and Capital One.
PLD shares have outperformed recent analyst expectations and are now trading at a core FFO multiple of 20.3x, with a quarterly distribution yielding 3.25%. The US 10-Year Note is hovering around 1.55% as of this writing, so investors are still getting a decent, but not great, spread on a BBB+ rated balance sheet.
CFO Olinger believes that the ratings agencies are likely to boost Prologis to an A rating in the near term. The company has close to $1 billion in cash and over $4 billion in liquidity, and remains ahead of plan on asset dispositions for 2016. CEO Moghadam stated he has absolutely no plans to raise additional equity.
Kudos if you had the fortitude to hold onto to PLD shares when the Brexit news appeared to be all doom and gloom. Prologis appears to be fairly valued here, and investors looking to initiate a position may need help from a more hawkish Fed to create a REIT sector pullback.
Since Prologis is a large-cap REIT blue chip, it will be included in the GICS top level Real Estate sector after market close on August 31, 2016, which also might spur some buying activity.
I relentlessly hunt for diamonds in the rough and rising stars, in addition to closely following data centers, covering REIT blue chips and breaking news. Please consider following me as a Seeking Alpha author if you would like to be notified when my future articles are published.
Disclosure: I/we have no positions in any stocks mentioned, but may initiate a long position in PLD, TRNO over the next 72 hours.
I wrote this article myself, and it expresses my own opinions. I am not receiving compensation for it (other than from Seeking Alpha). I have no business relationship with any company whose stock is mentioned in this article.