Republic Services (NYSE:RSG) is one of the best-in-class service providers with a strong footing in a stable cash flow waste industry. RSG maintains number 2 market share in the industry and is a consistent cash generator, delivering nearly ~$5bn in the last 5 years. The company has paid over ~$2bn in dividends and spent $1.8bn on buybacks consistently.
Second largest player in a highly fragmented market
RSG is the second largest solid waste company in North America. Republic moved to second place in a fairly fragmented industry by acquiring Allied Waste Industries in 2008. In February 2015, RSG acquired Tervita for $485m to expand its presence in oilfield waste services. Through these and a series of smaller, tuck-in acquisitions, RSG has established a national footprint of vertically integrated solid waste collection, transportation and recycling operations. With a disciplined approach to pricing power and cost management, the company maintains top two market share in 90-95% of its market.
Steady price and volume growth with consistent margin
I believe RSG will grow profitably (in a highly fragmented and mature market) as it follows a disciplined strategy towards pricing, increasing volumes while cutting cost. This will improve its competitive position in the large fragmented market.
RSG has delivered over 2-3% internal core price increases consistently while maintaining positive volume growth over the last ten quarters. In 2013, volume growth turned positive following great recessions and rebounded to 2% in 2014. Going forward, pricing may get support from a shift away from the core CPI base to alternative measures. In recent years the stable top-line has resulted in relative margin stability. Over the last decade, balanced cost efficiencies with investments have helped RSG maintain its operating margin at an average ~18%. RSG knows its markets that it is in and seeks to improve its services through fleet upgrades, customer experiences and labor efficiency, etc.
Long-term contracts offer an annuity type business model
RSG retains 90-95% of its customers through long-term contracts with average contract duration of 7-10 years (contracts range from 3-20 years). Through this approach, the company generates ~80% of revenue through an annuity type profile, securing price increases through a combination of open market negotiations and contract-driven escalators. This type of agreement helps RSG have stable revenue stream, providing the company defensive characteristics.
Significant leverage to housing recovery
Looking across the waste sector, RSG has the most leverage to a sustained US housing recovery, as indicated by a high correlation to single-family housing starts. Republic business had majority of its revenue tied to the Sun Belt States prior to the Allied deal (2008). The Sun Belt states have better population and GDP metrics compared to Northeast and Midwest.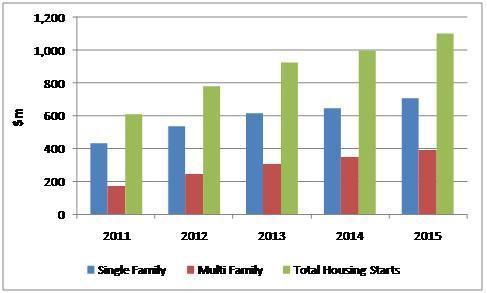 Source: Industry data
Since 2014, RSG has performed better than Waste Management (NYSE:WM) in terms of stock performance, which I think is due to RSG's higher leverage to US Housing recovery. Higher interest rates and home prices have slowed the pace of a US housing recovery which gained momentum beginning 2012. However, better commercial volumes could benefit RSG going forward.
Disciplined and consistent capital allocation
RSG has the most disciplined and consistent track record in capital allocation. Excluding Tervita US acquisition (2014) which unfortunately top-ticked the oil services boom, most free cash flow is returned to shareowners through dividends and buybacks. I think investors need not worry about the company's strategies going forward as it doesn't need to shift policy in targeting aggressive dividend growth at the expense of buybacks.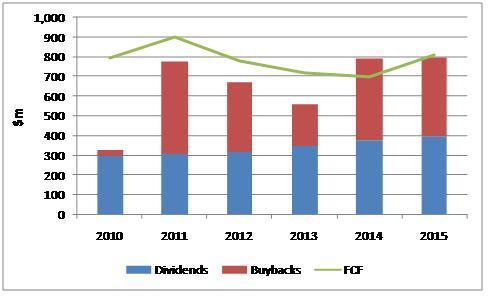 Source: Company financials
Valuation:
My price target of $61 is based on FY16 EBITDA estimate of $2.6bn and net debt of $7.7bn at a target multiple of 11x. RSG has traded at an average NTM P/E multiple of 17.7x since 2012. The company has traded as low as 14.3x and as high as 20.3x over the last 4 years.
Current Trading Price $

Mcap

P/E

EV/EBITDA

Company

Ticker

in $m

FY16E

FY17E

FY16E

FY17E

Waste Management

WM US

67

29,868

23.9x

22.0x

10.7x

10.0x

Waste Connections

WCN US

73

12,810

30.2x

23.7x

14.9x

11.0x

Clean Harbors

CLH US

53

3,065

na

38.5x

9.3x

7.8x

Republic Services

RSG US

52

17,927

24.2x

22.1x

9.5x

9.0x

Average

27.1x

28.1x

11.6x

9.6x

Discount on peer average

-11%

-21%

-18%

-6%
Source: Fundamental investment estimates
Disclosure: I/we have no positions in any stocks mentioned, and no plans to initiate any positions within the next 72 hours.
I wrote this article myself, and it expresses my own opinions. I am not receiving compensation for it (other than from Seeking Alpha). I have no business relationship with any company whose stock is mentioned in this article.