Investors are interested again in Twitter (NASDAQ: TWTR). Share price is up over 30% in the last six weeks. The company is making noise with a series of streaming video deals.
Is a turnaround really imminent? A look at Twitter's current streaming offering confirms that major improvement is possible, but there's no evidence of it yet.
A History of Disappointments
Just over a year ago, Twitter's share price was over $50. In 2014, total monthly active users grew 20%, and revenue grew 110%.
But in 2015, yearly growth in active users fell to 6%. In Q1 2016 growth was 3%, and there actually was no change at all in US user count. Revenue actually fell in Q1. One CEO left, and the original CEO returned.
The stock consequently has fallen from 50 to a recent low of 14. Despite this, management in 2015 paid out $680 million in employee stock-based compensation on a net loss of $520 million.
Change in 2016
But now there are signs of life. TWTR has made a lot of intriguing streaming deals recently. Here's an excellent summary of them written by Daniel Katz on SeekingAlpha. Deals include:
TWTR will stream the Republican and Democrat conventions.
It will live-stream three Bloomberg TV shows.
It will stream 10 Thursday night NFL games this fall.
It will stream Pac-12 football games, plus will provide live streaming capabilities for content developed by Pac-12 universities.
Another recent positive development is the addition of Bret Taylor to the board of directors. Taylor was the CTO of Facebook, and before that helped to create Google Maps. He was an excellent addition, and should help to reduce concerns about weakness in Twitter's upper management. Taylor brings a level of technical expertise and tech industry achievement that most other Twitter board members lack. (For instance, some of the other board members come from Pepsi, BET, the MacArthur Foundation, and the British House of Lords.)
Investor optimism about the streaming deals is a major reason why TWTR stock has risen more than 30% from its lows (source BigCharts):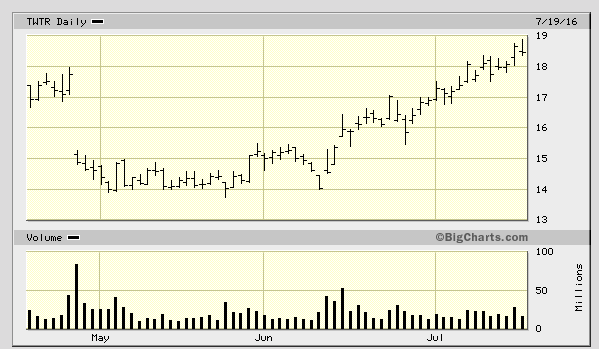 Is hope justified?
Twitter'streaming investments are too recent to have favorably impacted Q2 results, which will be announced on July 26- less than a week away. For Q2 we'll see continuation of monetization improvements along with cost controls (though probably not with regard to employee stock options), but sluggish growth. We could see a beat on earnings, but no indication of a fundamental change in the outlook.
However, things could get a lot more interesting in Q3 and Q4. If Twitter manages introduction of its streaming deals well, the whole narrative for this company could be transformed. There's no reason for TWTR not to hit all-time highs within the year.
But there are big risks. At the moment, Twitter seems to be trying hard to minimize stream viewer count. My personal experience is that Twitter's promotion of streaming, and the user interface for streaming, are abysmal.
Yesterday and today, I visited the Twitter website to understand how they stream important events. I cleared my browser and visited the Twitter home page because I wanted to see what sort of streaming promotion Twitter presents to an unknown user. Here's what I saw this morning on the home page: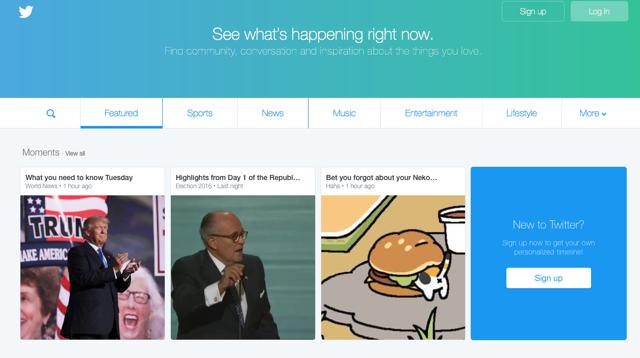 There was nothing about streaming, though two of the three "moments" windows highlighted the Republican convention. When I clicked on the two news-related links, Twitter showed a nice set of images and tweets, and some video highlights, but again there was not even a mention of live streaming.
In fact, the only way I was able to find the live stream of the Republican convention was to Google "Twitter Republican convention live stream". There was nothing whatsoever on the Twitter home page about the live stream.
Here's the link to the live stream:
https://twitter.com/i/live/753267649300144129
The link is not something intuitive, like twitter.com/live/republican or some such. It's as though Twitter wanted to bury their coverage. (Given the political predilections of Twitter management, this is a real possibility. It will be interesting to see if Democrats get the same back-page treatment.)
It's too bad that the stream was hidden, because the actual streaming experience was fascinating. The streaming page shows a video feed on one half, while the other side of the page shows tweets. The tweets added a lot to the experience. Given a choice, I would prefer to watch a Twitter stream more than to watch the network broadcast by itself. I think that streaming has the potential to be a huge winner for Twitter.
Here is a screenshot of the feed:
I should note, however, that the streaming experience wasn't optimal. There were problems:
Tweets didn't flow down the screen. Instead, you need to refresh the feed to see new tweets.
Users can't apply any filters to tweets. For instance, viewers might want to see tweets only from people they already follow. One could imagine Twitter developing a range of filtering capabilities in the future.
The tweets are "curated" by Twitter. This is very different from providing a raw feed, or providing a feed based on transparent algorithms such as retweet count or the popularity of a tweeter. The problem with curating is that users will conclude that the views they are seeing are Twitter's. If a user is offended by a tweet, he or she is likely to be upset both with the tweeter and with Twitter. No one should want that outcome.
Conclusions
Overall, my impression was that Twitter streaming is very much in beta mode currently. (It's actually more like alpha mode. Or maybe even mockup mode.) But it's easy to envision really big upside to the streaming experience once Twitter decides to improve and promote the product.
Will Twitter make the necessary changes? Well, most of the changes that could turn streaming into a winner are simple. To start, it's five minutes work to put up links for live streaming onto the Twitter home page.
I'm betting that the company is trying to tie up as much content as possible, and to optimize the user interface, before it pushes streaming hard. Twitter needs streaming to succeed if it is to end user stagnation. It will make any necessary changes.
It's important to note that TWTR doesn't have the luxury to take its time with improvements. Facebook (NASDAQ: FB) and Alphabet, through Youtube (NASDAQ: GOOGL) are aggressively improving their streaming offerings, as well.
I predict that we will see some positive effects from streaming in Q3, and then a big Q4. Analyst forecasts don't currently reflect this upside. We should see upward revisions in estimates for Q4, and a long runway for growth in 2017 and beyond.
Disclosure: I/we have no positions in any stocks mentioned, and no plans to initiate any positions within the next 72 hours.
I wrote this article myself, and it expresses my own opinions. I am not receiving compensation for it (other than from Seeking Alpha). I have no business relationship with any company whose stock is mentioned in this article.