Introduction
Anyone who has read many of my articles, especially those published last year, will have noted my particularly bullish stance on nickel. Indeed, on a few occasions I wrote that things were looking up in the nickel space, only for the price to fall over the course of 2015 from about $14,300/t to $8,500/t - a fall of some 40% and significantly underperforming the Bloomberg Commodity Index's fall of 26% over the same period as reflected in the ipath ETF's of each. For those of us waiting for the upswing, it has been a torrid time.

Source : Googlefinance
Fast forward 6 months though, and I believe delivery is finally at hand for the patient nickel bulls. Over the course of this year, a number of factors have began to emerge that have lifted the nickel price from $8,500/t to where it is today at $10,300/t - an increase of some 21% and ahead of the Bloomberg Commodity Index's increase of 11%.

Indeed, as impressive a turnaround as this is, its nickel's relative performance over the past 6 weeks that grabs attention; the nickel index up some 27% against a roughly flat return on the Bloomberg Commodity Index.
The biggest driver of renewed optimism in the nickel space is emerging uncertainty surrounding the fate of many nickel mines in the Philippines. Presently, the Philippines supplies some 450ktpa of contained nickel in ore; some 23% of the world's total supply. The future of this supply, however, was thrown into uncertainty about a month ago over the actions of the newly elected government in calling for an overview of all mining operations across the country.
So What Went Wrong in 2015 ... ?
The answer to this question is the Philippines and collapsing stainless steel demand.
Early in 2014, following the Indonesian government's decision to ban all nickel ore export, speculators poured into nickel; driving the price up 50% over the following 6 months. The theory was simple. Given nearly all Chinese Nickel Pig Iron production was driven from imports of Indonesian nickel laterite ore, it was widely expected that without this ore, the NPI producers would face much higher production costs in using sub optimal substitutes - either lower grade ore from the Philippines or, even worse, blending the input ore with pure nickel metal. This, the reasoning went, would increase the cost of NPI and, consequently, the cost of using it to produce stainless steel. As a result, the cost of NPI's alternative in producing stainless steel, i.e. nickel metal would also increase. Believing this, speculators piled in.
What wasn't reckoned on, however, was Chinese success in blending lower grade Filipino ore with the massive amounts of higher grade Indonesian ore that the NPI producers had been stockpiling over the course of 2013. Indeed, by time the ban was introduced in January 2014, Chinese NPI producers had stockpiled sufficient Indonesian high grade ore to blend which, combined with Philippine lower grade ore they were importing, supplied production of NPI well into 2015.
The upshot of this was that Chinese NPI producers were able to continue to competitively supply their product to stainless steel producers for a lot longer than many originally believed would be possible. This meant that NPI continued to be a viable alternative to nickel metal in producing stainless steel for a lot longer than expected and lead to a historic build up of nickel metal on the LME and the continued fall in prices - as can be seen from the below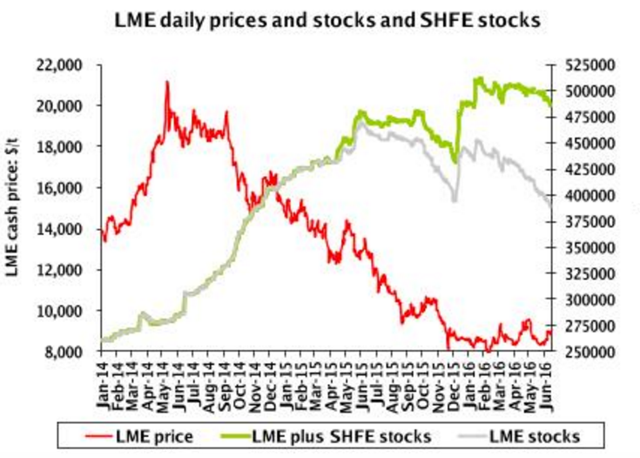 Source : LME, SHFE, Macquarie
The other factor that conspired against nickel was a decline in stainless steel demand. Going into 2014, world demand for stainless steel was high and proved resilient well into 2014. As the largest end use of nickel metal, this was a bullish signal to investors and speculators and helped fuel the steep nickel price increase in 1H14.
From 3Q14, however, stainless steel demand, especially in Europe collapsed and with it, stainless steel production. As a result, nickel prices tumbled from that point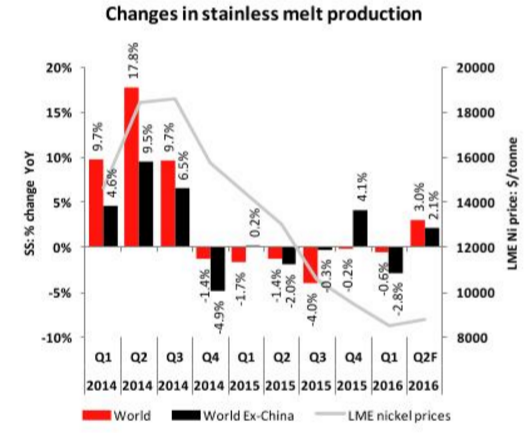 Source : Macquarie
Faced with the twin threats of a fall in demand for its end use (stainless steel) and the continuing viability of its biggest substitute (NPI), the price of nickel metal has suffered for the last 2 years.
... and Why Am I So Bullish Now?
Since late last year, a number of factors have weighed in nickel's favor. In response, the nickel price is up over 20% this year and LME stocks - whilst still too high - have fallen considerably. I'll explain these below.
i) Higher Demand for 300 Type Stainless Steel
Stainless Steel comes in a variety of grades and quality. 300 series is amongst the highest grade stainless steel and is a lot more nickel intensive than 200 or 400 series. Typical 300 series stainless steel has a minimum nickel grade of 8%, with 200 series having 1.0% - 1.5% and 400 series containing no nickel at all.
Over the past year, demand for 300 series stainless steel has increased sharply at the expense of lower quality, less nickel intensive grades, as shown below. This trend started last year and has actually accelerated this half year. This is good news for nickel as it represents a much larger source of demand for the metal than previously.

Source : Norilsk Nickel, CUSteel, CSSA
ii) MUCH Lower Nickel ore Production from Philippines This Year.
Mining in the Philippines mining is one of the most seasonal mining geographies in the world. The annual wet season (October to March) makes mining during this time all but impossible. Miners know this and stockpile considerable material each year to last them over the inactive wet season. This season, however, production is down 30% on account of the recent El Nina weather system in the Pacific. This means miners are going into this wet season with critically low ore stockpiles of less than 100kt.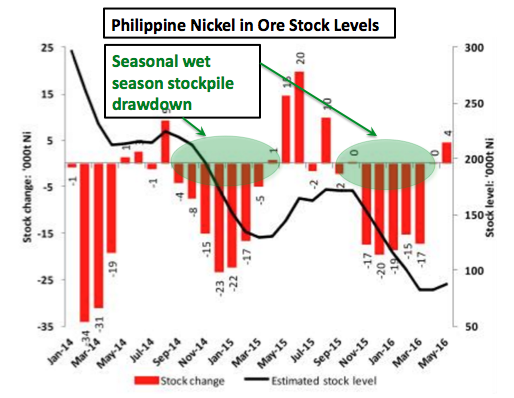 Source : Macquarie, Author
The other interesting dynamic here related to both points i) and ii) above is the recent move by Chinese NPI to use actual nickel metal in augmenting the Philippine ore they are using. Without higher grade Indonesian ore (the stockpiles of which are now exhausted) NPI producers are limited in the nickel content they can realize in their product. Producing NPI using mid grade Philippine ore (1.0% - 1.5% nickel content) typically maxes out at 8% nickel content. However, the stainless steel market is currently calling for much higher grades of nickel of 10% - 12% which is forcing some Chinese NPI producers to buy nickel metal in order to lift the nickel content of their NPI product. This is creating another source of demand for nickel metal that wasn't there last year. It also might in part explain the shift in nickel stocks from LME to Shanghai warehouses in recent months.
iii ) Newly Emerging Political Risk in Philippines Clouding Nickel Ore Supply
Whilst the previous factors have certainly been positive for nickel sentiment, investors have seen both coming for a while. Not so this third factor.
In June, the Philippines elected a new president and with it, a head for the Department of Environment and Natural Resources. The new head, Regina Lopez, has the reputation of a staunch environmentalist. One of her first acts early July was to announce a sweeping review of the mining industry, putting every mining licence under review as part of an industry wide environmental audit. In the first week, 4 mines were suspended.
The fear here is two fold. Firstly that many mines will be shut down. Secondly, that this heralds the start of a much stricter environmental approach and that permitting of new mines will be that much harder. As the supplier of almost a quarter of the world's nickel concentrate, this issue in the Philippines is big and is largely responsible for the rally in nickel prices this last month.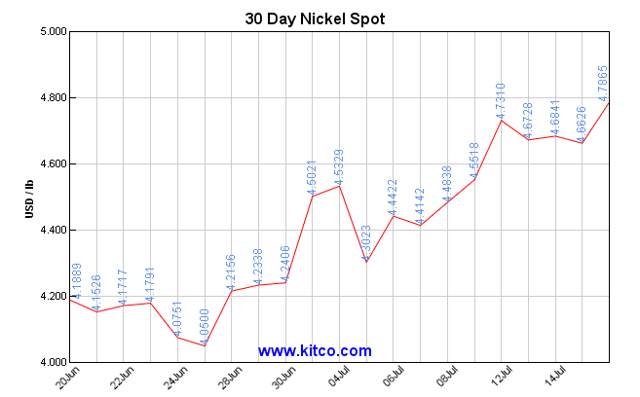 Source : Kitco
What Could Go Wrong?
Whilst events over the last 6 months or so have certainly been positive for nickel, its important to acknowledge the elephant in the room here - the current large stockpiles of finished metal. Whilst the industry has finally moved into a deficit in terms of production, it will be some time before the industry works through the existing inventory. Indeed, at the end of 2015, global stocks stood at about 25 weeks of global consumption. However, as at 30 June, that figure has now fallen to around 21 weeks.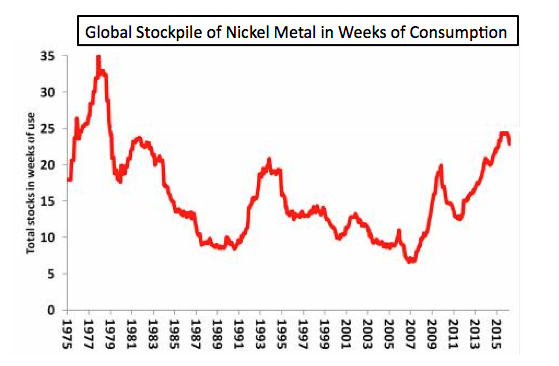 Source : Kitco
Another potential 'fly in the ointment' here for nickel is the stickiness of loss making supply. Norilsk Nickel believes some 70% of current nickel production is cash loss making as at Q116. Whilst the rally in nickel over the last few months will have eased this somewhat, it's a startling figure - all the more so because up until now, there has been limited supply cuts. The reason for this is mainly the fact that most lost making supply sits within larger diversified miners - many of which expect prices to recover and have the cash flow from other commodities to subsidise their loss making nickel businesses for now.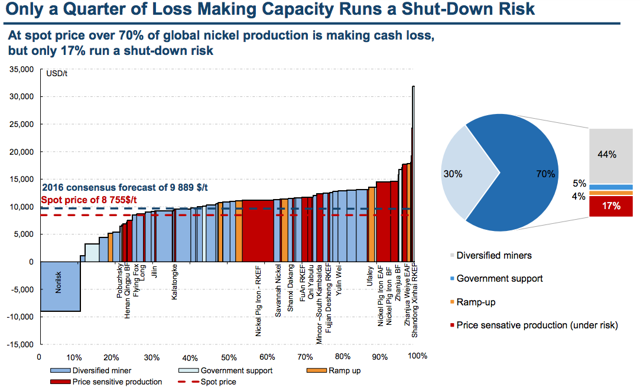 Source : Norilsk Nickel
How to Get Exposure
My preferred nickel play remains Western Areas (OTCPK:WNARF)- the Australian nickel sulfide producer. Although the company has an OTC listing in the US, the liquidity is many times higher on the Australian Stock Exchange (ticker:WSA). I have written on the company many times over the past 2 years.
WSA is attractive because its high grades make it one of the world's lowest cost miners - capable of producing nickel at a cash cost of US$1.63/lb, compared to the current price of US$4.75/lb.
Given recent renewed optimism in the nickel space, I will be revisiting my earlier analysis on the company in the coming weeks.
Disclosure: I am/we are long WNARF.
I wrote this article myself, and it expresses my own opinions. I am not receiving compensation for it (other than from Seeking Alpha). I have no business relationship with any company whose stock is mentioned in this article.
Editor's Note: This article discusses one or more securities that do not trade on a major U.S. exchange. Please be aware of the risks associated with these stocks.