There can be no doubt that the Countrywide Financial acquisition was the worst in history. It took Bank of America (NYSE:BAC) from being one of the strong big banks, to being arguably the weakest, as the fire of the Financial Crisis raged on. Nearly as baffling was the $50 billion price tag for Merrill Lynch when there was no bidding war whatsoever but this is mostly in the past thankfully, and Bank of America is emerging as a very high quality institution with bright prospects. BAC has one of the great low-cost deposit bases with a vast consumer footprint, a very competitive commercial bank, and one of the premier wealth management organizations in the industry. In the stock market presently, there is an obsession with low interest rates as though they are the only factor in bank earnings and that these all-time lows are permanent, but this flawed logic only serves the long-term value investor by allowing the opportunity to buy or increase ownership in BAC at levels that set the stage of 50% appreciation or greater.
The biggest difference between Bank of America and JPMorgan (NYSE:JPM) is that JPM has been working from a position of strength over the last 8 years, while BAC has frankly been playing defense. This has enabled JPM to pick up market share and enhance its franchises relative to just about all of its competition. Fortunately for BAC, the dirty work of hoarding capital, shedding legacy businesses and dramatically resizing the company are mostly in the past. Now Brian Moynihan and company can put more emphasis in attracting top talent for great franchises such as Merrill Lynch and U.S. Trust, while also beginning to be a net-grower of loans in key markets such as credit cards and mortgages. While core loans have been growing for a while, this growth has been somewhat obscured by the reduction in legacy businesses and dispositions.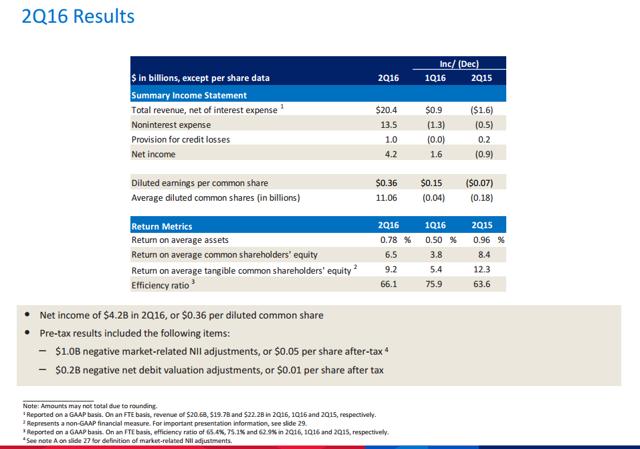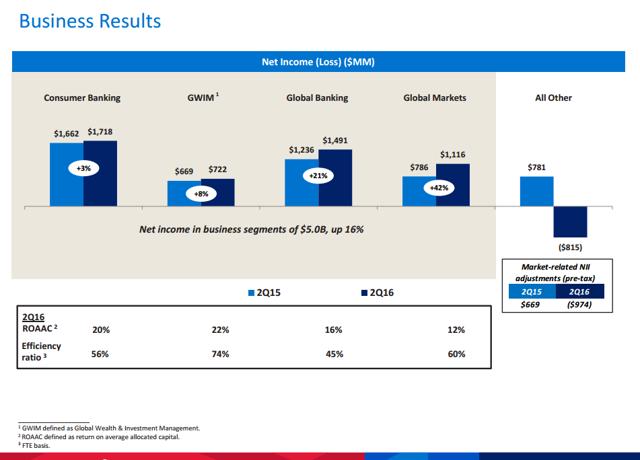 Source: BAC 2nd quarter 2016 Investor Presentation
On July 18th, BAC reported relatively strong earnings that beat expectations. Total revenue of $20.4 billion was down $1.6 billion YoY, largely due to pressure in net interest income, but was up $0.9 billion from the 1st quarter. Noninterest expense of $13.5 billion was down $0.5 billion YoY and $1.3 billion sequentially. Bank of America has much further to go with expense reductions than its peers due to it having the most legacy assets, which it has been liquidating since the Financial Crisis. While this has dragged on results for years, it should provide the clearest path to earnings growth and margin expansion without needing higher rates necessarily. Management believes that with the initiatives in place, another $3.3 billion approximately could be cut for the year 2018. To give you an idea of the scale of problems that BAC was dealing with, the legacy asset servicing business had 1.4MM delinquent mortgages coming out of the recession and now only has 80,000. 78,000 employees working on these issues is now down to only 10,000, while $3 billion in quarterly costs at its peak is now down to $600MM this quarter.
Credit quality remains pristine with the provision for credit losses of $1 billion in the quarter, flat sequentially and up $0.2 billion YoY. We are past the point of big reserve releases, but both consumers and BAC's corporate clients are in excellent shape from a credit perspective. Loans grew by $22 billion YoY or by 2.5%, despite the bank having sold several portfolios. Deposits grew by more than $66 billion or 6% over the same period. Net income for the 2nd quarter was $4.2 billion, up $1.6 billion sequentially, but down $0.9 billion from BAC's stellar 2nd quarter of 2015. Diluted earnings per share of $0.36 were down $0.07 YoY, but up $0.15 from the 1st quarter of 2016. BAC's return on average assets was 0.78%, which was down from 0.96% at the same time last year, but was up from 0.5% in the 1st quarter of this year. BAC will need to increase revenues through loan growth and eventually improved net interest margins, while maintaining an accelerated pace of expense-saving initiatives to get that return on assets above 1% once again. The efficiency ratio of 66.1% is the area that should most visibly illustrate the future opportunity to improve margins for BAC. This number needs to get to the low 60% range and ultimately to the mid to high-50s for BAC to get close to its peers in terms of operating efficiency. The return on tangible common equity adjusted for the market related and DVA impact was 10.9%.
While net income was down YoY, it is important to understand that all of this was due to the market-related net interest income adjustments that occurred due to the sharp drop in interest rates. This move had a pretax $974MM negative impact on the company in its All Other category. Consumer Banking and Global Wealth and Investment Management (GWIM) had net income up 3% and 8%, respectively. Global Banking and Global Markets were even better with net income up 21% and 42%, respectively. BAC really has great businesses that have been obscured through the deadly combination of legacy assets, litigation, and now the record-low interest environment. The first two headwinds are mostly in the past, while the last one has likely bottomed in my opinion. As momentum turns, BAC can potentially grow earnings faster than any other of the big banks. Management outlined that a 100 bps move higher for interest rates would result in an astounding $7.4 billion in net interest income. No doubt that isn't going to happen tomorrow, but it will happen eventually and that is an incredible long-term value driver that is 100% discounted given the current valuation. While the media and financial pundits love proclaiming that earnings cannot grow unless rates go up, management was clear that lower interest rates should propel further loan growth that in combination with expense cuts, can certainly lead to higher income and earnings per share.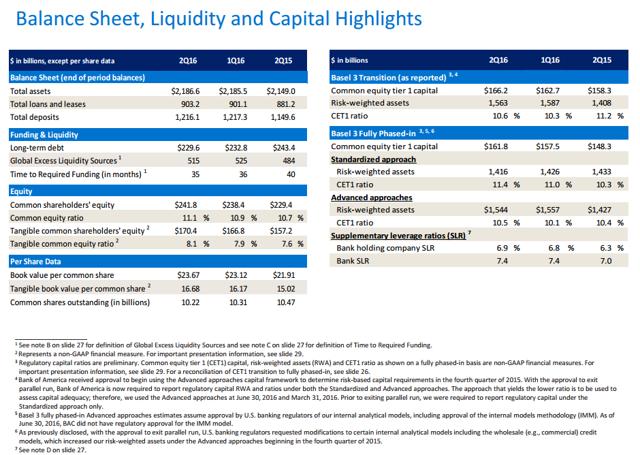 Bank of America has made such incredible strides with its balance sheet that I don't believe most market participants fully understand just what a fundamental change to the risk profile has actually taken place. To put it in perspective, at the end of 2007, BAC had a Tier 1 capital ratio of 6.87%. Remember that the calculation for Tier 1 capital was a lot less stringent than the current metrics are, and regulators didn't rigorously stress test the banks like they do now. In addition, Dodd-Frank has dramatically changed what business lines the banks partake, further reducing risk. BAC's CET1 ratio under Basel III fully phased in is now 10.5% under the advanced approach. BAC's Bank SLR is now 7.4% and 6.9% at the holding company. The tangible common equity ratio is 8.1% and the common equity ratio is 11.1%. These numbers are so much higher than pre-crisis levels that the results of the same recession would have been dramatically different! Also underwriting is far stricter than prior to the Great Recession. BAC is focusing on prime and super-prime as opposed to delving into the subprime sewer.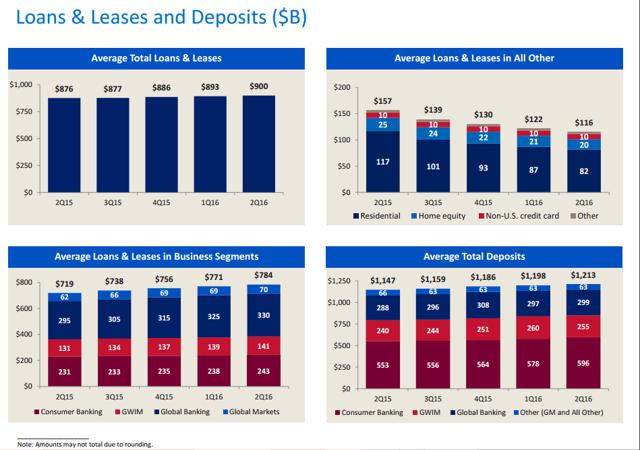 Bank of America ended the 2nd quarter of 2016 with tangible book value per common share of $16.68. This was up from $15.02 at the same time last year and $16.17 from the 1st quarter. Tangible book value per share is still the best metric for valuing the potential earnings power of a bank and value has been increasing, despite the stock price dropping. Therein lies the opportunity! Book value per share now stands at $23.67, up from the $21.91 and $23.12 from the 2nd quarter of 2015 and 1st quarter of 2016, respectively. While higher capital ratios certainly will prevent BAC and the other banks from achieving the same high teens returns on equity that were achieved pre-crisis, the much safer business model will eventually demand a far higher valuation than what exists now. BAC's earnings power is well in excess of $2.00 per share, even without materially higher interest rates. This is a stock that should not trade below $18 and that ultimately could be worth $25 per share as interest rates do eventually rise. Even looking at a 10% return on tangible equity, which is far below BAC's potential, would generate earnings of $1.60 per share. I can't rationalize a price below $16 per share even in the most pessimistic of economic outlooks. Bank of America won approval to buy back $5 billion of stock over the next 4 quarters and to hike its dividend to 30 cents per annum. At a recent price of around $14 per share, BAC yields in excess of 2%, so we get paid while you are waiting. BAC is a no-brainer for the long-term investor.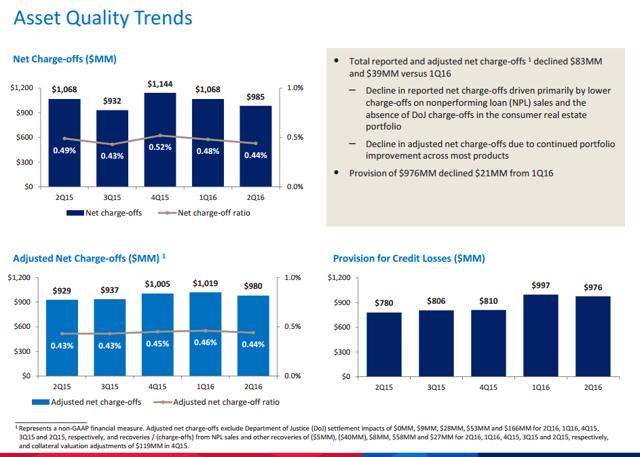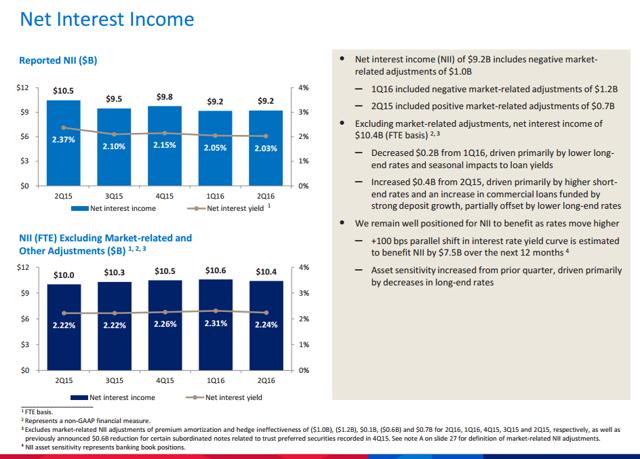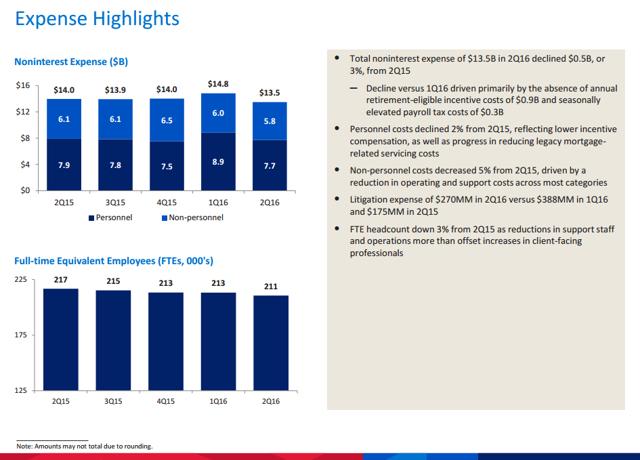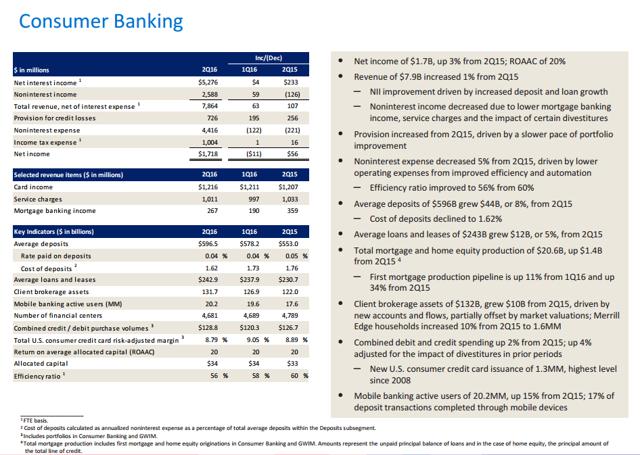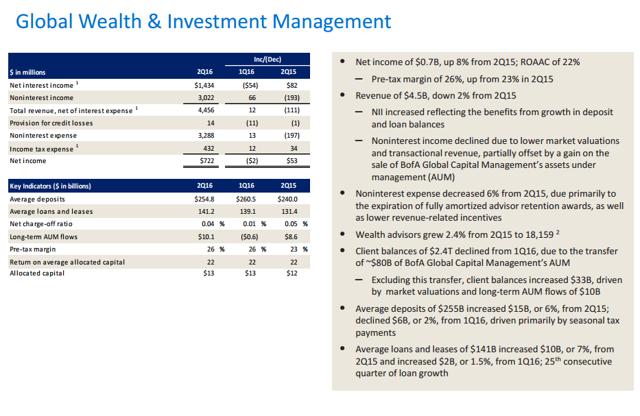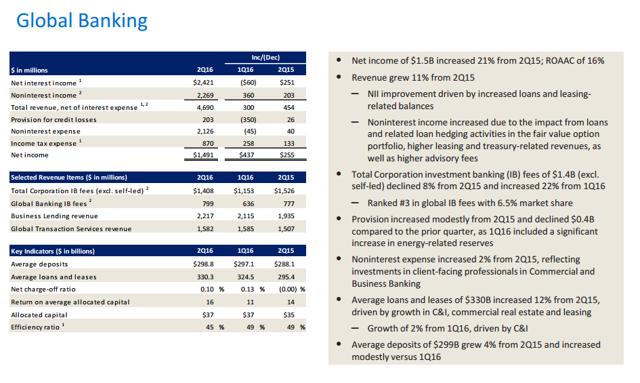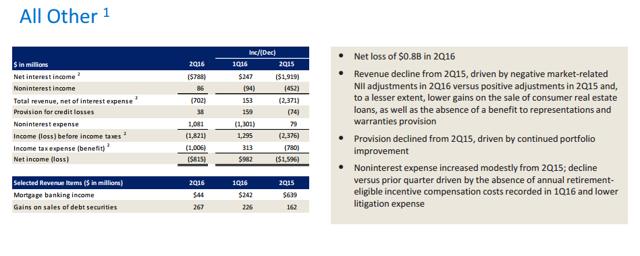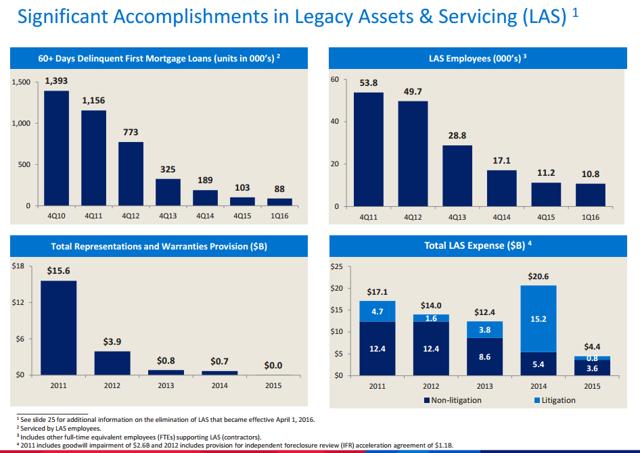 Disclosure: I am/we are long BAC, JPM.
I wrote this article myself, and it expresses my own opinions. I am not receiving compensation for it (other than from Seeking Alpha). I have no business relationship with any company whose stock is mentioned in this article.