Business
H/T to COBF and the many pages of discussion. Alliance HealthCare Services Inc. (NYSE:AIQ) is a provider of radiology imaging and radiation oncology services in 45 states across the US. In the mid-2000s, AIQ made an aggressive effort to expand into the mobile PET/CT scan market whereby the company drives a truck-mounted scanner to a hospital or outpatient facility for a per day or per scan fee. Pricing pressure has been present for a number of years as the market is fragmented and competitive. Since AIQ's contracts are generally 3-5 years in length, there are periods where the company operates at a per scan price in excess of the market rate and periods where contracts expire and the company's prices are brought in line with current rates. This was the case in 2015 and pricing will affect the company negatively again in 2016. Since management knows the average price of their contracts, the current market price of their services, and the date of contract expiration, management can be fairly precise about the revenue impacts of lower pricing. Accordingly, their estimate of pricing impacts for 2015 of -$15mm was spot on. Management is currently guiding to a pricing impact for 2016 of -$8mm with average prices substantially in line with market rates by 2017. There are also other reasons to believe that pricing pressure is abating. 2016 is the first year since the 2007 passage of the Deficit Reduction Act that Medicare is not lowering its reimbursement rates for scans. In the most recent quarter, the company reported its first quarter-over-quarter increase in PET/CT and MRI prices per scan since 2013.
Due to the pricing pressure on radiology, AIQ has focused on expanding its oncology practice and has recently ventured into the pain management market through an acquisition of The Pain Center of Arizona. EBITDA generated by the oncology segment has doubled from ~16% of total company EBITDA in 2011 to 32% over the trailing 12 months. The company as a whole is expected to return to growth in 2016 with the midpoint of 2016 adjusted EBITDA guidance representing growth of 7%.
Valuation
While AIQ's business is mediocre, its valuation is attractive. There are several ways to value the company, but the multiple of cash flow is the most revealing. AIQ has made many acquisitions over the years and its GAAP earnings are burdened with an amortization expense that is an accounting fiction ("customer contracts" and "other"). Management breaks total capital expenditures into growth capex and maintenance capex (maintenance here means maintenance of equipment- not maintenance of earnings). The GAAP depreciation expense has been consistently in excess of management's estimation of maintenance capex, which would indicate over-depreciation of the equipment. However, given the lumpiness of capex, a business with declining prices, and the natural tendency of management to underestimate maintenance capex requirements, it makes sense to burden the earnings with the entire GAAP depreciation expense. At $6/share, AIQ is trading for only 2.6X the TTM cash from operations less depreciation and cash paid to joint venture partners.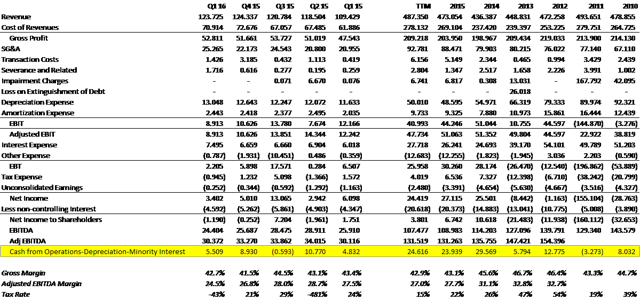 Interestingly, there is a similar publicly traded competitor to compare with AIQ. RadNet Inc. (NASDAQ:RDNT) is also a scan focused leasing company with essentially the same dollar amount of EBITDA. The revenue mixes are substantially similar except where AIQ has oncology revenue, RDNT has lower priced imagery services like mammography, ultrasounds, and X-rays. RDNT is also more focused on outpatient facilities whereas AIQ is focused on servicing hospitals. Hospital reimbursements are much higher than outpatient facilities and hospital creditworthiness is more attractive than third party payers. These differences create a more attractive margin profile for AIQ (~27% EBITDA margin versus RDNT's ~15%) as well as a lower bad debt expense (less than 1% of revenue versus RDNT's ~4.3%). AIQ is also less leveraged with net debt/TTM adjusted EBITDA of 4.1X versus RDNT's 5.0X. Nonetheless, RDNT trades for a much higher valuation than AIQ. The following chart shows the company's multiples and the return to AIQ shareholders if AIQ achieves the same multiples as RDNT.
Why are the relative and absolute valuations so low?
Capital Structure - The Equity
With a market cap of only $65mm, AIQ is straddling the line between microcap and nanocap. The controlling shareholders and management own 54% of outstanding shares, leaving a tiny float worth only $30mm. The stock's average daily volume of 39k shares on a $6 stock is a roadblock for the vast majority of institutional investors and creates a shareholder base that is likely not as sophisticated as RDNT's shareholder base. The controlling shareholder is also a large overhang on the stock.
Oaktree Capital Management, the firm of famous investor Howard Marks, purchased 49% of AIQ's outstanding shares from the private equity firm KKR in early 2007 for $31.25/share. In September 2015, the company announced that Oaktree was selling its stake to a Chinese firm, Fujian Thai Hot, for $18.50/share. AIQ's share price declined from ~$17 to ~$9.50 in the following week as investors headed for the door. Now that the dust has settled, it has become clear that Thai Hot is interested in AIQ for strategic reasons - to gain expertise and partner with the company for its own radiology investments in China. One of Thai Hot's directors on the board, Dr. Tao Zhang, is a Duke University MBA with experience sourcing hospital acquisition deals in China. AIQ management is now talking about partnering on some joint ventures in China, prudently focusing on more of a consulting/asset-lite role at this point. All expenses to minority shareholders from the change in control have been reimbursed by Thai Hot. With any controlling shareholder, the structure of management incentives and the relationship between management and the board of directors takes on extra significance. As discussed below, Thai Hot seems to be making investor-friendly compensation decisions.
Capital Structure - The Debt
AIQ has $550mm of debt comprising over 80% of the company's enterprise value. This is clearly a lot of debt, but there is a reason that both AIQ and RDNT have similar capital structures. As leasing companies, it makes sense to finance this particular business model with debt. AIQ's customers are credit-worthy institutions who sign multi-year lease agreements, allowing AIQ to maintain a high level of confidence regarding future cash flow. Because the business is consistent enough to support the debt, it makes financial sense to pay 5.5% for debt and reinvest that capital elsewhere at a higher return. AIQ's leverage ratio and interest coverage are 4.10X net debt/TTM adjusted EBITDA and 5.10X adjusted EBITDA/cash interest expense. RDNT's leverage ratio and interest coverage are 5.04X net debt/adjusted EBITDA and 3.54X adjusted EBITDA/cash interest expense. AIQ's syndicated term loan trades today for 95 cents on the dollar. The shareholder base is pricing the equity like the company is distressed whereas the (presumably) more sophisticated debt investors are buying the debt at a price that implies business as usual.
1yr Term Loan Trading History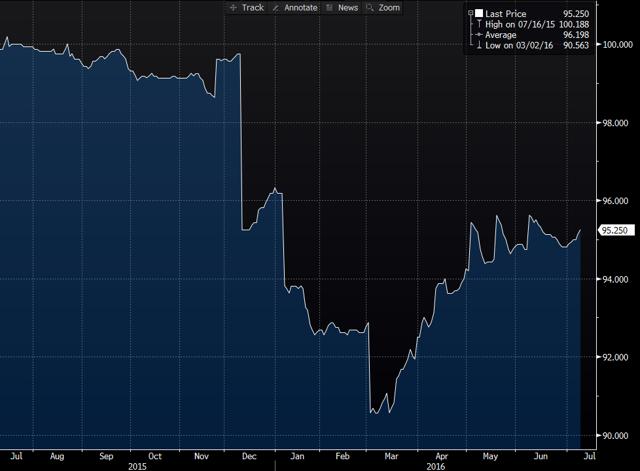 Management
The current CEO, Percy Tomlinson, joined AIQ in October of '13. The CFO, Rhonda Longmore-Grund, started in March of this year as her predecessor stepped down to "pursue other interests." The executive bonus compensation scheme is surprisingly fair to shareholders with 30% of the bonus payout dependent on achieving a return on invested capital target (22.7% in 2015). Another 50% of the bonus is dependent on achieving EBITDA targets with the remainder of the bonus related to revenue targets and patient satisfaction targets.
The low valuation of the stock is very much on the minds of management, as it is explicitly mentioned in recent investor presentations. In mid-May, Tomlinson purchased $78k worth of stock on the open market for an average price of $7.12. Greg Spurlock, president of the Oncology division, purchased $33k worth of stock at $6.63/share. Richard Johns, the COO and CLO, spent $20k acquiring stock at $7.93/share. The new CFO, Rhonda Longmore-Grund, also purchased $19k worth of stock at $7.59/share.
Risks
AIQ faces several risks - the high level of debt being the most obvious one. The leverage ratio and interest coverage ratio are within a reasonable range for the business model, but should the company face a rapid decline in volumes and pricing, equity investors could face permanent loss of capital. The interest rate on the debt is variable and the interest rate hedges (covering 45% of the debt) expire in December of this year. The debt is due in June of 2019, so any disruptions to the debt markets that prevent the company from rolling the debt over could also be problematic.
AIQ management believes that the Affordable Care Act will continue to drive the trend of more services being performed at the hospital (hence the strategy to form joint ventures with hospitals). RadNet's management, on the other hand, thinks that the price difference between hospital-provided services and outpatient services will drive a switch to outpatient facilities. If AIQ's management is dramatically wrong, the company will suffer from its higher relative exposure to hospitals.
Finally, Thai Hot could take actions as the controlling shareholder that disadvantage minority holders. However, the executive compensation plan seems fair, and there may even be an opportunity for AIQ to use Thai Hot's expertise to expand internationally.
Summary
AIQ is a leveraged equity stub with a low absolute valuation that is also priced far out of line compared to its publicly traded competitor and the company's own debt. Alliance should probably trade at some discount to its peer because of illiquidity and a controlling shareholder. However, the current valuation gap is much too large, and while there is risk of permanent capital loss that prohibits inclusion in a concentrated portfolio, the risk/reward looks extremely compelling with upside in excess of 300% before making any aggressive assumptions. The plausibility of such an extreme return is also supported by the company's recent trading history.
Disclosure: I am/we are long AIQ.
I wrote this article myself, and it expresses my own opinions. I am not receiving compensation for it (other than from Seeking Alpha). I have no business relationship with any company whose stock is mentioned in this article.
Additional disclosure: I/we are long AIQ and reserve the right to buy or sell shares without prior notice. While we believe everything in this article is correct, it may contain errors.
Editor's Note: This article covers one or more stocks trading at less than $1 per share and/or with less than a $100 million market cap. Please be aware of the risks associated with these stocks.